With so many types of hobs to choose from, we lay down your options to help you decide which one's for you.
With so many types of hobs to choose from, we lay down your options to help you decide which one's for you.
If you're planning to cook at home, your kitchen won't be complete without a hob. The decision of what type of hob to get should already be made before you start your renovation, as provisions have to be made for building it into the countertop, as well as for the necessary utility connections. The traditional gas hob is reliable and has served many generations but, with newer technology and innovation, there are now alternatives that might serve our modern lifestyles better. So, which do you go for? Besides considering your cooking and cleaning habits, think about the aesthetics of your space, too.ecting the cookware.
TYPES OF HOBS
There are three popular types of hobs — gas, induction and ceramic.
Gas hobs
Most of us are familiar with this type of hob in the kitchen. When the hob is turned on, a flame lights the gas flowing out of the burners on the cooktop, producing the fire to cook with. You can either use it with gas supplied in liquefied petroleum gas (LPG) cylinders that would have to be replaced, or piped gas for convenience. As such, determine what type of gas you are using, to select a compatible hob. Gas hobs are composed of burners of different sizes to accommodate various pots and pans. The burners are also of different types – such as wok or rapid burners – suited for an array of cooking needs, be it a gentle simmer or high-heat frying. Most popular are those with two or three burners, with a width of 72cm to 90cm, but you can find larger ones with up to four or five burners. Although gas hobs are "low tech", they are constantly being updated to include features for safety and convenience. Those from wellknown brands – such as Bosch, Brandt, Turbo, Electrolux and City Gas – come with a flame-failure safety device that automatically cuts off the gas supply upon sensing that the flame has gone out, to prevent risk of gas leakage. City Gas also offers one with a timer control function, which is great for busy multitaskers. Traditionally, hobs are made of stainless steel but, now, many of the latest models are made of glass, in keeping with design trends. For gas hobs, as you can see the flames, you are able to better gauge the heat level. Cooking over fire is also great for certain cooking techniques (such as charring or cooking with a wok). However, your kitchen will be considerably warmer, due to the open fire. Since gas hobs can emit a lot of heat, when planning to install one, make sure you have the minimum clearances around the hob to avoid damage to cabinets and finishes (see sidebar).
Induction hobs
Induction hobs use electromagnetism (generating electricity using magnetism) to create heat inside the cooking pan, rather than from the outside. In a way, it turns cooking pans into cookers, cooking food more directly and quickly, while using less energy. With induction hobs, there are no exposed flames and no heat is generated by the hob itself – you won't feel a thing if you touch the surface of the hob, as the induction zone automatically switches off when the pan is removed. One good thing about these hobs is that its flat surface offers a modern, sleek appearance – something to consider, especially for open-concept kitchens. Induction hobs feature touchsensitive buttons, and different heat settings and programmes for precision cooking, apart from safety features. They come in a variety of sizes and designs, from a portable single burner to built-in models with multiple burners. There are some models in the market that are exceptionally versatile, such as the Electrolux Infinite Pure Zoneless induction hob. With its flexible cooking zones, you can use cookware of almost all shapes and sizes, instead of being confined to specific heat zones. For those who want both induction and gas hobs, Bosch offers the Domino range, which includes 30cm-width modular induction as well as gas hobs.
If your gas hob's ignition source is electrical, don't forget to cater to an electrical point for the plug. Otherwise, you'll have to use a match or lighter to light the hob.
Ceramic hobs
Ceramic hobs look similar to induction hobs, but the key difference is that ceramic ones make use of an element underneath the cooker's surface, which heats up and transfers the heat to the cooking pan. As such, the surface of the hob will be hot. The Turbo Immaginario T583HCSS ceramic hob has hightech features, such as touch control with nine power settings, and safety features, such as child lock and residual heat indicators that alert you of hot surfaces. One thing to note about ceramic and induction hobs is that you won't be able to cook if there is a power outage, as they run on electricity.
CONSIDER THESE FACTORS
Heat control
Every cook knows that heat control is the key to a perfectly cooked dish. Whether it is low-heat cooking (such as simmering) or highheat cooking (such as sauteing), having control means you are less likely to overcook or burn food. For ceramic hobs, the electrically heated coil elements take time to heat up, and there is also heat loss during the transfer between the hob and cookware. In comparison, with induction hobs, there is no need to wait for the heating element, as it creates a magnetic field instead, which heats up the cookware.
You can save time with an induction hob; it is estimated that it takes only around five minutes to boil a litre of water, as compared to eight minutes for a gas hob, and 11 minutes using a ceramic one. However, even experienced chefs might have problems understanding which settings on induction or ceramic hobs will provide the right amount of heat, since there is no visible heat source. Gas hobs are still the choice of professional chefs, for ease of control and good heat distribution across the base of a pan. But with open kitchens being in trend these days, if your hob is located in a breezy area, the flames can be easily put out.
Cookware compatibility
While gas hobs are compatible with most cookware, including round-bottomed woks, you can use cookware with flat bases only for ceramic hobs. This is so that there is optimum surface contact, which makes heating more efficient and consistent. Induction hobs have the most specific requirements. Because its elements are electromagnets, the correct ferromagnetic materials for cookware are required, such as steel, enamelled steel and cast iron. This can make choosing an induction hob a costly option. You might not be able to use your favourite range of cookware if you change to an induction hob! Generally, for both ceramic and induction hobs, use cookware with sizes close to or exactly that of the indicated heat zones, as the parts that sit outside those zones won't heat up.
Cleaning and care
Since both ceramic and induction hobs have smooth, flat surfaces, there are no hard-to-reach corners for dirt and food to get trapped in. This makes them a breeze to clean. But spilled food can get "baked" and stick to the surface of ceramic hobs, so wipe them up immediately. When cooking, make sure that the bottoms of the pans are dirt-free, so as not to scratch the hob's surface. Clean with a microfibre cloth, too. When it comes to gas hobs, more effort in cleaning is usually required as there are uneven and protruding parts, such as the burners, pan stands and drip plates. Consider that if you're a messy cook, and how much you hate cleaning! Over time, the various parts will also wear out and make your hob look old. Consider models such as the TG1493B from Brandt, which features brass burners that are integrated into the burner plates, for easier cleaning.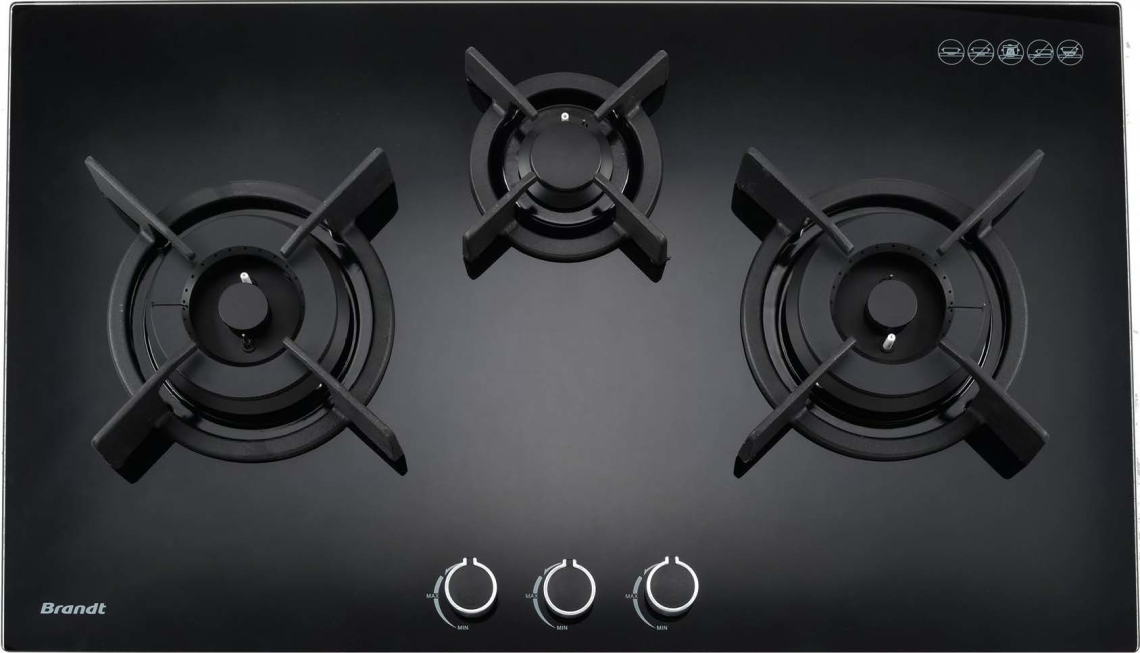 Check if your pot or pan is suitable for use with induction hobs, by holding a magnet to the middle of the base. If the magnet sticks, it'll work.