Honest and wholesome homestylefare at this Catalan restaurant.
Honest and wholesome homestylefare at this Catalan restaurant.
An array of natural textures evokes a breezy Mediterranean vibe.
From South Korean and Japanese-fusion to Italian, your dining options are almost limitless, if you happen to be in the vicinity of the shophouses in Tanjong Pagar.
With newcomer Olivia Restaurant & Lounge in Keong Saik Road, the diverse dining setting is made even more vibrant, with a zesty new Catalan neighbour.
Black Rice with Grilled Calamari.
The brainchild of Spanish chef Alain Devahive and sommelier Miquel Sabria, the same duo behind the now-defunct restaurant Catalunya, Olivia Restaurant & Lounge is conceived as a traditional Catalan home kitchen that serves hearty homestyle cooking. The restaurant's open kitchen has been made the focal point, so diners can view the kitchen staff preparing meals. 
Recruiting the expertise of celebrated Barcelona-based interior designer Lazaro Rosa-Violan, the restaurant evokes the warmth of the city's Mediterranean location with a palette of ochres, browns and blues. 
The Gin Me!! cocktail from sommelier Miquel Sabria's bar is mixed with olive brine, rosemary and elderflower tonic.
Trained as a painter, Lazaro decorated the 75-seater with key design pieces such as ceramics and low-hanging lamps, many of which were handmade by craftsmen and artists in Barcelona.
Open since February, some of the dishes that have emerged as must-tries include the Black Rice with "Carbinero" Red Prawn Carpaccio ($32), a Spanish take on a quintessentially Italian dish, and Olivia's Homemade Creamy Cheesecake ($14 for a slice), a unique dessert creation by sous-chef Celina Franco.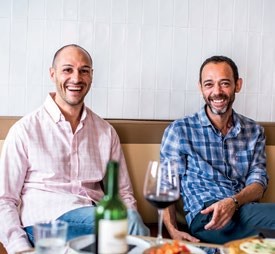 Thanks to co-founders Miquel and Alain Devahive, locals get to enjoy the delights of Catalan fare.
Pair your meal with one of Miquel's curated Spanish and international wines, and you will walk away with a satisfied belly.  
Olivia Restaurant & Lounge is located at 55 Keong Saik Road.