We share three ways to practise arts therapy, an excellent method of self-care, at home.
After a session, Indriana serves guests food like pavlova. This combination, and meaningful conversation, makes a difference.
Home is where you feel relaxed and safe. Here, you can put your feet up, bust out that dance move you've always wanted to, and try out – without fear of failure – a new recipe. Home is where you can be introspective, too, and arts therapy is one creative way to encourage this.
"Arts therapy is a form of therapy that uses drawing (including doodling), music and movement to help individuals communicate their thoughts and emotions. It is not new; throughout centuries, and especially during wars and natural disasters, human beings have used arts to communicate," says Laurence Vandenborre, the founder of non-profit arts therapy organisation The Red Pencil.
The Red Pencil's group of registered arts therapists help individuals collect their thoughts, reduce their stress levels and gain self-confidence through a variety of techniques. One which you can practise at home is visual journaling.
VISUAL JOURNALING
WHAT IT IS Express and capture your inner thoughts by painting and drawing in a journal. Use shapes, lines, colours and images. Try writing and drawing with your non-dominant hand, or draw spontaneously for deeper expression. "This will enable you to develop your own coping mechanisms and shape you into emotionally resilient individuals, even after you've completed guided arts therapy sessions," says Laurence.
WHAT YOU NEED A journal and some basic art materials, such as a box of oil pastels. Add on more materials if you wish. Some people need silence to better connect with their inner selves, but soothing music may support this creative process, too.
WHAT'S NEXT While some do visual journaling daily without seeing an arts therapist, others share their journals with theirs. Ensure what you are doing feels comfortable for you!
Photographer Indriana Irawan, also known by her moniker Indie Bindi, not only practises arts therapy regularly, she conducts arts healing workshops out of her own Tampines home, too.
"Making art makes it less daunting for us to acknowledge and accept our emotions.I was at life's crossroads when I found that abstract painting was a therapeutic way to process what I was going through. I started the Art with Indie Bindi sessions in 2015, so others can have the time and safe space to "centre" themselves, and get in touch with their creativity, as well," says Indriana, who runs these sessions through her company, Pink Elephant Labs.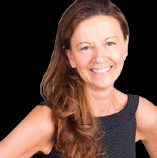 "ANYONE CAN BENEFIT FROM ARTS THERAPY. THE CREATIVE PROCESS BRINGS RELIEF AND INSIGHT, AND IT'LL EASILY BECOME A AILY PRACTICE." — LAURENCE VANDENBORRE, THE RED PENCIL
"FIND TIME IN THE DAY WHERE YOU CAN GO OFF-GRID, AND PAINT. HAVE YOUR FAVOURITE SCENTED CANDLE BURNING, OR PUT ON SOME MUSIC. ONCE YOU START PAINTING, BE KIND TO YOURSELF." — INDRIANA IRAWAN, PINK ELEPHANT LABS
SKETCHING AND WATERCOLOUR PAINTING
WHAT IT IS This requires patience and keen observation. "This helps us to be present, to notice and appreciate details, see that there is beauty in all things, and that everything takes time," says Indriana.
ABSTRACT PAINTING
WHAT IT IS Though this allows exploration and freedom of expression, you are required to organise your thoughts, recognise your feelings and, therefore, be in control of them. "This helps me best: Ask yourself how you can feel 'lighter'. Think of the issue that is weighing you down and imagine what it would look like as a combination of shapes and colours," shares Indriana.
WHAT YOU NEED For her sessions, Indriana uses a small canvas, some acrylic paint (she recommends a set of 12 to explore a range of colours), and mid-sized and small-sized round and flat brushes.As acrylic paint dries fast, a water jar to rinse the brushes is necessary.
WHAT'S NEXT "Instead of thinking about what you or others think a painting should look like, follow your gut and don't be afraid to delve deep. If the process begins to feel overwhelming, like you might want to cry, go ahead. The first step to dealing with and healing from uncomfortable emotions is to feel them. Lightness and a feeling of victory follows after," she says. 
3 PLACES TO ACHIEVE MINDFULNESS
LIKE ART, COOKING AND YOGA, THESE ACTIVITIES HELP YOU RELAX AND CONNECT WITH YOURSELF.
Studio Asobi
Take a break from your hectic lifestyle and your phones, as you get your hands dirty turning clay into valuable works of art, or stationery. You will find that pottery and mindfulness go hand in hand. To attend a Studio Asobi workshop, visit www.studioasobi.com.
Hush Teabar
Mental health and social inclusion come together in this silent tea bar, where you will drink tea – led by deaf facilitators – in silence. Have a moment of quiet reflection, in a non-vocal environment. Find out how at www.hushteabar.com.
Palm Avenue Float Club
Floatation makes it easy to get into a state of deep meditation and physical rest. Feel your body let go of stress, as you float on Epsom salt water in private pods. More on Singapore's only float centre at www.palmavefloatclub.com.
text ELIZA HAMIZAH photos THE RED PENCIL, PINK ELEPHANT LABS