Christmas time is special for children – from the anticipation leading up to the big day to the sparkle in their eyes as they wonder which gifts under the tree are theirs. It's a season to celebrate traditions and create memories.
On him: Graphic tee, $26.90, and hoodie, $53.90, bossini. Pants, $35.90, ZARA. Sneakers, $34.90, Bata.
On her: T-shirt, $14.90, UNIQLO. Denim pinafore, $53.90, and bomber jacket, $53.90, bossini. Sneakers, $34.90, Bata.
Location: MANULIFE SKY NETS - BOUNCING 
LITTLE WONDERS
Playtime is learning time, so don't hold back on gifts that inspire curiosity and creativity. 
ZARA Kids knit cardigan, $55.90, ZARA.
Hairband, $15.90, bloomB.
My First Nursery Rhymes soft book, $14, Mothercare.
Long arm excavator, $22.90 (large), $12,90 (small), The Green Party.
Indian cotton tee, $19,90 (kids), $15.90 (baby), MUJI.
A Cat's Guide To The Night Sky storybook, $29.90, Miss Hosay. 
Remote-control car, price unavailable, Typo.
Little pet house lights, $32.90, Turtle. 
Stretch cotton playsuit, $149, In Good Company.
PlanToys dentist set, $39.90, THE BETTER TOY STORE.
3-piece striped bodysuit & Santa jumper set, $49.90, carter's. 
The Fun Starts Here!
While Mum or Dad hits the shops for gifts and goodies, the other can keep the kids busy in Canopy Park. 
Foggy Bowls
Let them play among the clouds – bursts of mist make for the perfect sensory setting.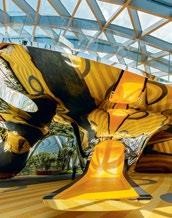 Discovery Slides
This is no ordinary playground. It's also an art installation with a family slide, a drop slide and two glass-covered spirals. As they play and explore, they become part of the art. 
Topiary Walk
Wander through the greenery and be delightfully surprised by the colourful sight of creatures made of bright flowers. 
Scan QR code to purchase tickets www.jewelchangiairport.com/en/ticketing.html