Some days you go out just for the booze, and some days it's all about the beats.
Some days you go out just for the booze, and some days it's all about the beats. Here, we've curated bars and clubs according to music genre and even specifi c styles (or you could just go KTV instead.) 
TELOK AYER ARTS CLUB
PLAYS: ECLECTIC
This Arts Club is one for CBD professionals who appreciate straying from the norm. Music director and co-founder DJ Has describe the tunes as "eclectic and worldly". Translation: soulful, funky and jazzy. Th bar/restaurant has a clean modern vibe, and on Friday after dinner, Has turns the space into a music den.
Music session "Kelab Malam" brings in international DJs and features local ones such as Ash, one of the pioneers of Singapore's underground music scene and co-founder of drum and bass collective Guerilla. On the arts front right now is a group show by artists Megan Miao, Susie Wong and Zulkhairi Zulkiflee, which will be followed by multidisciplinary artist Dawn Ng's showcase in January.
Drinks like The Spiced Cup (a mix of Hendrick's Gin, fresh lime juice and Tabasco) are inspired by the neighbourhood's history. The Arts Club, for artists, creatives and music lovers.
2 McCallum Street
"Bartending stalwart Din Hassan's cocktails are made fresh, with local ingredients."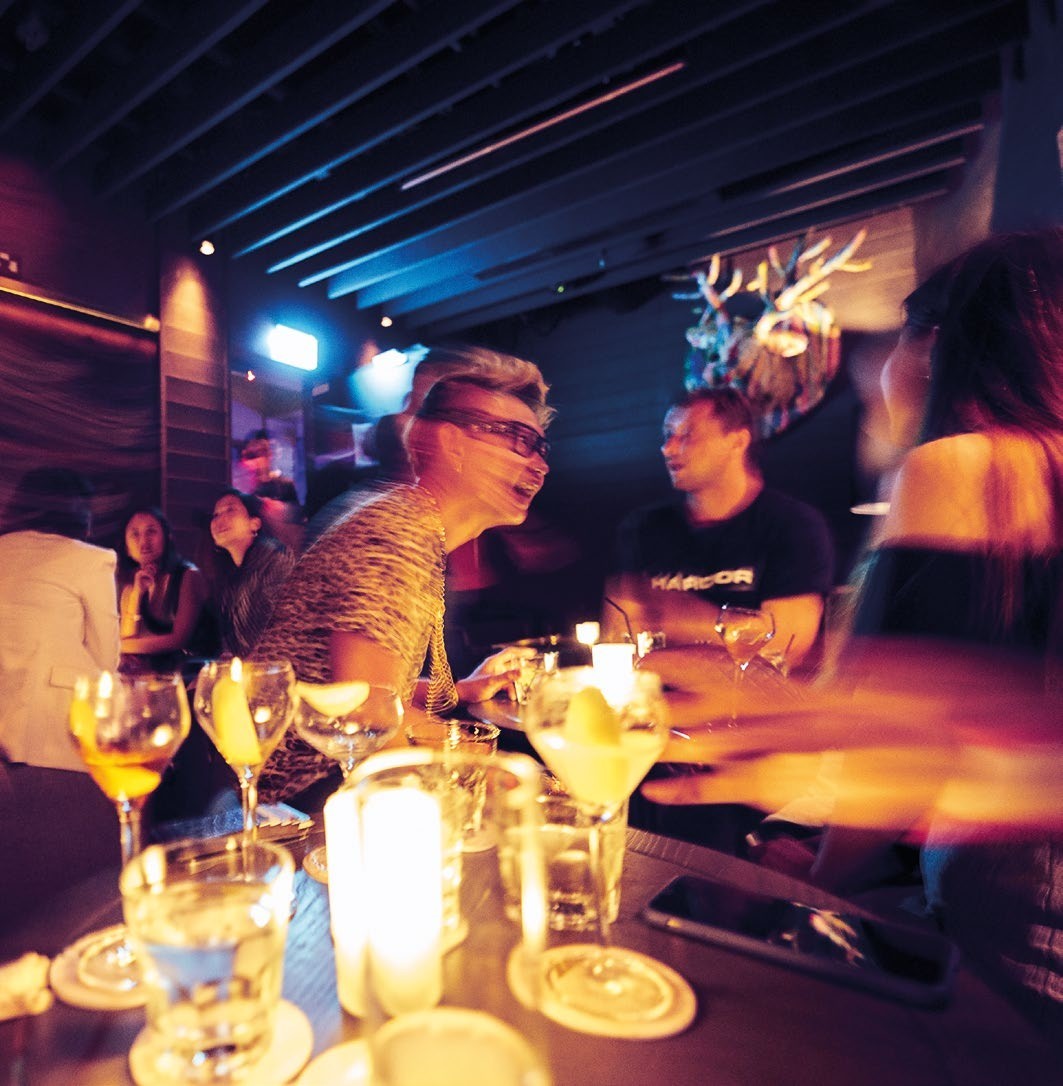 QUEENS
PLAYS: OLD-SCHOOL HIP-HOP
Queens (nestled inside Zouk) gets you away from the clubbing crowd and bombast BPM, and ushers you into a cosy, intimate space that pushes hip-hop beats (sparse but no less groovy, gritty but not too gangsta). This "secret" bar is named after the New York neighbourhood with the legendary hip-hop scene; the art and music reflect its golden era. This is a secret we're happy to spill. And happy to say, no champagne sparklers here, only grown-ups looking for a reprieve before heading back out. Chill for a convo over themed cocktails by ex-28 Hongkong Street bartenders that pay tribute to DJ-ing, MC-ing, breakdancing and graffiti. (Ask the Zouk staff  for this bar, as it's neither listed nor easily found.)
The Cannery, 3C River Valley Road
NINETEEN80
PLAYS: COOL RETRO/ 80S MUSIC
You'll be entranced by Human League and the Eurythmics when you enter, as well as by nostalgic, poptastic beats from the '90s and '00s. This arcade-bar has all the tunes from hip-hop to disco, funk to house, and feelgood Spice Girls to get your party started.
Got your drink order sorted? Then buy some tokens and attempt (again and again) to relive former glories on the Pac-man, Space Invaders, Double Dragon and Street Fighter machines – authentic ones, restored. Loser buys the next round.
Those aforementioned drinks? True to the theme, they're sweet fluorescentcoloured cocktail mixes made using fresh fruit juices. Millennials, you may find yourself surrounded by '80s and '90s kids. They're called Gen Xers – don't mess with them on Street Fighter.
#01-05, 21 Tanjong Pagar Road 
"Back in the retro heydays, this was the preferred way to drink."
HAS, 38, music director of Telok Ayer Arts Club 
RECOMMENDS:
BAR CICHETI, a new Italian joint specialising in handmade artisanal pasta. "Its wine list is carefully curated; you will find natural wines with a 'farm-to-table' concept on the list. The Spaghetti all'Astice (a pasta showcasing fresh lobster) and the Polpette di Manzo (brisket meatballs cooked in tomato paprika sauce) are my favourite dishes."
10 Jiak Chuan Road 
NATIVE, a bar specialising in foraging and regional produce. "Try The Grasshopper, a Thai-inspired cocktail with Chalong Bay Rum and infused with herbs like lemongrass and wheatgrass. The cocktail includes dried grasshoppers sourced from Thai farms, blended into a garam paste and cooked over two weeks."
52A Amoy Street
TONO CEVICHERIA
PLAYS: SALSA
Our mood affects how we taste things, and Tono Cevicheria knows it. In true Latin American spirit, it sets the tone with bright colours and vibrant music featuring Hector Lavoe, Celia Cruz and Grupo Niche (go on, Spotify them). Complex yet easy on the ears, the songs will have you up and ready to dance before dessert.  
The spice and zest in the Peruvian cuisine, whipped up by Lima-trained Latin American chefs, pairs well with Pisco Sour. That's the representative drink of the cevicheria, a foamy concoction made of pisco brandy, citrus, egg white and bitters. Latin Americans enjoy music and dancing a little more than the rest of the world, so they must be doing something right here. Good for dining in groups.
#01-49/50 Duo Galleria, 7 Fraser Street
"The Pisco Sour is the national drink of both Chile and Peru – let them duke it out."
THE OTHER ROOF
PLAYS: REMAKES OF CLASSICS
The Other Roof's playlist is like its cocktails – familiar, but with a twist. The beats border between downtempo electronica and groovy house that will compel you to move. Think Billie Holiday's I Hear Music (but the Swingset and Takuya Remix) or the 2016 remastered version of David Bowie's Fame.
Run by the folks behind The Other Room (famed for its barrel-aged spirits), The Other Roof offers teainfused spirits and tea-based cocktails. The 75 exclusive tea leaf options here are curated from more than 1,000 varieties sampled, and these bespoke blends form the basis of the drinks programme at this bar.
A contrast to The Other Room's inconspicuous ways, the concept here is for people who welcome being out in the open and catching some fresh air. Located in the Ann Siang Hill enclave, the rooftop bar almost makes you feel as if you're on vacation. Except you're likely to recognise one too many towers in the area.
Ann Siang House, 28 Ann Siang Road 
ELIZA
PLAYS: JAZZ COVERS OF POP MUSIC/NU-DISCO
Eliza exudes a fashionable Shanghai vibe, and the combo of its cocktail bar, lounge and restaurant in one cosy space means the music literally takes centre stage, with a jazz band that covers Mando and English pop tunes, and a DJ (resident Aldrin) playing a mix of nu-disco, soul and funk. The conceptual "post-millennial Shanghai space" aims for the after-office crowd with great cocktail classics, and entices them to stay on with familiar Chinese dishes that have a twist to them (kway teow with crab roe). Around 11pm, Aldrin's killer beats get funkier until the wee hours.
And yes, there's an actual model in a cheongsam here, playing the "Eliza" character. Follow her exploits on Instagram: @life_as_eliza
113 Telok Ayer Street
"Bartender Sam Wong focuses on Eliza's Classic, Vintage and Signature cocktails."
ALEXANDER LINNERTH, 32, managing director of Sunshine Nation Lifestyle Department 
RECOMMENDS:
DON HO SOCIAL KITCHEN AND BAR: "Go ahead and order an entire suckling pig to share with your friends (it's communal dining here). For dinner, the Moroccan Spiced Lamb is my favourite. It'll make a hearty meal."
1 Keong Saik Road, The Working Capitol Building
STRAWBERRY SPACE BY FAT FISH FAMILIA, an annual music festival with changing locations and themes, and international DJs. "It's got great curation, never seen a party like it. It's fun and different."
www.facebook.com/ fatfishfamilia 
RUTH LAI, 21, project manager at Sunshine Nation 
RECOMMENDS: CAMP KILO, which hosts a variety of outdoor activities ranging from dog yoga (doga) to artisan markets with DJs all through the day. "I went to their Vegan Day Out event earlier this year. It was great. Also, Camp Kilo is just a great place for a weekend lunch with friends and family."
66 Kampong Bugis www.facebook.com/campkilosg
ICE CREAM SUNDAYS, an outdoor music party (with a side of ice cream) held at different locations each time. "There isn't always ice cream, but I go there for the great music. They have a really good curation of international music."
www.facebook.com/icecreamsundayssg
JIGGER & PONY
PLAYS: ELECTRO SWING
Jigger & Pony has reopened in the Amara Hotel with a modern-meets-Bauhaus aesthetic. It's a nod to the 19th century, when cocktail recipe measurements were in "jiggers" and "ponies". There are also – if you pay attention – a lot of naughty design totems and elements all over the sexy space.
Elevating the vibe is electro swing music, which puts a modern spin on old-school dancing music – just like the cocktails with a twist. The repertoire here is extensive; martinis make up 20 per cent of the revamped menu (which reads like a magazine), varying from the classic to the herbaceous Harvest Martini with local tarragon, cologne mint and butterfly sorrel from Citizen Farm.
This is a convenient and concealed watering hole: We recommend either the alcove by the entrance or level two for a bit more intimacy.
Amara Hotel, 165 Tanjong Pagar Road
LULU'S PLAYS: BOOGIE Wednesday night at Lulu's is Le Beat Bespoke, a #throwback to New York City in the post-disco era, and it's when boogie tracks come on. It kicks off early (7pm), with a live hiphop and R&B band, and a bongo player who does what a bongo player does. Drag queen/performance artist Becca D'Bus mingles with guests and pours drinks; dancers join in on special occasions.
The midweek scene draws a younger crowd than the regular punters. But no reason why the "mature" shouldn't also find a drink here appealing any day of the week.
7 Raffles Boulevard 
"The playful boudoir vibe aims for New York's decadent disco era."
TEXT HOE I YUNE, NATASHA VENNER-PACK & HAYLEY TAI PHOTOS OF QUEENS, THE OTHER ROOF, AND JIGGER & PONY ROY ZHANG