The latest and most talked-about collections.
The latest and most talked-about collections.
SHHH...
It has been 17 years since Mouawad and Victoria's Secret first partnered up. Today, the jeweller's Fantasy Bra creations have grown to be a highlight of the Victoria's Secret Fashion Show, worn by Angels such as Gisele Bündchen, Heidi Klum and Tyra Banks. This year's creation saw Mouawad hand-setting close to 6,000 sapphires, topazes and diamonds (over 640 carats) on a US$2 million bra and belt set worn by Brazilian Angel, Lais Ribeiro. The design took over 350 hours to bring to life.
DROPS OF DELIGHT
Who would have thought that a simple, delicate flower could inspire such a high-octane glamour jewellery suite like Graff's Carissa collection? The five-petal blossom of the same name takes centrestage on designs that subscribe to the motto of "strength in numbers" for a range of necklaces, earrings and bracelets. Expect rubies, emeralds, sapphires and diamonds all lending their star- power to the creations.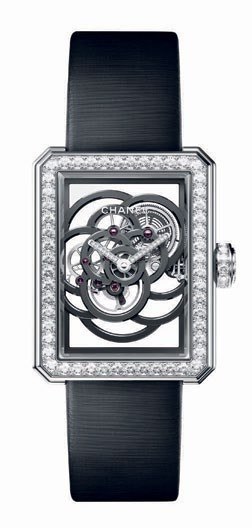 AWARD-WINNERS
The winners of this year's Grand Prix d'Horlogerie de Geneve have been announced and Chanel, Chopard and Van Cleef & Arpels came up tops in the women's categories at the watchmaking competition. The random fluttering of its butterfly wings saw Van Cleef & Arpels' Lady Arpels Papillon Automate securing itself the Ladies High-Mech Watch Prize, while Chanel's Première Camélia Skeleton, equipped with the in-house Calibre 2 movement, bagged the Ladies' Watch Prize. As for Chopard, it won the Jewellery Watch Prize for its Lotus Blanc watch with petals that unfurl to reveal its dial.
We're loving...
...Bovet's Amadeo Fleurier 39 "Butterflies" Grand Feu Enamel timepiece. Showcasing the reverd grand feu enamel miniature painting technique, the watch's intricate dial by famed jeweller llgiz Fazulzyanov seems ready to burst into a flutter of wings at the slightest touch.
CAT AND MOUSE GAME
Thanks to brands like Romain Jerome and Pandora, you can now indulge your inner child without fear of looking… well, childish. Romain Jerome's partnership with Sanrio sees the watchmaker releasing its first women's only collection, featuring the beloved Hello Kitty with its iconic Moon Invader case shape in steel. Pandora, on the other hand, has turned to the world's most famous mouse for its newest Disney collection additions. Mickey and Minnie feature in charms and Petite Elements. 
FRED IN A BOX
Making shopping all the more exciting is a new innovative digital technology that French jeweller Fred has introduced to selected boutiques, utiques, including Singapore. Aptly called L'Atelier Fred, the technology is contained within a convenient, mobile box that comprises a screen and a table on which customers can custom make their very own Force 10 bracelet through building blocks. From the materials used, to custom colour lacquers, to personalised engravings, the possibilities are endless and take approximately two to five weeks to be delivered from the screen to your hands.
BIT BY BIT
Imagine the beauty of mosaics lighting up your wrist in a blaze of fire. That is exactly what you get with Bulgari's Lucea Mosaïque timepieces. Close to 700 mirror-polished gold tiles adorn the dial—each measuring a precise 0.84mm in length and purposefully hand-placed at a slight angle for a scintillating play of light— encircled within a 33mm diamond bezel. 0 Galuchat straps finish the automatic watch that's available in both rose and white gold versions.
5 MINUTES WITH ZOË KRAVITZ
ON HER FIRST MEMORY OF TIFFANY & CO. I remember seeing the little Blue Box at around age 12 and knowing that it meant something very special was inside. ON THE BRAND CAMPAIGN "There's Only One" truly resonated with me so much. I think being an individual is one of the more exciting things about being alive. Self-expression is our right as humans: To live, love, and express ourselves. ON WEARING JEWELLERY I usually have some staples that I always wear, and then I'll add something special that speaks to the way I'm feeling that day. ON HER STYLE ICON My mother. I've been raised by the most badass woman in the world. She has a lot of great vintage dresses but I can't really steal anything from her because she's on it! She does let me raid her wardrobe sometimes and borrow things, though. ON HER PET PEEVE I've had makeup artists not even bring the right colours for me and then try to put it on. It's okay if you haven't done a lot of darker skin—but people not wanting to respect and acknowledge that there is something different going on here...?
PURE FORM
There's a reason why Rado has secured itself a firm and loyal fan base. Never mind the fact that the Swiss watch brand was a pioneer of ceramic watches before they became commonplace. It was the watch's purity in form that resonated with design aficionados. Clean, minimalist and thoroughly modern, Rado's True Diamonds timepiece follows in that tradition with a polished plasma high-tech ceramic case housing an automatic movement.
BIRTHDAY CELEBRATIONS
TAG Heuer's legendary Jack Heuer celebrated his 85 birthday on 17 November, and the watch brand is celebrating its Honorary President's big day with a limited edition collection (of 1932 pieces, in homage to Heuer's birth year) of the Autavia timepiece it reintroduced last year—with a rfew tweaks, of course. Reversing the monochrome colour scheme of its precursor, this edition bears a bezel with an elapsed time-scale. An automatic chronograph movement with 80-hour power reserve drives the timepiece. 
FAIR PLAY
Zoë Kravitz in Tiffany & Co.'s "There's Only One" campaign When it comes to clean luxury, Chopard is one brand that definitely walks the talk. Soon after putting its weight behind Fairmined gold and ethical emeralds, the Swiss House announced its support of the inaugural Green Carpet Fashion Awards, Italia—an award programme that places ethical, sustainable production at the forefront of the sartorial dialogue. In addition to partnering up with this worthy cause, Chopard also designed the award's statuette, made from Fairmined gold, of course.