Neue Fit's Muay-HIIT class is perfect for anyone who wants to learn martial arts without getting kicked in the face.
Neue Fit's Muay-HIIT class is perfect for anyone who wants to learn martial arts without getting kicked in the face. 
There are plenty of benefits for women to reap from martial arts training. Not only does it teach you self-defence techniques and improve your stamina, but it also boosts your self-confidence. If the only thing stopping you from trying martial arts is the fear of getting hurt, Neue Fit has the the ideal class for you. 
THE PERFECT COMBO 
This new lifestyle fitness and martial arts studio in Kallang Wave Mall offers a variety of classes. While both Muay Thai and HIIT are available individually, the one class that will give you a teaser of martial arts plus a satisfying cardio workout is the studio's unique Muay-HIIT programme. 
The beginner-friendly non-combat class will have you shuffling between jabs and round kicks (moves commonly used in Muay Thai) at sandbags, to burpees and kettlebell swinging squats in intervals for 45 minutes. There's even an all-ladies Muay-HIIT class for beginners led by a female instructor.
VARY YOUR WORKOUTS 
Want to learn some self-defence techniques? Level up with one of Neue Fit's three Brazilian jiu-jitsu (BJJ) classes. Prior experience is needed for BJJ No-Gi and BJJ Intermediate. So, those new to the combat sport can try BJJ Beginners, where experienced instructors will guide you through light sparring sessions. 
Yoga NeueB teaches hatha yoga and is tailored for beginners who wish to learn foundational poses with the proper alignment and breathing techniques. For more seasoned yogis, the studio offers sequence-based Yoga Flow and Yoga Core if you're gunning for that six-pack.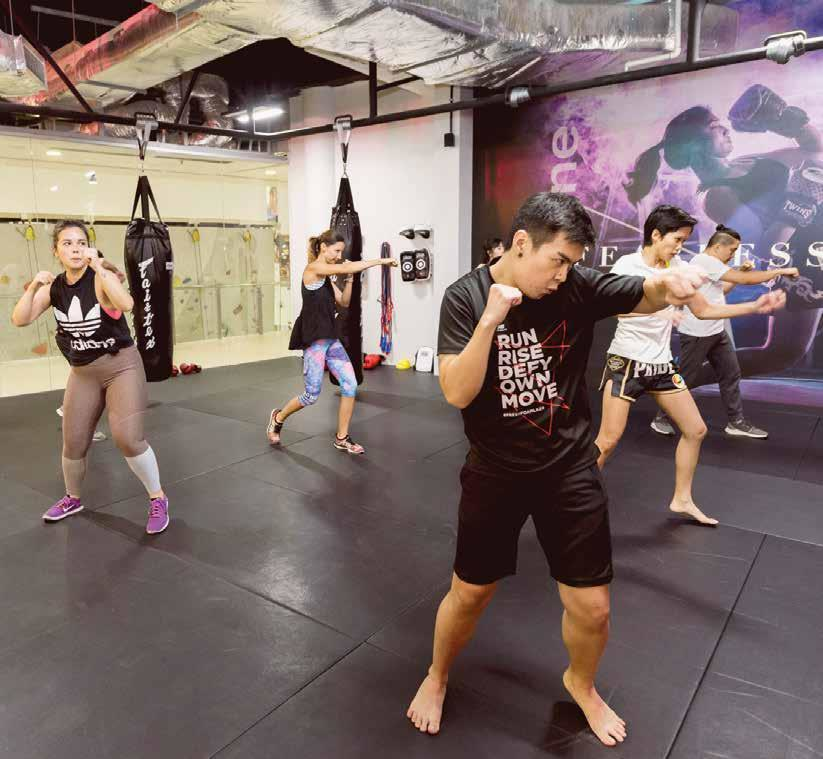 GO SHOPPING 
If you're feeling peckish pre- or post- workout, refuel at the studio's health bar, Re-neue, for acai bowls (from $6.90), acai cones ($3.90) and gluten-free protein shakes ($8.50 each). 
Forgot your workout gear? No problem. Head to the retail corner, which is stocked with New Balance merchandise such as sports bras, tanks and training shoes.
BOOK A CLASS 
For now, members can simply walk in at the time slot of the class they wish to attend and sign in at the reception. However, no guarantees that you will get a spot when it gets crowded. 
A one-month membership package starts from $100, while single class rates are priced from $22 for members, and $25 for non-members. 
Neue Fit is located at 1 Stadium Place, #02-07, Kallang Wave Mall. For more information about their class schedules, visit www.neue.fit.
REPEAT AFTER ME 
"The body achieves what the mind believes." 
SMARTLIFEBEOGRAD VIA INSTAGRAM 
20 
DOING JUST THREE UP-STAIRS SPRINTS OF THIS MANY SECONDS A DAY (WITH SHORT BREATHERS IN BETWEEN) CAN IMPROVE YOUR VO2 MAX BY 12 PER CENT – WHICH MAKES ANY- AND EVERYTHING FEEL EASIER. 
SOURCE MEDICINE & SCIENCE IN SPORTS & EXERCISE 
THINK WHAT YOU'VE BEEN MISSING, AND GET AFTER IT!
Motivation is a funny thing. Take this study in the New England Journal of Medicine from 2015, for example. It found that among smokers in cessation programmes, those who stood to lose $200 if they failed were twice as likely to quit the habit. Even with all the huge health benefits of quitting, not wanting to give up their deposit was ultimately what made many people able to stop smoking. 
The point is that we have a natural aversion to losing, and that can actually spur us to make the needed changes in our lives. Which brings me to you. Since much of what motivates us is rooted in being loss-averse, my question to you is this: What are you not willing to lose out on anymore? 
No matter what has kept you from fully committing to a more healthy life, a new workout regimen, or even just more positive self-talk, it's time to look at things from this different angle – consider these the real valuables that you would do anything not to give up. It could be the $200 moment that finally sparks you to live on the path you belong on. 
Jen Widerstrom is a fitness expert, life coach, and the best-selling author of Diet Right for Your Personality Type. 
•  Feeling confident in your skin?
•  Playing with the kids in your life?
•  Being truly healthy? 
•  Trying new activities? 
•  Dating? 
PHOTOS NEUE FIT