Meet Eva Chen and Susie Lau, mothers to adorable kids and ultimate style icons of mummy chic.
WORKING MUM ICON
EVA CHEN
It's not Eva if it's not quirky. Hailing from NYC, the 39-year-old mother of two, children's book author and Instagram's fashion head is a trendsetter of modern workwear. She leans towards loud colours, unusual graphic prints and details.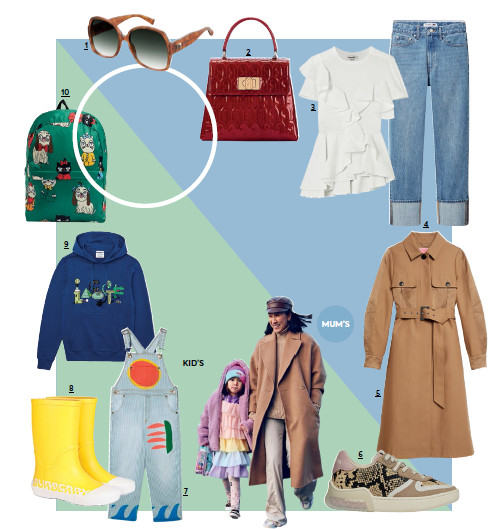 MUM'S 1. Sunnies, $265, from Max Mara. 2. Bag from Furla. 3. Alexander McQueen top, $1,035, from Net-a-porter. 4. Jeans, $59.90, from Uniqlo x JW Anderson. 5. Coat from Kate Spade New York. 6. Sneakers from Coach.
KID'S 7. The Animals Observatory overalls, $270, from Farfetch. 8. Boots, $388, from Bambini Fashion. 9. Hoodie from Lacoste x Jeremy Ville. 10. Mini Rodini bagpack, $98, from Selfridges.
THE OG FASHION BLOGGER
SUSIE BUBBLE
One of the first fashion bloggers to be recognised by the fashion industry, the 36-year-old British freelance journalist and mother of one is known for her fondness of clashing prints and unusual silhouettes.
MUM'S 1. Bag from Coach. 2. Sunnies, $215, from Kate Spade New York. 3. Viktor & Rolf top, $756, from Farfetch. 4. Ambush skirt, $1,670, from Net-a-porter. 5. Top, $415, from Sandro.
KID'S 6. Shoes, $29.99, from Cotton On Kids. 7. Stella McCartney hat, $105, from Kids 21. 8. Jellycat bag, $65, from Kids 21. 9. Skirt, $39.90, from Uniqlo x JW Anderson.
TEXT: SIFRA VANIA / PHOTOS: TPG NEWS & INSTAGRAM: @ SUSIEBUBBLE