'Tis the season to be jolly, and for these celebrities, that means dressing up as good Ol' Saint Nick (only way prettier!)
Barbara Palvin: If all Santas were as sweet as this Victoria's Secret angel, there would be much less holiday stress.
Katy Perry: Mrs Claus, is that you? The pop star cuts a striking figure in her slinky red and white outfit.
Lacey Chabert, Rachel McAdams, Lindsay Lohan and Amanda Seyfried: These Mean Girls bring on the holiday cheer in their match-matchy Santa outfits.
Mariah Carey: The queen of Christmas! Mariah has been rocking the Santarina look since her holiday album dropped in 1994.
Heidi Klum: Is there a holiday Heidi doesn't love? She ropes Simon Cowell into the Yuletide spirit here.
Secret Santa
We wouldn't mind getting a kiss under the mistletoe from any of these sexy Santas. Can you guess who they are?
ANSWERS: A: Henry Golding   B: Idris Elba C: Oscar Isaac   D: Nick Jonas 
Love In Vein
Can blood type determine a couple's romantic compatibility? A new dating service claims it can, so we tried it out on Taylor Swift, who stars in this month's Cats movie, and her exes to find out who her best love match really is! According to the service, a person with an "O" blood type (which Taylor is) is said to be best suited to a beau with an "A" blood type.
SOS SMS
Approaching your breaking point at Christmas? Send these emojis out ASAP if you need an escape route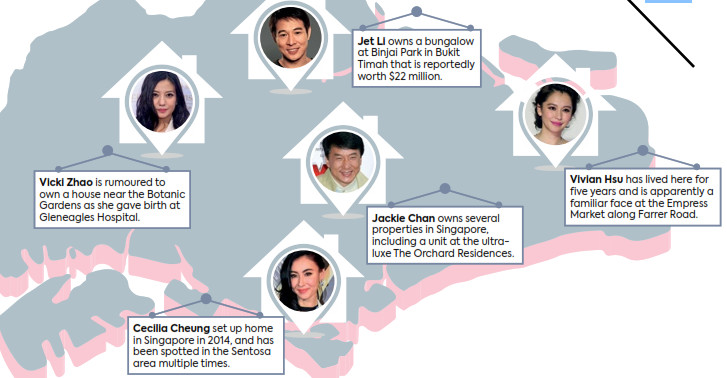 Home Sweet Home
Rumours are swirling that Ip Man 4 star Donnie Yen is shopping for a new house in Singapore. He's not the fi rst famous face to call the Little Red Dot home. Here are some others: 
COMPILED BY: NATALYA MOLOK / PHOTOS: TPG NEWS / SHOWBIT / INSTAGRAM: @PARISHILTON/@HEIDIKLUM/@KATYPERRY/@MARIAHCAREY