See now, buy now – and other ways in which a 170-year-old Spanish brand is keeping up with the times.
See now, buy now – and other ways in which a 170-year-old Spanish brand is keeping up with the times.
Back in 2014, when creative director Jonathan Anderson presented his debut Loewe collection for the Spring 2015 season, the Spanish heritage brand executed – for the first time – what its CEO, Lisa Montague, termed "drop zero". Just a week after the fashion show, selected products from the collection were made available for sale in stores.
Brands such as Burberry and Tom Ford are following in Loewe's footsteps, as the former two have announced their intention to adopt a "see now, buy now" business model. Traditionally, fashion shows feature designs six months before they hit shelves – allowing time for fashion buyers and the media to preview designs, and for brands to manufacture the pieces.
"In fashion," says Montague, "we are so related to the cultural environment that, if we don't change, the world passes us by." Balance, however, is key. "Our approach is to have small injections of new products. You can't do that with everything in luxury – by definition, it takes time to create products," she says. The English CEO, who has helmed the 170-year-Spanish luxury brand since 2009, was in town for the official opening of the newly refurbished Loewe store at Paragon.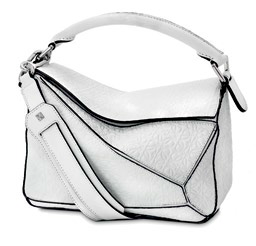 Offering new products for sale almost immediately following a show might not have been possible for Loewe a few years ago. While Montague – who is both friendly and firm – had begun implementing internal changes at Loewe from the start of her tenure, there were hiccups along the way. When Loewe's last creative director, Stuart Vevers, abruptly left in 2013, "it was a wake-up call", notes Montague.
Lessons like these reinforced the importance of having "a consistent rhythm of change and advancement", and organisational agility. Under Montague, Loewe has raised its production capacity by 50 per cent and upped its training of leather workers, and is embarking on a worldwide expansion phase. (The first Loewe store in North America opened in Miami last year.) The brand, she says, has been "outperforming the market in most of our markets" and has been seeing double-digit growth on average.
These improved processes have helped the brand to quickly realise the wide-ranging changes that creative director Anderson has introduced since joining it in 2013. These include a new store concept and brand logo, designs like the foldable leather Puzzle bag, and an increased focus on ready-to-wear. Says Montague: "Old, new, fast, slow – this is the contradiction that makes a very interesting tension and dynamic going forward. This is what makes Loewe modern."