We got the low-down on what insiders, hairstylists and influencers use to keep their hair red-carpet ready. Here's what to grab on your next shopping trip.
We got the low-down on what insiders, hairstylists and influencers use to keep their hair red-carpet ready. Here's what to grab on your next shopping trip.
GHD Curve Creative Curl Wand, $330.
"This heats up really quickly and has a tapered, cone-shaped wand, so you can choose what kind of curls you want – from big glamorous ones to beachy waves."
Kerastase Resistance Fibre Architecte, $50.
"I constantly bleach my hair, which makes it brittle and dry. This lightweight hair-protecting serum tames frizz, and keeps my tresses soft and silky.
LINDA M, investment manager and blogger (www.silverkis.com)
Shu Uemura Art of Hair Essence Absolue, $98.44.
"I apply a pump of this camellia-scented oil on towel-dried hair ends before styling; it makes my hair look shiny and silky. When I apply it at night, I wake up to smoother, tangle-free hair in the morning."
JACLYN GUNASILAN, associate beauty editor
Elizabeth Arden Eight Hour Cream All-over Miracle Oil, $53.
"This is one of the few hair oils that can actually tame my thick, unruly hair and leave it looking shiny (but not greasy). It doubles as a light body oil – convenient for pre-date preening."
Moroccanoil Smoothing Lotion, $62.
"Boasting a sexy amber-andmusk scent, this lotion tames my frizzy strands quickly, and leaves them soft and smooth all day – even when I'm in the sun!"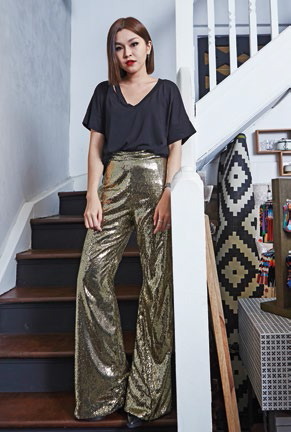 EVON CHNG, freelance fashion stylist
Shiseido Professional Stage Works Powder Shake, $31.
"This lightweight product doesn't weigh down hair and boosts volume in a jiffy – just spray it on the hair roots, then blow-dry for voluminous hair that lasts the entire day."
Etude House Oh My God! Dry Shampoo, $16.90.
"It fluffs up hair to create volume – especially at the crown – and rids the scalp of grease at the end of a long day. Plus, I always get compliments, thanks to its pleasant floral fragrance."
Sulwhasoo Camellia Hair Oil, $42.
"I apply this on towel-dried hair for bouncy, defined curls. It can even be used as a hair mask – apply a coinsized amount on the scalp and hair, wrap your locks in a warm towel, leave on for 10 to 15 minutes, then shampoo off ."
JUNIE TAN, managing director at Duo Salon
Kevin.murphy Doo.over Dry Powder Finishing Spray, $40.
"A two-in-one product, this functions as a setting spray and volumiser. Natural, plant-based ingredients such as tapioca starch and cedar wood absorb excess sebum and boost volume."
WILLABELLE ONG, writer, photographer and blogger (www.paledivision.com)
Babyliss Pro Ceramic Dial-a-heat Tongs – 32mm Barrel, $73.90.
"Babyliss makes some of the best curlers, and this one has been my go-to for years. It heats up quickly and creates perfect big, bouncy curls. With 25 heat settings to choose from, it's suitable for every hair type and condition."
Redken All Soft Argan-6 Oil, $32.
"This leaves absolutely no greasy feeling, and is excellent for dry, brittle hair. My mane feels much softer and healthier immediately after application. Only a tiny amount is needed!"
CARINA KOH, beauty writer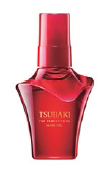 Tsubaki Hair Oil, $26.90.
"I have damaged hair with dry ends, and I use this to hydrate and tame frizz. It also keeps hair smooth, doesn't weigh it down and has UV protection to prevent hair colour from fading. It doubles as a hair fragrance too – I love how it smells of camellia flowers."
Joico Humidity Blocker Finishing Spray, $34.
"My hair doesn't fall flat thanks to this lightweight spray, which combats humidity. It also keeps my curls in place for hours and fights frizz for a tamer mane."
CHARMAINE LEE, beauty writer
Living Proof Perfect Hair Day Dry Shampoo, $32.
"I don't have an oily scalp, so washing my hair daily isn't necessary. Between washes, I flip my hair over and spray Living Proof's dry shampoo liberally. I wait one minute, then brush out any residue. My hair immediately looks voluminous without feeling sticky."
MELISSA CELESTINE KOH, fashion influencer and entrepreneur (www.melissackoh.com)
Aveda Sun Care Protective Hair Veil, $50.
"My go-to product whenever I head to the beach or if I'm travelling to a sunny country, this protects my hair from UV rays and keeps it hydrated, so it stays soft the entire day, even if I've been basking in the sun."
LEANNE HO, social media influencer and home maker (www.loveforskincare.com)
Bottega Verde Moroccan Argan Repair and Control Oil with Argan Oil, $24.90.
"I don't just use this on my hair to keep it soft and shiny; I also use it on my face, body and nails to tackle dryness. With continued use, this vitamin-rich oil makes my hair less brittle."
CHLOE CHOO, blogger and influencer (www.chloeandchoo.com)
Redken Pillow Proof Blow Dry Express Treatment Primer, $32.
"This reduces my blowdry time by about five minutes, and protects against damage when I use heat styling tools such as hairdryers and straighteners."
JERLENE THEN, beauty blogger (www.musicalhouses.blogspot.com)
L'Oreal Professionnel Techni.art Super Dust Powder, $20.
"I use this directly on my roots before blowdrying to prevent my mane from becoming flat or limp. My hair stays voluminous especially at the crown all day."
John Frieda Luxurious Volume Volume Building Mousse, $16.90.
"For volume and a naturallooking hold without leaving hair feeling hard or 'crispy', I turn to this."
ROSEANNE TANG, makeup artist
Lucidol Designing Air Hair Spray (Super Hard), $9.25.
"This holds my hair up for an entire day without making it feel stiff or sticky. It smells amazing too, like a floral bouquet."