In our going-too-fast, doing-too much, even-more-stressed times, earthy tones, like meditation, are a calming respite.
Life can be hard. Fashion shouldn't be. Nina Ricci keeps it simple in soothing camel and sand.
Peekaboo X-Lite calf leather bag, $6,250, Fendi. 
Brass earrings, $125, Bimba Y Lola.
Cotton drill skirt, $230, Topshop.
Cotton dress, $59.90, Zara. 
Acrylic jumper, $44.95, H&M.
Corduroy culottes, $69.90, Zara.
Corduroy jumpsuit, $79.90, Mango.
Reflexions 18K gold-plated sterling silver bracelet, $329, Pandora. Charms sold separately.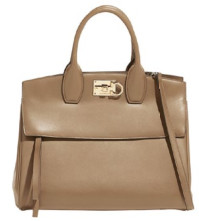 Studio calf leather bag, $2,090, Salvatore Ferragamo.
Corduroy shirt, $59.90, Zara.
Cotton jacket (price unavailable), Bimba Y Lola.
Silk top, $560, Longchamp.
Joni calf leather bag, $595, Coach.
Cotton shirt, $99.90, Zara.
At Loewe, patchwork lends texture to a downto-earth number.
COORDINATION BRYAN GOH