Including the stuff that didn't. So that you have the option of shopping for the same, or a similar look.
We'd prefer to wear Ferragamo's fisherman'snet dress to the beach as a cover-up.
It comes in a beige version with a crochet neckline too.
Sterling silver necklace, $420. 
Sterling silver ring, $310.
Calf leather and cork platform sandals, $1,750.
Calf leather and wicker bag, $3,290.
Brass bracelet, $370.
Urban Decay Brow Blade in Cafe Kitty, $40.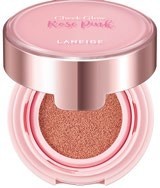 Laneige Cheek Glow in Rose Pink, $35.
Urban Decay Brow Finish in Ozone, $33.
Hourglass Vanish Seamless Finish Liquid Foundation in Shell, $93.
Three Daringly Demure Lipstick in #9 Free Love, $53.