Embossed nylon backpack, $4,720, from Chanel.
The metallic hue usually suggests utopian or spaceage chic. This season, though, accessories in this shade fall squarely where they should: the present, with sportswear edginess to boot.
Twist MM Spaceship leather shoulder bag, $5,600, from Louis Vuitton.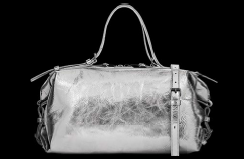 Leather duffle, $2,560, from Saint Laurent.
Spaceship calf leather sneakers, $1,360, from Louis Vuitton.
Fingerless lambskin gloves, $900, from Chanel.
Quilted calfskin minaudiere, $5,860, from Chanel.
Medium Hobo leather bag, $2,090, from Proenza Schouler.