ARTIST IN RESIDENCE
"From left: Johannes Vermeer's Girl with a Pearl Earring. Artist Claire Salvo's (@clairesalvo) rendition of the classic work using food items"
Who would have thought that some bread, pasta and carrot strips can turn into a masterpiece? Everyday items get elevated to high art when art lovers get creative at home. Toilets rolls get fashioned into accessories, spouses are transformed into snails, dogs masquerade as humans and mythical creatures. Restaging artworks using only what's found in the household has become a global obsession. Even museums have hopped on board for cultural engagement at its funnest, with the Rijksmuseum (rijksmuseum.nl/en) and J. Paul Getty Museum (getty.edu/museum) issuing their own art-at-home challenges and making selected works in their digital archives available for free download. Time to unleash your inner artist.
No prizes for guessing which musical everyone is waiting for with bated breath
THE SHOWS MUST GO ON!
Andrew Lloyd Webber needs no introduction. Even if you're not a classic theatre fan, chances are, you'd have heard covers of the British composer's music somewhere. In a celebrated move, he has made some of his theatre productions available for free streaming on YouTube (str.sg/JYaz)—past releases include The Phantom of the Opera, Jesus Christ Superstar and Joseph and the Amazing Technicolor Dreamcoat. The catch? You have only 48 hours after their release (every Friday, 2am Singapore time) to enjoy the full-length musicals. The shows in the series are announced by the week on andrewlloydwebber.com/ the-shows-must-go-on; check in frequently to avoid missing your favourites. For the rest of the week, there are clips of the performances and behind-the-scenes footage to keep you entertained.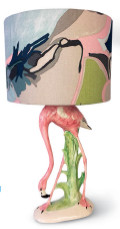 From top: Recycled Paint Pot Mirror, about $650, Smithers of Stamford. Ceramic Flamingo Lamp, about $455, Studio Australia. Cassini Floor Lamp, about $2,940, Eichholtz at Sweetpea & Willow
When extended work-from-home arrangements have become a reality for many of us, sprucing up your space (especially for those video calls) can make all the difference. Rather than going run of the mill, pick quirky home accessories that will bring a smile to your face and all those who can eventually visit your abode. A camp flamingo lamp will defo bring a twinkle to your eye while you sip your daily cuppa, as will an unconventional mirror or an ambient lamp that does double duty as a piece of sculpture in the living room. Bonus points if you pick decor items that showcase the interior trends of the year—think artistic pieces in sleek gold and nature-inspired designs.
Cross-sector creativity showcased by (clockwise from right) designer Oki Sato's Cubic Clock, industrial designer Marc Newson's Klepsydra and artist Daniel Arsham's Hourglass 
OF ART & CRAFT
Ever wondered about the creative process behind the finer things in life, from memorable architecture to exquisite watches and designs that mirror the times? Tune in to The Lives of Artists, a series of nine short films presented by The Hour Glass that spotlights creativity in all its guises with a line-up that spans the independent watchmaking, architecture, art and design sectors—think Maximilian Büsser of MB&F, American artist Daniel Arsham, and designer and architect Oki Sato. O ering a glimpse into the brilliant minds at the top of their game and the artisanal craft behind their creations, the videos, hosted on the brand's YouTube channel, are released every week from 22 April to 17 June.
PODS À LA MODE
With the high mileage your earpieces are no doubt enjoying, why not get a case that'll keep 'em safe while scoring you extra style points? Some of the leather ones featured here—actual AirPod cases given a chic update in texture, print and hue as well as covers meant for AirPod or similarly styled cases—even come with detachable carabiners or a chain and snap hook, so you can attach them to your bag or even your belt, ensuring you'll never have to go digging for your earpieces ever again.
"Earpiece cases from (from top) Louis Vuitton, Dior, Burberry, Miu Miu and Dolce&Gabbana"
EYE CANDY
Coffee table books naturally lend themselves to leisurely afternoons. Pick up one of these in your spare time and let it take you away 
Yayoi Kusama: All about My Love, $48.15, kinokuniya.com.sg
A visual vocabulary of the avant-garde artist famed for her signature polka-dot motifs, this features 350 illustrations of her work across mediums, with an accompanying essay by Akira Shibutami providing deeper insight into one of Japan's most prominent artists.
The Art of Game of Thrones, $96.30, kinokuniya.com.sg
Revisit the beautiful sets of the fantasy TV series with this 432-page tome of behind-thescenes concept art and production design images of iconic locations across all eight seasons—think King's Landing, Winterfell and Castle Black. GoT fans would approve.
Wild Interiors, $35.25, bookdepository.com
Let plant specialist Hilton Carter take you on a green journey with lush interiors and styling ideas to bring botanicals into your home, so you can reap the well-being benefi ts. Don't have green fingers? Fret not, for there are also tips on plant care.
Martin Schoeller: 1995 – 2019, $56.82, bookdepository.com
Honest photography at its finest, this retrospective of the celebrated photographer captures the full scope of his oeuvre with images that venture into the realm of social justice, invisible subcultures and more.
The Joy of Water, about $29, shop.lonelyplanet.com
Aquaphiles, brace for jaw-dropping full-colour photos of over 60 locations around the world where sublime aquatic experiences— be it relaxing, contemplative or adventurous—are to be had. A vicarious pleasure to dip into, until travel is safe again.
BY STEPHANIE YEONG. PHOTOGRAPHY: COURTESY OF CLAIRE SALVO, THE HOUR GLASS & MARC NEWSON; ALESSANDRO PINNA; SMITHERS OF STAMFORD; STUDIO AUSTRALIA; SWEETPEA & WILLOW