With its sharp design and clever curate by Jonathan Anderson, Loewe is muscling its way to the front of the fashion pack by celebrating the essence of its business— the exceptional craft of leather.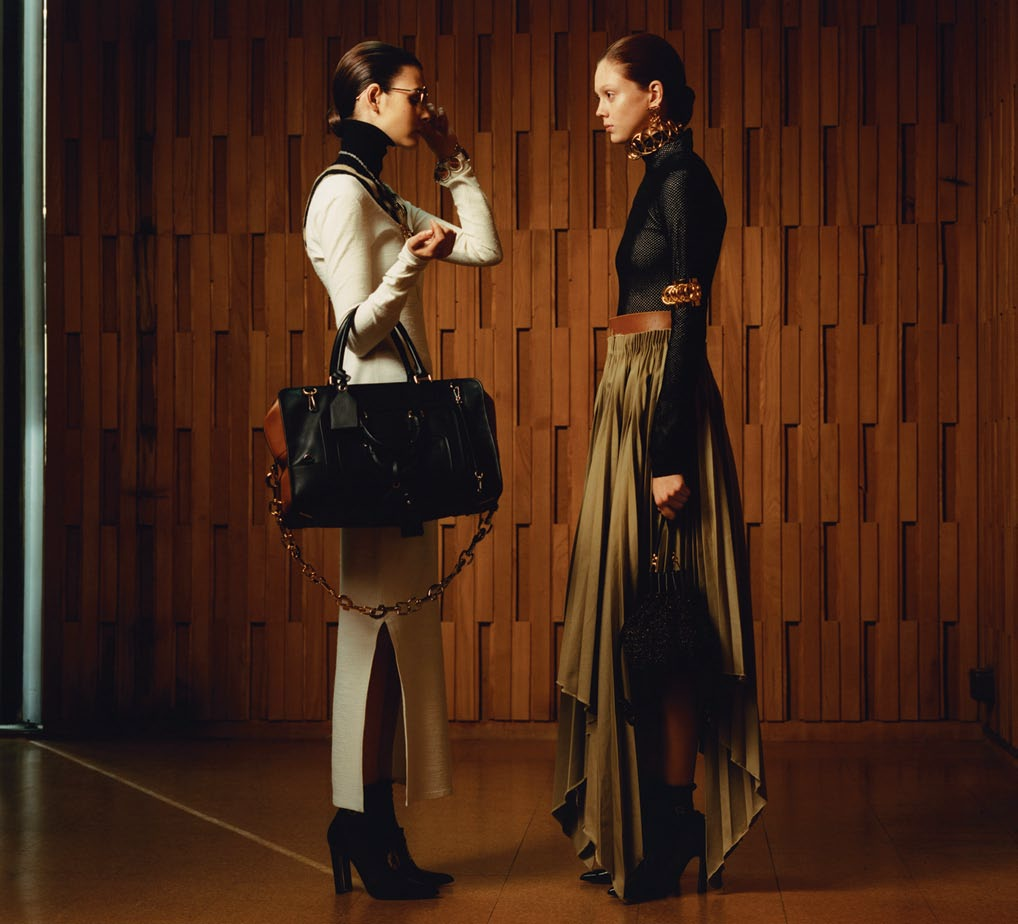 It's no secret that Spanish fashion house Loewe is a master at manipulating leather like it is the softest of fabrics. It has, after all, been doing so for the past 170 years. Yet, despite its century-rich heritage and exquisite leather craftsmanship, compared to its European luxury fashion counterparts, Loewe's standing in fashion can be likened to that of an unassuming aristocrat in a big pool of other blue-bloods.
But with the installation of design wunderkind Jonathan Anderson as its Creative Director, things at the LVMHowned Madrid luxury house have changed. Succeeding the likes of Stuart Vevers and Narciso Rodriguez, Anderson's ongoing recalibration of Loewe is exciting and progressive. There's a new attitude carefully put together by Anderson, and it's most palpable in his men's and women's ready-towear collections. Each season, new offerings marry the Irish designer's razorsharp vision with the skills of the house. For fall/winter 2016, this took the form of instantly covetable pieces made for Loewe's tribe of cool urban warriors. Models strutted down the runway in leather bustiers, billowing skirts with handkerchief hems, stacks of oversized gold jewellery and leather cat pendant necklaces.
Leather—and the house's expertise—sits at the crux of the brand's evolution under Anderson's hands. And rightly so. "The ecosystem at Loewe is fundamentally about craft," Anderson explained in an interview with Harper's BAZAAR in May, "It's about the people. And that's what I learnt about being at Loewe since I joined."
BAGS OF GOLD
For more than 40 years, the boxy Amazona bag has remained Loewe's pièce de résistance in the competitive world of luxury bags. With Anderson onboard, the icon has been tweaked and modernised for a new generation of women.
And then there's the Hammock, which Anderson first introduced during the spring/summer 2016 season. Steering away from the rectangular structure that has come to define bags such as the Amazona, Anderson and his team paved the way for a new type of functionality to exist within Loewe's bag lines.
Using the same construction technique and silhouette as a beach hammock, Loewe's new bag version is made up of more than 10 laser-cut leather patterns that are prepped and assembled by hand. The assembly process involves using the same tools used by leather masters in the past to create Loewe's unrivalled lujado (handpainted edges) finish. The end product? A bag that is not only versatile in its many uses, but also testament to intelligent bagmaking processes at Loewe.
SECOND SKIN, SECOND NATURE
Anderson has pushed Loewe's leather expertise to new frontiers not just through the statements he's making on the runways, but off them.
Launched in June 2015, The "Bowls Project" is a prime example. Anderson, who has been a longtime admirer of Austrian-born studio potter Lucie Rie, commissioned José Luis Bazán, a thirdgeneration artisan from Benaocaz (the Spanish province is known throughout the country for its superior leather knowledge) to produce a unique collection of 50 leather bowls that reinterprets Rie's modernist work. The bowls were showcased in Loewe stores around the globe, with only three sets being put up for sale.
Anderson built on the momentum of his investigation into the "aesthetic, material and functional possibilities of leather" with another ambitious exhibition. In April this year, the brand returned to the Salone del Mobile furniture fair in Milan with the "Loewe Leather Marquetry Project".
Comprising a set of six oak furniture designs fashioned from multiple fragments of leather in various shapes and colours to create a mosaic effect, the venture is inspired by the progressive design approach of renowned artist-critic Roger Fry and the Bloomsbury Group (an association of artists and writers during early 20th century London).
More importantly, the collection is an elaborate showcase of how an ancient marquetry technique can still stand proud under the spotlight of the 21st century— brought to life under the skills of Loewe's many master artisans, no less.
"Loewe is about a family of people who make good products and they believe in it from beginning to end," Anderson says. "It's not about how long we've been going but about how relevant our product is. I feel our products come from an honest place." Perhaps, in the world of Loewe, the concept of family goes beyond those who work within its many ateliers. By bringing in collaborators on the journey with him, Anderson is allowing this Spanish family tree to take root on the grounds of exploration and innovation.
"It's not about how long we've been going but about how relevant our product is." —Jonathan Anderson