A classic Louis Vuitton bag is interpreted by six artists as an epic exercise in creativity.
When the Capucines bag was originally unveiled in 2013, it was notable for eschewing Louis Vuitton's traditional monogram canvas for just one bold italicised LV on its front, set into plain, full-grain Taurillon calf leather. Clearly, it had a certain air of discretion and sophistication—the logo gets completely obscured when the flap is tucked outwards. Call it stealth wealth if you want.
Six years on, the Capucines remains well-loved. The restrained, minimalist design keeps it beyond the realm of trends. Plus its modern shape and skilful construction makes it easily adaptable to anyone's style. It is perhaps this blank-canvas quality that inspired Louis Vuitton's latest art project: A collaboration with six visual artists who lent their singular, distinctive styles to the Capucines, to produce six brand-new iterations of this enduring classic, now available as limited editions.
ALEX ISRAEL
Los Angeles mixed media artist Alex Israel is fascinated with all things Californian—from celebrity obsession to the unwavering faith in the American Dream. But for this project, he was inspired by something simpler: L.A.'s beach and surf culture. Fittingly, his Capucines bag features graphic, sorbet-toned waves and detachable shark fins that double as a comb and a mirror. Israel's design derives its aesthetic from some of his earlier work—like his paintings of Pop Art waves, and a short film centred on surfing. Here, he opens up about his work, what inspired his version of the Capucines bag and how he feels about finding a new audience for his art.
What are the major themes that recur in your work?
Los Angeles is at the heart of my work. It's a city that's driven by innovation and imagination, and an incredible amount of creative output constantly pours out of the landscape. It's a place where people come to reinvent themselves, where just about anything is possible. Both that feeling of possibility and being surrounded by creativity and self-invention profoundly inspire me and my work.
When translating your work onto the Capucines bag, what were the elements you wanted to include?
I decided to re-imagine the surface of the bag as one of my wave paintings. We have a beach culture here in Southern California, and waves dictate the rhythm and pace of life. My wave was born out of an animated sequence in my film SPF-18. What originated as a flat, animated image took on a more sculptural, squishy, wetsuit-inspired quality in my paintings. It was important to me that the bag embodied the physicality of my paintings, the texture of L.A., and our home-grown surf culture.
What did you physically add to the Capucines bag?
I wanted to include a surfboard element to truly bring out the world I wanted the bag to evoke, so we added a pair of fins to its silhouette. The fins also serve a function: One is a mirror and the other is a comb, and they are removable. Each customer can decide how the bag should look depending on how they feel that day. Touching the bag and feeling its texture is a part of that process. There's one final element that I added to the interior—my self-portrait. It's not immediately apparent— it's hidden by a zipper pull, but it's there for people to find, like a secret signature.
The Capucines bag is inherently a movable object, and will take your work out into the public space. How do you feel about the bag having a life of its own, beyond your control?
The most exciting thing for me about doing this project is that I get to put things in the world in a different way, and potentially reach a different audience for my work. I love the art world and I love making exhibitions, but I also love making products, videos, books and sunglasses. There are so many audiences out there, and so many people who don't make it to museums and galleries—I want these people to be able to experience my work in the places they go, and through the platforms they might access.
What was your primary objective in undertaking this project?
I wanted to make a desirable statement.
Above: Los Angeles-based artist Alex Israel with his self-portrait in the background OPPOSITE: Alex Israel's sorbet-hued interpretation of the Capucines bag alludes to Californian surf culture
"Tschabalala Self"
TSCHABALALA SELF
While the bulk of her art centres on the cultural positioning of black womanhood in the United States, painter and print-maker Tschabalala Self 's collaboration with Louis Vuitton veered into new territory. Instead of her usual motifs, Self concentrated on the technique of deconstruction, putting the elements back together in a completely new form. For her Capucines, she focused on the LV monogram flower, recreating multiple versions of it in skewed shapes, different fabrications and varied colours, before patch-working them onto the bag for a truly hand-made, artisanal quality.
Handcut and painted calfskin, cowhide and lizard skin are patchworked on Tschabalala Self's Capucines
Leather flowers in contrasting colours are attached with hand-laced embroidery on Nicholas Hlobo's version 
"Nicholas Hlobo"
NICHOLAS HLOBO
Nicholas Hlobo works with materials like discarded ribbon, copper pipes and tyre tubes, melding them together to create two- or three-dimensional hybrid objects. His work is an exploration of the dichotomies of modern-day South African society and his own place within it. For his Capucines, Hlobo's goal was different. He wanted, in his words, "to 'cut' through the Louis Vuitton bag and make beautiful things grow out of it", which stemmed from his desire to uncover what lies underneath surface-level beauty. To that end, he used floral appliqués and made them "flow" across the sides of the bag and protrude in sections, making for a bag that is as visually prominent as it is tactile.
Urs Fischer's playful take features six detachable, hyperrealistic silicone fruits and vegetables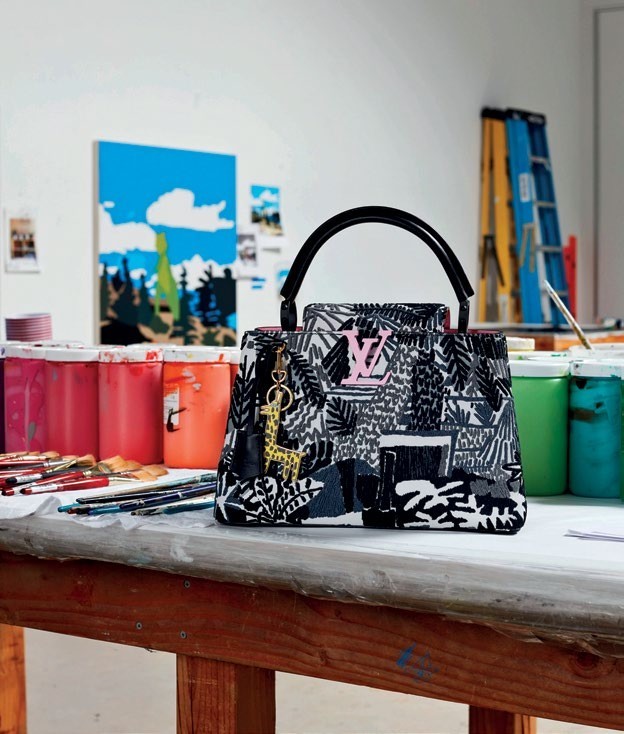 A giraffe charm adds a touch of whimsy to Jonas Wood's iteration, which features a print of his painting, covered with embroidery stitches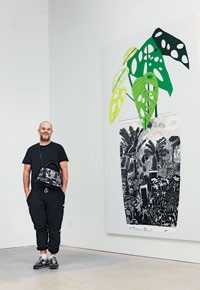 "Jonas Wood"
JONAS WOOD
Boston-raised painter Jonas Wood is known for the use of overlapping textures, saturated patterns, and disorientating compressions of space in his works, which he often composes by layering and collaging photographs and drawings. In a similar fashion, Wood designed his Capucines by transposing his art—sections from three of his paintings—onto pieces of stained leather. These were then sewn together to create the outer shell of the bag, which is also intricately detailed with bundled thread that sits on top of the surface of the bag, creating texture and contrast.
"Urs Fischer"
URS FISCHER
New York-based Urs Fischer is known for his large-scale sculptures and installations which often feature everyday objects in completely inventive and visually surprising ways—like a painted aluminium sculpture of a gigantic packet of cigarettes intersected by half a dining chair, for example. For his Capucines, Fischer decided to veer into the realm of surreal, as is his calling card, for a fun, eccentric rendition. Leaving the surface an unadorned, pristine white, he added hanging objects instead: An egg, a ba nana, a green apple, a carrot, a strawberry and a mushroom take turns to adorn the bag, attached by a thin, gold-plated chain to either the handle or more unusually, the base.
Sam Falls original artwork, inspired by nature, is reproduced on the fabric bag 
"Sam Falls"
SAM FALLS
Sam Falls is best known for his work using nature. One of his most wellknown techniques is to cover his canvas with natural materials like flowers and leaves from a particular area, before dusting the arrangement with pigment and leaving it exposed to the elements. Once the foliage is removed, the end product is an enigmatic, wispy artwork filled with the overlapping outlines of varied flora. For his Capucines bag, Falls created a piece with smaller flowers and plants to fit the scale of the bag. His work was then recreated on the bag with painted linen, cotton and multi-layered embroidery, culminating in a piece filled with a captivatingly soft, powdery aesthetic.