Classic, cool, chic—the once strictly utilitarian staple is reimagined and ready to shake things up.
SUMMER PRINTS
Trench coat, Max Mara 
Tory Burch pre-fall 2020 
Balenciaga pre-fall 2020 
Dior pre-fall 2020
"Trench coat, Brunello Cucinelli"
SLEEVELESS 
"Trench coat, Alexander Wang"
EDGY LEATHER 
Burberry pre-fall 2020
"Trench coat, Stella McCartney"
OVERSIZE CLASSIC 
Moschino pre-fall 2020 
"Trench coat, Gucci"
HERITAGE REFRESHED 
LAYER UP
Audrey Hepburn wore hers with an air of elegance in Breakfast at Tiffany's. Rihanna went for a cool, futuristic vibe with a patent leather number—worn as a dress no less—at the 2018 Grammys. Fast forward to 2020 and the everversatile trench coat has undergone yet another update, while retaining subtle details and a structured silhouette. Balenciaga's supersized khaki topper was layered over bold hues for a quirky twist while over at Dior, Maria Grazia Chiuri channelled a safari vibe by teaming her sleeveless version with Bermuda shorts and kneehigh boots. Meanwhile, Jeremy Scott cut and spliced British tweed and American denim at Moschino, and Tory Burch put forth a paisleyprinted version— teamed with a timeless striped top and linen trousers—that recalled the carefree days of farflung adventures we crave so much. Burberry, credited for the invention of the trench coat, presented a sleek, formidable leather number in black, in a nod to this generation of style icons. Whether you're after a classic piece for every occasion or a cuttingedge design for greater impact, this season's iterations have got you covered.
BORROWED FROM THE BOYS
These snazzy menswear-inspired dress shoes deliver style and comfort in equal measure 
CLASSIC LOAFERS with gold-tone hardware help keep things chic.
Elevate your shoe game with CHUNKY-HEELED LOAFERS in an arresting metallic hue.
Match your classic MONK-STRAP SHOES to your pantsuit to look more polished.
Straddle work and play in mannish MOCCASINS softened with feminine detailing.
Add youthful exuberance to a casual skirt suit with DERBY SHOES in white.
When it comes to sheer versatility, black OXFORDS score off the charts.
SHOP THE SHOES
Heeled loafer, $655, Tory Burch
Moccasin, Salvatore Ferragamo 
Derby shoe, $1,680, Louis Vuitton
Oxford shoe, Saint Laurent by Anthony Vaccarello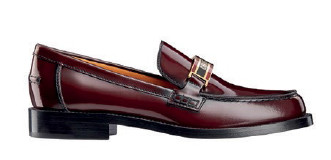 Loafer, $1,550, Dior
BY GRACIA PHANG
BY GRACIA PHANG. PHOTOGRAPHY: SHOWBIT