PERHAPS IT'S A REACTION AGAINST THE TURBULENT TIMES THAT WE'RE LIVING IN (OR WE'RE JUST SECRETLY HANKERING FOR THE RETURN OF ALT-CHIC CIRCA THE 1990S).
PERHAPS IT'S A REACTION AGAINST THE TURBULENT TIMES THAT WE'RE LIVING IN (OR WE'RE JUST SECRETLY HANKERING FOR THE RETURN OF ALT-CHIC CIRCA THE 1990S). THE BIGGEST MESSAGE ON THE FALL/ WINTER 2019 RUNWAYS: PUNK – OR AT LEAST THE LOOK OF IT – IS FAR FROM DEAD. KENG YANG SHUEN HIGHLIGHTS THE ANARCHY AND ITS LOUDEST PLAYERS.
GUCCI
Alessandro Michele was something of a punk himself when he first ascended the Gucci throne and made over the Italian luxury label with his allmisfits-are-welcome vision. For F/W '19, expect – as always – a wardrobe for a motley crew of characters, from jesters (graphic-patterned, harlequinprint midi dresses and blouse-pants combos) to reluctant '80s corporates (extra bold-shouldered suits) to glamorous pixies (gossamer beaded gowns complete with jewellery in the shape of elfin ears). To accompany them all? Masks and heavily studded accoutrements like chokers and suspenders. Could these be read as emblematic of a need for protection in these troubled times? Or a refusal to bow to the safety net of the mainstream? Either way, the results are very punk and, might we add, strangely alluring.
MARNI
"Neuroerotik" – a portmanteau comprising of "neuro" (as in, nervous systems) and "erotic" – is the label's key theme. The sexy part is evident in silky deconstructed midi dresses. The neurotic? Possibly in how many of these dresses are adorned with random piercings (yes, kind of like Tommy Lee's) and can be paired with mirrored chain harnesses that add a subtle frisson of fetish.
PRADA
Miuccia Prada said she was obsessed with the idea of romanticism as an antidote to our harsh times, and this being Prada, her interpretation runs the gamut. References to Wednesday Addams (demure tailored dresses), militant uniforms and science fiction (motifs of Frankenstein and his Bride) abound; alongside more "conventional" notions like flowers (as prints and oversized, drooping appliques), and lace on capelets and see-through sheaths. Ultra heavyduty combat-style boots and brogues ground this eclectically romantic line-up, recalling the exaggerated Doc Marts typically favoured by punks.
JUNYA WATANABE
Watanabe is well-known for having a grungey/punkish streak – his past collections have had even more obvious references to the subcultures. His latest riffs on the loaded Japanese term "kawaii" are seen in his signature splice-and-dice aesthetic (a hybrid of a floral granny frock and a collegiate hoodie, for example). With runway models dolled up in exaggerated Barbie wigs and goth makeup, the looks were all about what Nicki Minaj would wear if she were to dress up as Kat Bjelland, the feisty lead of the '90s punk/alt-rock band, Babes in Toyland. In short: absolutely wild.
"The way we live today – online and in Instagram – it's not really right. There's a need for a little imperfection," said Donatella Versace during a media preview of her latest collection. And so she's spun out a luxurious take on grunge, a culture that owes much to punk. Cashmere knits come with ragged ends, taking on a DIY aesthetic. Meanwhile, the pairing of bondage-heavy bralettes and tweed skirts recalls the style of Vivienne Westwood in her early years as proprietor of the cult London boutique Sex, and progenitor of the punk aesthetic.
MARINE SERRE
French trailblazer Serre has made upcycling a core part of her ethos since the inception of her namesake label two years ago. In her latest collection, more than half of the pieces are reportedly made with recycled elements. Solarpunk leanings aside, expect her signature scarf dresses as well as – newish for the brand – tartan and faux fur-trimmed tailoring. What feels freshest (and inadvertently punk-iest) though is the fetish-y apparatus she dubs "pollution masks" that accompanied her runway looks –her response to our ongoing climate crisis.
ALEXANDER MCQUEEN
Sarah Burton offers up some ultra-sharp tailoring in her latest collection for the house, covering both uptown chic (extravagant, asymmetric pantsuits) and downtown cool (studded leather jackets) then injecting a sophisticated dose of punk with chunky leather chokers and chains. On a subtler punk note: She has also come up with environmentally-conscious pieces such as a fabulous Prince of Wales checked coat using leftover fabric – a beautiful reminder that perhaps the way forward in fashion is to create fewer items but come up with more well-crafted and thoughtful designs. How's that for a punch in the face of throwaway consumerism?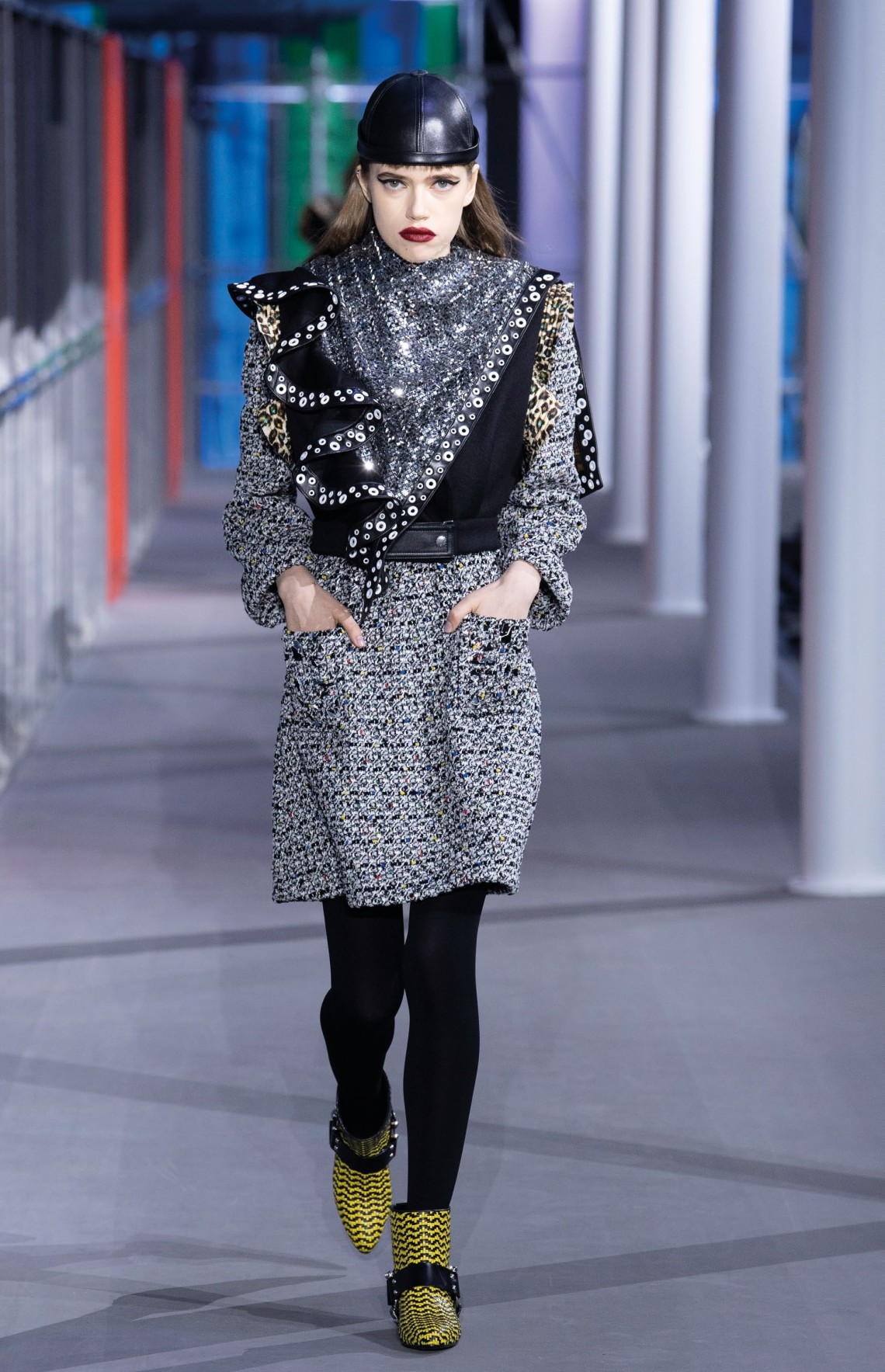 LOUIS VUITTON
Creative director Nicolas Ghesquiere looked to capture the anything-goes spirit of the various pre-Instagram subcultures that used to populate Paris' Centre Pompidou, resulting in a textured collection heavy on '80s references, including leather skullcaps, mannish tailoring and chunky, creeper-esque boots. The result is a polished yet highly idiosyncratic collection that stridently defies the bourgeois aesthetic so prevalent this season. To paraphrase The Sex Pistols: Anarchy is the only way to be.
DIOR
True, the French maison might not be the first to come to mind when one thinks of punk fashion, but there's a subtle link between the subculture and its latest collection. Creative director Maria Grazia Chiuri's inspiration: Teddy Girls – the female counterpart to '50s Teddy Boys, often said to be the earliest group to represent youth culture in modern Britain and punk predecessors (at least spiritually) with their working class origins and rebellious behaviour. Filtering their dandy attire through her pretty aesthetic, Chiuri offers up elegant tartan suits and elevated, slighty sporty staples with the same punkish pattern. Yes, they go perfectly with the brand's now-signature tulle midi skirts (of which there are still many). This is punk princess redefined.