BMW's 216d Gran Tourer was a welcome companion on this SG-KL driveaway.
BMW's 216d Gran Tourer was a welcome companion on this SG-KL driveaway.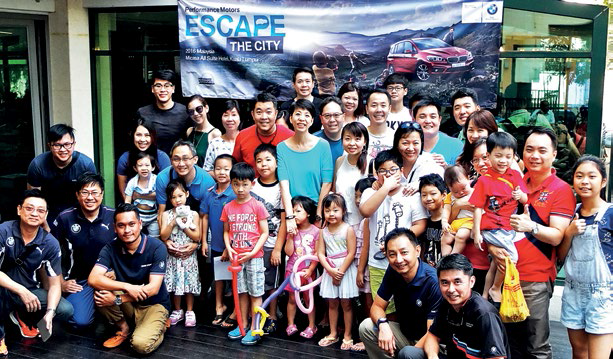 THE 2 Series Gran Tourer (GT) is BMW's first seven-seater multi-purpose vehicle, and the 216d variant comes with a 1.5-litre 3-cylinder turbo-diesel engine that drives the front wheels.
To get a good feel of the popular Bimmer, I joined a bunch of 216d GT owners and prospective buyers on a driveaway to Kuala Lumpur.
Even with a pre-dawn start on a Friday, our entourage had to endure a nearly three-hour traffic crawl at the Causeway. It was, after all, an Easter long weekend.
Once we cleared the bottleneck, the 10 GTs were split into two groups for our convoy journey ahead, and walkie-talkies and SmartTAGs (transponders to breeze through highway toll lanes) were issued.
Behind the wheel of the GT, I sat a little higher than usual, with "glassy" outward visibility and a familiarly BMW dashboard layout. My seat was supportive and Teutonically firm.
Matte wood insets, LED ambient light trim and high-grade materials gave this MPV a premium feel. The GT I drove was also equipped with the optional panoramic glass roof. The dual-zone airconditioning was well up to the task of keeping the cabin cool, in spite of the scorching 38 degrees C heat wave at the time. I reckon only the third- row occupants might feel less cool, because they don't get their own pair of air vents.
The diesel clatter, evident during idling and initial acceleration, faded once the car hit the highway. A pleasant surprise was the GT's ability to maintain high cruising speeds with utmost composure, despite a modest power output of 116bhp. It was all about high torque at low revs (270Nm at 1750rpm).
We pit-stopped at the Kulai R&R lay-by, where Shell sponsored the morning refreshments. Incidentally, Shell Malaysia now offers Euro 5 diesel fuel at select stations.
During the onward journey, our driveaway host gave a walkie-talkie brief on highway safety and highlighted the GT's Driving Assistant Plus, which includes lane departure warning and cruise control with Stop&Go function. Some of the convoy members tried it out.
As soon as we cleared the SMART tunnel (the world's longest dual-purpose stormwater/motorway tunnel), we reached our destination, the MiCasa All Suite Hotel off Jalan Tun Razak. It's at the edge of town, so we were spared much of KL's gridlock.
Lunch was at the hotel's fusion-dining restaurant, Cilantro. Gourmet treat aside, it was an opportunity to chat with the participants about their drive in the 216d GTs.
All were awed by the unassuming MPV's overtaking ability and high-speed cruising stability. They were also impressed by the practicality and roominess of the cabin within that compact exterior, and the nifty kit on board.
It was a "free and easy" programme for the rest of the weekend. Some folks enjoyed a dip in the salt-water pool at the MiCasa, while most of the group headed to KLCC or Bukit Bintang to partake in Singaporeans' favourite pastime – shopping.
The more adventurous ones took their GTs up to Genting Highlands, for the hill-climb driving experience and to get away from the urban heat.
Do note that Genting Resort is currently undergoing major renovations, which include the building of 20th Century Fox World, a new theme park scheduled to be opened at the end of this year.
As a hawker foodie, I was disappointed to find Jalan Alor (behind Jalan Bukit Bintang) transformed. The place is still buzzing, but it has mainly Thai seafood eateries now. Much of the traditional KL hawker fare is long gone.
I'll have to do research on where to find great local eats for my next road trip up.
At the next street, there was a different vibe. Changkat is KL's latest hotspot to chill and party. Think of it as an upsized Holland Village.
Whatever you fancy, there are lots of different interesting activities in and around Malaysia's capital to fill a weekend.
After a leisurely breakfast on Sunday, the participants opted to drive directly back to Singapore, so as to avoid the massive throng of returning holidaymakers at the Causeway.
On the return leg, there was friendly banter over the airwaves, affirming the "car-maraderie" that had developed amongst the participants. Everyone was looking out for each other and keeping our convoy in a tight formation. Overall, it was a quiet and stress-free ride home, except for tyre rumble on coarse tarmac.
Occasionally, our entourage was overtaken by M cars, AMGs and GT-Rs. But the BMW MPV was no slouch, and not just on the straights. It was equally adept on the B-roads, steering predictably and rolling less than your typical MPV.
The 216d GT was frugal, too. I managed over 15km per litre, giving me a potential range of over 900km – more than enough to make the KL round trip without refuelling.
Our drive down from KL to JB on the North-South Highway took four and a half hours, including two breaks at Seremban and Machap.
We reached the Causeway by 3pm, just before the start of the post-weekend jam. This time, it took just half an hour to clear the immigration booths on both sides, phew. It was a good gran tour in the 216d Gran Tourer.