More than just blue skies and clear lakes, bavaria's warm hospitality is another reason to visit.
More than just blue skies and clear lakes, bavaria's warm hospitality is another reason to visit.
Although Bavaria is most well known for its Oktoberfest, the destination offers much more than just a fine place to drink one too many beers. Fairytale castles, hidden lakes and lederhosen, Bavaria doesn't disappoint to keep up its clichéd promises. Follow the wild flower meadows and medieval walled towns, and taste the region's numerous craft beers, all while sporting that feel-good air of Bavarian Gemütlichkeit.
Mandarin Oriental, Munich
Tucked away in a side street, Mandarin Oriental, Munich offers a central yet quiet location with a five-minute stroll to the city's famous Marienplatz. Housed in a beautiful historic Neo-Renaissance building, which served as the city's opera house in the late 1800s, the hotel is a mix of oriental design and German charm.
With 48 rooms and 25 spacious suites, the five-star hotel has luxurious timeless appeal. Its attraction, and probably one of Munich's best-kept secrets, is without a doubt its stunning China Moon Roof Terrace, where guests can take in sweeping vistas of the city while sipping cocktails or dining al fresco during the warmer summer months. Should the rooftop get too hot, guests can always take a dip in the outdoor pool and continue to enjoy the 360-degree views over Munich. The fitness centre, complete with Turkish steam bath and Finnish sauna, are nice add-ons to soothe tired feet and bodies. If you're bored of exploring the city on foot, ask the concierge for a Mercedes Benz bicycle at no extra charge and head over to the English Garden where you can also observe surfers riding the Eisbachwelle. Just make sure to reserve your bike a day in advance.
For dinner, try the hotel's newly opened Matsuhisa restaurant, which brought internationally celebrated chef Nobuyuki Matsuhisa's legendary dishes to Germany. Serving up Nobu's renowned style of Japanese-Peruvian cuisine, the menu offers signature dishes such as the legendary black cod and yellow fin tuna sashimi with jalapenos.
Visit Mandarinoriental Website
Hotel Vier Jahreszeiten Kempinski München
Built at the request of King Maximilian II, the grand Hotel Vier Jahreszeiten Kempinski München is one of Munich's most prestigious addresses, combining old-world charm and modern comforts, welcoming guests since 1858. Perfectly located in the centre of the vibrant city on the famous Maximilianstrasse (just a few steps away from some of the city's most fashionable boutiques), the historic hotel has long attracted prominent international clientele, including leading politicians and business tycoons, as well as personalities and celebrities from the world of art and culture.
The hotel is well known for its high standard of service, and guests can choose from 230 rooms and 67 contemporary suites, each encompassing its own individual character inspired by King Ludwig II. One of its finest attributes, however, is the spa, where you can escape the daily grind and relax in the pool, sauna, solarium and receive individual treatments. The wellness sanctum is also the go-to address for physiotherapy and organic herbal therapies. Should you decide to dine at the hotel, don't miss out on reinterpreted Bavarian dishes, widely known as young Bavarian cuisine, which are served at the Schwarzreiter Tagesbar & Restaurant.
Sofitel Munich Bayerpost
Housed in Bavaria's former royal post office, the hotel is set in a Wilhelminian-style mansion in Munich. Inside, the property blends contemporary art and avant-garde architecture, fusing tradition and innovation, offering guests an oasis of hospitality where French art de vivre shines through.
Almost two thirds of the hotel rooms and bold, colourful suites (with themes such as glamour, pop, purity and fantasy designed by interior architect Harald Klein) are situated in the north wing, where upper floors boast stunning views of the Alps. The rooms are classy, and some upgraded suites come with private balconies, whirlpool tubs and kitchens. Pets are also welcome for an added fee.
The blend of tradition and modernity also underlies Schwarz & Weiz restaurant's artisan cuisine and breathtaking architecture, and dazzling nights in the Nymphenburg hall are definitely something to write home about. Should you have some spare time, workout at So FIT with views over the city, or chill out at So SPA with its heated pool, steam bath, sauna and cosy relaxation rooms built out of stone and beautiful tiles. Rejuvenating spa treatments use beauty brands such as Cinq Mondes and Carita.
And you will sleep even better at night knowing that the hotel has teamed up with Planet 21 to make your stay more sustainable by introducing energy-saving light bulbs, sustainable paper, eco-friendly cleaning products and local food in the restaurant.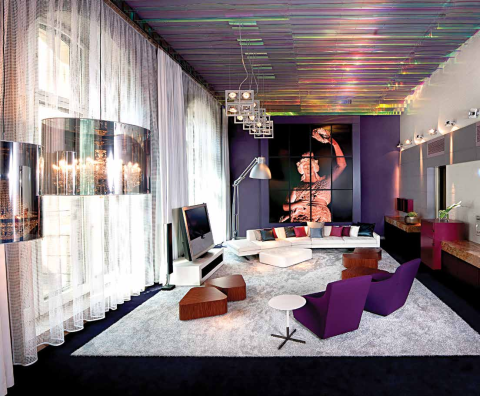 Park-Hotel Egerner Höfe
As the name suggests, the privately owned five-star hotel is surrounded by spacious parkland. Also located in the Tegernsee valley, Park-Hotel Egerner Höfe is a haven of tranquillity where you'll forget about emails and to-do lists. Choose from a wide array of rooms that vary in size and style. The rooms in the Stammhaus are cosy, whereas the Alm im Park building offers more luxurious rooms, the Egerner Alm offers spacious family suites with a fireplace, and the suites in the Catherina and Valentina houses are built in traditional Alpine design.
For dinner the hotel's four restaurants offer mouth-watering gourmet Alpine delicacies. Under Michelin-starred Chef Michael Fell, Bavarian cuisine is constantly being tweaked and accompanied by a fresh twist at the Dichterstub'n. If that's too adventurous, opt for the Hubertusstüberl or the St. Florian & Salett'l restaurants, which serve traditional Bavarian favourites.
In Egerner Alm, you can enjoy a number of fine wines from the legendary wine cellar. Sample cakes and drinks in the Wintergarten, and cool down with the hotel's own premium house beer – Egerner Gold-Blonde – in the bar. If you aren't a foodie, head to the gym or spa to be pampered with beauty and massage treatments or enjoy an evening at the inhouse casino.
Schloss Elmau
Located a 90-minute drive south of Munich and nestled into the Bavarian Alps 1,000 metres above sea level, Schloss Elmau is a luxury spa retreat and cultural hideaway in a natural setting. A perfect base for yearround sports (hiking during summer and skiing in winter), the hotel celebrates stealth luxury and privacy in multiple restaurants, a number of lounges, spas, pools, a hammam, yoga centre and libraries for adults and families, as well as jazz concerts.
The estate is made up of the 100-yearold castle, which was rebuilt in 2007, displaying subtle Asian influences mixed with pristine surroundings, and the smaller, more intimate Retreat, which opened last year, offering a hotel within a hotel. And even though the Retreat feels a bit more secluded, the facilities are open to all guests, with the concept 'one resort, two hotels'.
And parents can breathe a sigh of relief as Schloss Elmau is known to be a familyfriendly wellness haven with the Kids' Club offering a host of activities, such as skiing, golfing, hiking, climbing, kayaking, as well as workshops and award-winning programmes for music, crafts and film. There's even a separate family spa with a dedicated treatment menu and pool for children.
Kempinski Hotel Berchtesgaden
Located 150 kilometres from Munich, close to the Austrian border, and at an altitude of 1,000 metres in the Bavarian Alps, Kempinski Hotel Berchtesgaden is the perfect spot for spectacular sunsets and a mesmerising 360-dregree panoramic view. The hotel combines luxurious design and warm wooden elements, boasting floorto- ceiling windows in all rooms, ensuring you get the most out of the beautiful surroundings.
The property cleverly blends lifestyle, fitness and recreation as well as Bavarian originality, as unspoilt nature is the ideal setting for leisure in winter and summer – hiking trails, downhill and cross-country skiing are all just a short drive from the hotel.
If you're a wellness enthusiast, make it a relaxing getaway and visit the spacious award-winning 15,070sqft Kempinski The Spa, which boasts a herbal sauna, steam bath with colour therapy, meditation lounge with floating water beds, solarium, indoor and heated outdoor pool where you can laze around while taking in the fresh alpine air. The beauty treatments comprise La Prairie cosmetic products, whereas massages call for aromatherapy oils. The spa is also known for incorporating local products grown in the wild and processed by hand.
The hotel also attracts a number of guests with its Michelin-starred restaurant Le Ciel and its delectable breakfast buffet offers a smorgasbord of delights. If you manage to actually leave the beautiful haven, head into the valley to the stunning Königssee for a boat tour. However, the lake is too cold to swim in as it's almost 200 metres deep. It's the cleanest lake in Germany with water so pure you can drink it.