The Latest and Greatest.
The Latest and Greatest.
Leica M-D (Typ 262)
"Das wesentliche," or "only the essential." leica's latest, the M-D (typ 262) has what you'd expect from a M digital rangefinder, except for one detail: it has no rear lcD screen. No screen, no preview, no menus - just you and the moment. this is as close to going back to the precision of film as you can get from a digital camera.
More inside>
HP SPECTRE
Thin. Light. Gorgeous. Powerful. Is this even possible?
Deepflight dragon
We've always wanted a personal submarine.
Dji phantom 4
But if you don't have a lake to explore, then a cool drone might be a better choice.
HP SPectre
Make no mistake, the HP Spectre is the world's slimmest notebook at just 10.4mm thin. This is HP's take on a designer and luxury notebook, with a jewelry-inspired pistol hinge, a CNC-machined aluminium chassis, and a brand new logo. It deals entirely in USB-C ports, featuring three Type-C ports on its rear, two of which support Thunderbolt 3. Finally, you can equip it with up to an Intel Core i7 processor, 8GB of RAM, and a 512GB PCIe SSD.
SteelSerieS Apex M500
Hailing after its big brother in the Apex M800, the SteelSeries Apex M500 is the successor to the longstanding 6Gv2 mechanical keyboard. The M500 features linear Cherry MX Red switches and a simple, minimalistic design. In addition, it has blue per-key LEDs, with the ability to set the brightness and various lighting effects in the SteelSeries Engine software. Full per-key programming is also supported, and you can customize a unlimited number of profiles for individual games. 
Suunto traverSe alpha Stealth
This is the gadget you want on your wrist as when you head out into the wild. the Suunto traverse Alpha keeps you on track with GpS/GlONASS route navigation with breadcrumb trail, electronic compass, moon phase calendar, and barometric pressure graph. the watch is tested to military standards with a stainless steel bezel and water repellent nylon strap.
DeepFlight Dragon
The DeepFlight Dragon is an all-electric, two-seater personal submarine that is touted as the world's smallest and lightest submersible. The manufacturer claims the personal submarine is easy to pilot as it has six rotating engine pods, allowing it to hover and glide underwater like a quadcopter. It dives to a maximum depth of 122m and has enough batteries that let you explore your underwater surroundings for up to six hours!
SAMSUNG LEVEL ON PRO WIRELESS
The Level On Pro gives you wireless freedom, noisecanceling peace, and audio quality. With Ultra High Quality Audio (UHQA) upscaling tech, compatible with select Samsung Galaxy devices, it delivers 24-bit audio with 2x wider frequency than CD-quality wireless sound.
DJI PHANTOM 4
if you' ve never owned a drone, the DJi phantom 4 might be your first one. It 's built so that anyone, with any level of experience, can fly it. The automated flight control and collision avoidance system makes it easy to control, and keeps it from crashing into obstacles.
HTC 10
The HTC 10 flagship does a world's first by introducing optical image stabilization on both the front and back cameras. A built-in DAC conver ts 16-bit audio to 24-bit high-resolution sound, and HTC says the 10's battery will last up to t wo days.
Mercedes-Benz GranturisMo arrow Yacht
It's not a Mercedes that drives into the sea and transforms into a boat, but it is a Mercedes. the luxury motor yacht was designed by Mercedes-Benz Style, bringing the automaker's distinctive style to the high seas. Dubbed the ' Silver Arrow,' the 14-metre long Granturismo yacht seats 10, with two engines bringing the top speed to over 40 knots.
Seagate Innov8
this 8tB external hard drive from Seagate is clad in an award-winning all-aluminum body that will be a sleek companion to your desktop. More importantly, you don't even need a separate power adapter to get it up and running – everything is done over just a single uSB 3.1 type-c connection. it is designed to be equally comfortable in both horizontal and vertical orientations, so you can either display it proudly on your desk or tuck it away discreetly. 
SamSung gear 360
The cute little Gear 360 sits in your palm and captures 360-degree photos and videos. Dual lenses each capture 180 degrees horizontally and vertically, creating a seamless field of view which you can later relive through the Gear Vr and Galaxy smartphone.
Sony Cyber-shot RX100 IV
You'd think little guys can't hit hard, but you'd be wrong. The premium compact RX100 IV packs an unbelievable punch for its size; it shoots 4K video, a high shutter speed of 1/32,000 seconds, 1,000fps super slow motion video (in PAL), and a built-in EVF. You know, just stuff that even some bigger cameras still can't do.
HP CHromebook 13
Chromebooks aren't traditionally thought of as premium devices, but the HP Chromebook 13 may just be challenging that notion. It boasts a stunning all-metal design with surprisingly beef specifications like a sixth-generation Intel Core M processor, up to 16GB of RAM, and a 13.3-inch 3,200 x 1,800-pixel display. If a MacBook ran Chrome OS, this is probably what it would look like. It can even be used with HP's Elite USB-C Docking Station if you require more connectivity options.
1. It's gonna get butter
The biém Butter Spray is godsend if you don' t have the time to wait for your refrigerated stick of butter to soften. According to its inventor, the device is able to fit an entire stick of but ter and melt a portion of it before spraying the butter oil on demand. Its nozzle features a "no clog" design and is ready to spray in seconds. However, the butter spray has to be kept in the fridge to keep its butter fresh. BIÉM BUTTER SPRAY
2. Old school driving gets dialed in
After the success of their Vintage Driver Chrono - a watch inspired by the 1977 Alfa romeo Alfetta GT - Straton Watch Co. is back with another vintage inspired timepiece. The Curve-Chrone was designed to bring back a 70s retro vibe with subtle cues paying tribute to the cars of the era. even the case back is inspired by legendary rims from the time. STRATON CURVECHRONO WATCH
3. Affordable flash storage
Plextor's new entry-level M7V series SSDs. are significant because they 're the first drives from Plextor to employ the use of TLC NAND. The M7V is powered by Marvell's new 88SS1074B1 controller and Toshiba's latest 15nm TLC NAND. This new controller was designed specially for use with TLC NAND and Plextor is promising class-leading performance and also longer endurance than other TLC NAND-based SSDs. The M7V series will be available in 2.5-inch SATA and M.2 form factors. PLEXTOR M7V
4. Redesigned for the 21st century
The North Face calls their Access Pack one of their most innovative designs to date, with three patent pending features to boot. Instead of a zip closure, the pack springs open with a one-touch clasp. Laptops and phones can be ejected from their compartments, making them easier to grab. An exo-skeleton protects what's inside, while keeping the bag in good shape. THE NORTH FACE ACCESS PACK
5. If elves and dwares made a case
No, it's not a picture frame. The Nativ Vita is a music player with a 11.6-inch touch screen that streams high fidelit y music wirelessl y. It supports Apple Airplay, Spotify Connect, Google Cast and Bluetooth apt X, and is designed for High- Resolution Audio with support for DSD playback in up to 11.2896 MHz (Quad- DSD), as well as DXD and PCM files up to 32-bit / 384 kHz. NATIV VITA
6. Trying something different
Cooler Master has sprinkled the MasterLiquid Pro 240 with a dash of panache. The pump assembly features a dual - chamber design that encloses the pump and cold plate in separate compar tments. This supposedl y allows the coolant around the pump to remain cool, so the pump will run cooler and last longer. The aluminum fins on the 240mm radiator also have a unique square fin design, which helps to maximize the sur face area available for heat dissipation. COOLER MASTER MASTERLIQUID PRO 240
7. The future of wireless networks
The TP- Link Talon AD7200 is the world's first router to suppor t the latest 802.11ad wireless standard. It broadcasts three net works - one at 2.4GHz, another at 5GHz, and a third at 60GHz - and offers a total data transfer rate of 7, 200Mbps. Using the 60GHz net work, it can transmit up to 4,600Mbps to wireless 802.11ad compatible client devices. That aside, it also suppor ts MU- MIMO, allowing it to transmit data simultaneousl y to MU- MIMO compatible devices. TP-LINK TALON AD7200
8. Power and mobility
If you're looking for a beefier version of the Yoga 710, the Flex 4 (also known as the Yoga 510 in other regions) fits the bill nicely. It comes with a discrete AMD Radeon R7 M460 GPU and Skylake processors, ensuring the notebook (which comes in 14 or 15-inch models) has some horsepower behind it. LENOVO FLEX 4 YOGA 510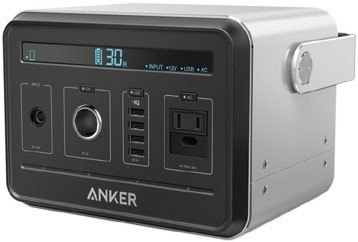 9. World's largest powerbank
With a ridiculous 120,600mAh capacit y, the Anker PowerHouse is a smar t alternati ve to por table generators. It has four USB por ts for charging gadgets, a 12V socket for powering car accessories, and an AC outlet that can power any thing from a laptop to a mini -fridge. In one full charge, this thing will charge your phone 40 times, your laptop 15 times, or power a mini -fridge for about seven hours! ANKER POWERHOUSE
10. A pilot's smartwatch
Garmin's D2 Bravo Titanium aviator watch has a bold design, with a color display, gunmetal bezel and diamond-like carbon coated hybrid titanium band. The watch comes with GPS, an activity tracker, hear t-rate tracker, auotmated flight logging and other smart features for pilots, like a worldwide airpor t database. GARMIN D2 BRAVO TITANIUM
11. Second screen for the second time
After the flagship tier LG V10, LG brings the Second Screen feature to its mid-range LG X screen smartphone. The main 4.93-inch HD display sits below the always- on 1.76-inch strip, just like the V10's. With the Second Screen, you can check time, date, battery status and other notifications without ever having to turn on the phone. It also comes with a 13-megapixel rear camera, and a 8-megapixel front camera that has the LG G5's Auto Shot feature, where you get rolls of selfies without pressing the shutter. LG X SCREEN
12. Twist and shoot
The Lensbaby Twist 60 lens is based on a 1840 design by Joseph Pet zval, and this baby creates a striking separation bet ween subject and background with a wild, twisty, swirly blur. The Twist 60 is a non-tilting lens with a metal body that is recommended for full frame cameras only. LENSBABY TWIST 60
13. Ethernet is a two-way street
This adapter allows a user to share a Gigabit Ethernet connection between two devices. It supports both Mac and Windows OS, and it comes with two uSB 3.0 cables in the box. 10, 100, and 1000 Base-T Ethernet connectvity is supported via the port take thats in a rJ-45 connector. It retails at $99 - a price that's worth the convenience it seemingly offers. J5CREATE GIGABIT ETHERNET DUAL USB 3.0 SHARING ADAPTER
14. Sounds like heaven
For readers who care about audio fidelity, Onkyo's new DP-X1 digital audio player will allow you to listen to high-resolution music on-the-go. Based on Android OS, the DP-X1 supports many high-resolution audio formats, up to DSD 11.2MHz, 384kHz/24bit FL AC/ WAV audio files. It also features dual ESS Sabre DACs and amps, allowing it to drive headphones of up to 600ohms. ONKYO DP-X1 DIGITAL AUDIO PLAYER
15. Sexy and fit
The Fitbit Alta is their latest bangle-shaped wearable. It comes with a simple OLED display that pushes all - day notifications and statistics on-demand. Perhaps the biggest draw of Fitbit devices would be its marriage of form and factor, and this is also present on the Alta. You can choose to swap out the standard bands for the suave premium leather hide strap, or the hand-polished stainless steel alternative. FITBIT ALTA
16. Closer than Close
Long zoom compact cameras get a new friend to contend with, and it's none other than the Canon PowerShot SX620 HS. This compact camera has a 25x zoom lens with a focal range of 25 – 625mm (35mm 14 equivalent), making its reach 40 percent further than the Canon PowerShot SX610 HS. It also comes with Wi-Fi connectivity, and it's easier to upload photos and videos online since they incorporated a physical Wi-Fi button. CANON POWERSHOT SX620 HS