Can't decide between a tablet and a traditional clamshell notebook? These convertible notebooks are for you.
HP Spectre X360
• 
Lenovo Yoga C930
•
Microsoft Surface Pro 6
HP SPECTRE X360
A significant update for HP's line of flagship convertible notebooks, the Spectre X360 features not only the latest processors, but a new design and numerous new features.
The new Spectre X360 has a grey aluminum chassis and heavily faceted sides that have rose gold accents. It's a bold look that helps it stand out from the competition. It's fairly compact and portable for a 2-in-1 notebook, measuring 14.5mm thick and weighing just a smidge over 1.3kg. The hinge rotates 360 degrees, allowing the display to be folded neatly so that owners can use the Spectre X360 as a tablet.
Though the 13.3-inch IPS touchscreen display only supports Full HD resolution, it is crisp and sharp and has nice colors. It is also responsive and accurate to touch inputs. Still, it could use a little more brightness since it's a bit hard to see in brightly lit environments. Also, the top and bottom bezels are huge and unsightly.
The Spectre X360 has a good selection of ports. Apart from a single full-size USB-A USB 3.1 port, it also has a further two USB-C ports that support high-speed Thunderbolt 3, and a microSD card reader that can be handy especially if you have an Android phone or tablet.
With privacy and security being important topics on everyone's minds now, the Spectre X360 features a privacy camera kill switch that completely disables the webcam. It also has a built-in instant privacy screen called HP Sure View. Simply push a button and the filter comes on. The filter reduces viewing angles and makes it hard for people around you to see what's on your screen.
Unlike its rivals here, the Spectre X360 is powered by Intel's newest Whiskey Lake processors. HP keeps it simple with just two configurations. The entry-level one comes with a Core i5-8265U, 8GB of RAM, and a 512GB SSD, while the top-of-the-line model comes with a Core i78565U processor, 16GB of RAM, and a 512GB SSD. Honestly, if you aren't the multi-tasking sort, the entry-level model will suffice. That said, the higher-end model will probably provide more mileage especially if you intend to keep the notebook for a few years.
Thanks to the new Whiskey Lake processors, the Spectre X360 was the undeniable leader in our benchmarking tests. Of course, in the real world and in actual usage, this performance advantage is less obvious; how much faster can Word be right? Still, you can feel good about yourself knowing you have the edge over your enemies (read: colleagues). Battery life was also very good and the Spectre X360 lasted well over four hours despite running an intensive mix of productivity, video conferencing, and light gaming workloads. And if you are out of juice, the Spectre X360 features fast charge technology and can get from zero to a 50% charge in just 30 minutes.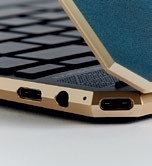 The two USB-C ports support high-speed Thunderbolt 3.
An integrated fingerprint reader makes logging in quick and easy.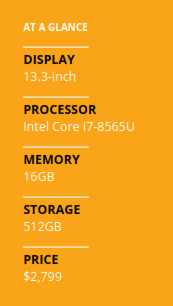 LENOVO YOGA C930
The Yoga C930 is Lenovo's flagship convertible notebook and it is a major shakeup to Lenovo's line of premium convertible notebooks. The key difference lies in the hinge. Past flagship Yoga convertible notebooks have what Lenovo calls a "watchband hinge" - an intricate hinge that we have always felt to look a little too ornate on a cuttingedge ultraportable convertible notebook. In the Yoga C930, Lenovo has decided to do away with the "watchband hinge" and instead utilized a more traditional hinge design. The end result is that the Yoga C930 looks more like a conventional clamshell notebook.
The new hinge doesn't impede on the transformability of the notebook though. The display can still be easily folded onto itself, allowing owners the fiexibility to use the Yoga C930 as a tablet. More impressively, the hinge also doubles up as a sound bar and it has a big and authoritative sound with palpable bass. It won't replace your desktop speakers but at least you can be entertained in your hotel room if you have to travel for work often.
Apart from the built-in sound bar, the Yoga C930 has another trick up its sleeves. Round the back of the notebook is an integrated stylus that is responsive and supports 4,096 levels of pressure sensitivity.
Because of its large 13.9-inch touchscreen display, the Yoga C930 has a noticeably larger footprint than its rivals. Fortunately, at just 14.8mm thick and weighing 1.38kg, it isn't too cumbersome.
Ports selection on the Yoga C930 is good too. You get a single USB-A USB 3.1 port and two USB-C ports that support Thunderbolt 3. However, battery life was disappointing at just nine minutes over three hours. Much of this can be attributed to its powerhungry 4K display. Readers who want more mileage out of the Yoga C930 should consider the more affordable variants which come with less draining Full HD displays.
Like the Surface Pro 6, the Yoga C930 is powered by slightly older Kaby Lake R processors. It comes in three configurations and ours was the top-of-the-line unit that features a 4K display with a Core i7-8550U processor, 16GB of RAM, and a spacious 1TB SSD. The entry-level model comes with a Full HD display, a Core i5-8250U processor, 8GB of RAM, and a 256GB SSD. The midrange model arguably offers the best value as it comes with a Full HD display, a Core i7-8550U processor, 16GB of RAM, and a 512GB SSD.
In our benchmarking tests, the Yoga C930 was no match for the Spectre X360's newer Whiskey Lake processor. But in the real world, the two notebooks felt just as fast and snappy. Unless you are a stickler for having the latest and greatest, don't be discouraged by the Yoga C930's benchmarking results.
With a full-size USB 3.1 port and two USB-C Thunderbolt 3 ports, the Yoga C930 is ready for anything.
The active stylus can be neatly stowed away behind the notebook.
MICROSOFT SURFACE PRO 6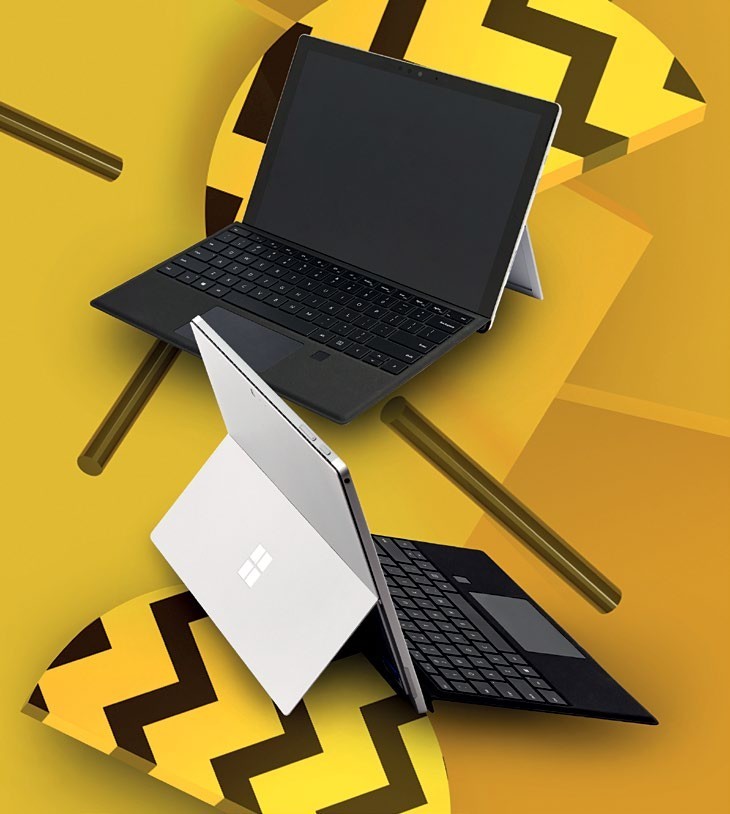 The Surface Pro is arguably the most important device in Microsoft's Surface line-up. After all, it was the Surface Pro that catapulted Microsoft's hardware division to profitability all those years ago. The Surface Pro 6 was announced last October, and unfortunately, it is showing signs of age.
Its design is largely unchanged and the tablet itself measures 8.5mm thick making it very portable. The display is still a handy 12.3-inches and is one of the best things about the device. It has a high resolution (2,736 x 1,824 pixels) with vibrant and accurate colors.
What's not so great about the Surface Pro 6 is that it has the same ports as its predecessors. This means a single USB-A USB 3.0 port and a Mini-DisplayPort. While the USB 3.0 port is undeniably useful, Mini-DisplayPort has seen limited use lately. But more crucially, the lack of USB-C is striking and can be a deal breaker for some. Also, essential accessories like the Type Cover keyboard and Surface Pen are all sold separately and add a substantial amount to the total cost of the device.
Inside, the Surface Pro 6 is powered by Intel's 8th generation Core processors. Take note, however, that it isn't the newer Whiskey Lake variant, but rather based on Kaby Lake R. Whiskey Lake would have offered slightly more performance and battery life, but in the real world, most users will probably not be able to notice the difference in performance. That said, if you insist on having the latest and greatest, this is something to keep in mind.
The Surface Pro 6 comes in five configurations, with a choice between Core i5 and Core i7 processors; 8GB and 16GB of memory; and 128GB all the way up to 1TB of storage. The unit we tested came with a Core i5 processor, 8GB of memory, and 256GB of storage. While we would have loved to compare the Surface Pro 6 with a Core i7 like the HP and Lenovo, we were unable to obtain one at the time. However, configuring the Surface Pro 6 with similar specs as the HP and Lenovo would actually make it more expensive than both its competitors. You can get a cheaper version with 128GB of storage, but our tested configuration should really be the minimum to consider.
General computing performance was decent for a Core i5 machine, but graphics was disappointing. We also discovered that the Surface Pro 6 was prone to throttling, where performance would dwindle when running intensive apps for extended periods of time.
On the flip side, battery life was quite good. Despite our intensive battery of tests, the Surface Pro 6 lasted over three and a half hours. Coupled with its compact footprint and lightweight design, this makes the Surface Pro 6 an ideal productivity device for those who are frequently on the move.
The Surface Pro 6 only has a single USB 3.0 port and a Mini-DisplayPort.
Accessories like this Signature Type Cover keyboard and the Surface Pen are pricey and are sold separately.
Photography by Phyllicia Wang  Art Direction & Digital imaging  by Ashruddin Sani
AND THE BEST 2IN1 NOTEBOOK IS…
HP SPECTRE X360
The HP Spectre X360 blends a bold and edgy design with good performance and features. It comes with both USB-C Thunderbolt 3 and USB 3.0 USB-A ports, and it even has a microSD card slot to help transfer data out of phone/camera memory cards. It doesn't end there. Some interesting features that it has include a built-in screen privacy filter that can be activated with a single press of a button, and a kill-switch for the web camera that gives users a peace of mind. Battery life is also very respectable - especially if you consider that this is a 2-in-1 notebook that really feels like a regular ultrabook in terms of portability. In light of all this, it's not difficult to see why the Spectre X360 is our best 2-in-1 notebook.
PICTURE (BACKGROUND) SHUTTERSTOCK