Input Club NightFox
Input Club NightFox
The NightFox is a luxury keyboard for those who are willing to pony up for premium materials and design. The keyboard features dark anthracite gray keycaps and deep red arrow and Esc keys, which makes for quite a lovely contrast. The aluminum case, plate, and screws have been colored to match the keycaps, and the overall look conveys an elegance that puts many other keyboards to shame. 
The materials aren't just for show either, and the NightFox oozes quality. The aluminum body is reassuringly solid and there's no discernible flex to it. All things considered, this truly feels like a keyboard that will last you a lifetime and then some, provided you don't do anything too crazy with it. 
You can also see the creators' attention to detail in things like the black braided USB-C cable. Personally, I don't think braided cables make that much of a difference as I find that they're often stiffer and more difficult to manage. While the cable on the NightFox does feel quite stiff, it matches the keyboard perfectly, and I can't stress enough how much I appreciate the use of the reversible USB-C connector. 
I also like the dye- sublimated PBT keycaps. Frankly, at US$189 for the keyboard, I'd expect nothing less. PBT is more durable than cheaper and more common ABS keycaps. More importantly, it's more capable of resisting the oils on your hands, so it won't develop an unsightly shine over time. PBT also feels slightly rougher than ABS, and the textured surface more enjoyable to type on. 
Furthermore, the dye- sublimated legends also won't fade over time as the dye penetrates the plastic, unlike cheaper pad-printed legends. 
The keyboard uses the True Fox layout, which was conceived by Matteo Spinelli as his ideal layout. One of the main grouses people have about compact keyboards is their lack of a dedicated arrow cluster, but the NightFox thankfully retains that. 
However, there's a gap between the left arrow and Fn key. This may seem odd at first, but it actually helps you find the arrow keys more easily and reduces typing errors. That aside, other things that may need some getting used to are the smaller 1.5U Backspace key located in the R3 row instead of R4. 
That said, the True Fox layout still manages to include all the important keys. For example, most compact layouts tend to sacrifice the tilde and Print Screen keys, but the True Fox retains both of them. 
Finally, the NightFox uses Input Club's own Hako switches, a box switch variant manufactured by Kailh. They were designed to mimic the force curve and velvety feel of Topre switches, but that's a debatable claim, and not exactly one I agree with. 
The Hako switches feature a unique force curve where the switch becomes significantly steeper after the actuation point. This helps discourage bottoming out, which Input Club says is a non-optimal way of typing that leads to fatigue. 
My version of the NightFox is equipped with the Hako True switches, the stiffest of all the Hako switches with an actuation force of 60g and a bottom-out force of 94g. I do have a habit of bottoming out when I type, and I can say that the Hako True switches make it easier to stop doing this. In addition, I really like how smooth each keystroke feels and the increase in force after the actuation point is a unique experience that few other switches provide. 
That said, these switches are probably not for everyone. Since they were designed to make bottoming out more difficult, they're arguably not suitable for gaming. Furthermore, even though the Hako True is supposed to be a tactile switch, they feel more like a heavy linear switch. That's partly because the bump sits so high up that there's practically no pre-travel before it, so you barely feel the tactile bump at all. 
In other words, if you bought into Input Club's marketing and were hoping for a tactile, Topre-like feel, you're going to be disappointed. Otherwise, the Hako True offers quite a distinctive typing experience that you won't find on any other Cherry MX or box switch. 
To cap things off, the NightFox is fully programmable, so power users will be able to program their own keys and layers. The keyboard runs on KLL, short for Keyboard Layout Language, and you'll be able to port your custom configurations over to another keyboard that uses it as well.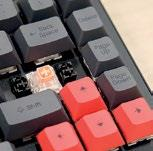 The keyboard uses Cherry-style stabilizers. 
Box switches box in the key stem, hence their name. 
CONCLUSION 
A luxury item with impressive build quality, design, and customizability. 
AT A GLANCE
SWITCHES 
Hako True 
ACTUATION FORCE
60g 
TYPE 
Tactile 
PRICE 
US$189 
PICTURES INPUT CLUB