Dell XPS13
Dell XPS13 
While other brands are content to just give their ultraportable notebooks a processor upgrade, Dell has decided to give its popular XPS 13 notebook a thorough makeover. The resulting XPS 13 still looks somewhat familiar, but it has an all-new chassis and innards. 
We begin with the design and there is a new rose gold colorway that comes with what Dell calls an 'alpine white woven glass palm rest'. Essentially, the palm rest is white and has a carbon fiber-like weave. To ensure that it stays white through its lifespan, it has been given a special protective coat to make it resistant to UV light and stains. For traditionalists, the XPS 13 is also available in good old black and silver. The new XPS 13 is also thinner and lighter. It now measures 11.6mm thick, down from the 15mm of the model it replaces. Weight has gone down slightly from 1.29kg to 1.21kg. 
The display is still what Dell calls InfinityEdge, but the bezels are thinner than before at 4mm vs. 5.2mm in the older model - a reduction of 23%. The display is IPS and you can get it in either Full HD or 4K resolutions. With 4K comes touchscreen as well, while the Full HD display is not touch enabled. Unfortunately, the thin bezels also mean that the webcam is now positioned at the bottom of the screen, which means very unflattering video angles. 
The XPS 13 internals also gets a bunch of updates. Obviously, the XPS 13 is now powered by Intel's newest 8th generation Core processors. Users can choose between the Core i5-8250U and Core i7-8550U. These are Intel's first ever quad-core processors for ultraportable notebooks and Intel claims to deliver up to 40% greater productivity performance over last generation processors. PCIe SSDs come as standard and all XPS 13 notebooks will come with either 8GB or 16GB of memory, depending on spec.
To ensure the processors deliver their maximum potential, the XPS 13 has an all-new cooling system that uses an unlikely material. Gore-Tex was specifically chosen here for its low thermal conductivity and is used to line the innards of the XPS 13 to repel heat and direct it quickly out of the notebook with the help of the cooling fans. 
In our tests, we found that the new cooling system actually works. There is none of that pesky performance throttling that you get on some other ultraportable notebooks. Plus, the XPS 13 performs very well as I will elaborate later on. However, it does so at the expense of being noisy. Fortunately, the fans only come on and spin at full bore when absolutely necessary. 
The other big change is the ports. Like most new ultraportables, the XPS 13 forgoes conventional USB-A ports and makes do with an all USB-C setup. There are three USB-C ports in total, of which two supports Thunderbolt 3 and the third supports USB 3.1. Any of the three can be used for power and charging. Additionally, the XPS 13 also eschews a full-size SD card reader in favor of a more compact microSD card reader. Avid photographers are not going to be pleased about this. Fortunately, the headphone jack is still intact. 
The unit that we tested comes with a Core i7-8550U processor with 16GB of RAM and 256GB of PCIe SSD storage. Its performance was good, especially in graphics-heavy workloads. On 3DMark and games, the XPS 13 easily outperformed all of its rivals with similar processors. In fact, its graphics performance was closer to that of the Surface Pro, which is running on the more powerful Iris Plus Graphics 640 integrated GPU. 
Battery life was good too. Despite having a more power-draining 4K display and a slightly smaller battery, the new XPS 13 clocked 4 hours and 6 minutes in our intensive battery test, which consists of a multitude of tasks like word processing, email, web browsing, video conferencing, and even light gaming. 
All things considered, the XPS 13 lives up to the reputation of its predecessor by being a very fine Windows notebook. It is a tad noisy, its webcam is in the wrong place, and it is quite pricey, but what you get for your money is a well-built, stylish, powerful, and portable ultraportable. It is not perfect, but it comes very close.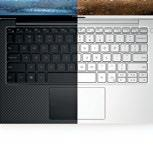 The rose gold model has a unique white carbon-fiber like palm rest. 
The XPS 13 comes with three USB-C ports with Thunderbolt 3 and USB 3.1 support. 
CONCLUSION 
Powerful, stylish, portable. The new Dell XPS 13 is a top-class Windows notebook. 
AT A GLANCE 
PROCESSOR
Intel Core i7-8550U 
MEMORY 
16GB 
STORAGE 
256GB 
GRAPHICS 
Intel UHD Graphics 620 
PRICE 
$2.899 
PICTURES DELL