( IF YOU HAPPEN TO FALL INTO THIS PARTICULAR GROUP OF PEOPLE )
'Tis the season to be giving, but fret not, we're here to help with a gift guide for that very specific type of techie in your life.
THE GRUMPY DAD
The Grumpy dad has found out he's no longer hip (except for a hip replacement) and even his dad bod is out of style. Where he used to be cutting trend, he is now left behind and wishes technology could help him keep better control of his work, life and his family. Can technology help him keep track of his kids online and spy on who they hang out with? Can it connect him to his hobbies and help him relive his glory days?
IN HIS POCKET
XIAOMI NOTE 8
Android will only do for the man who doesn't quite understand how everything works but loves the free games and apps. Besides, pokemon go is still playable and is something the whole family can play together. For a device there is none better than the Xiaomi Note 8.  
ON THE GO
LENOVO ThinkPad X1 Carbon
It's not the latest, but like him, it keeps working. nothing fancy, just a simple device provided by work to get the job done. younger colleagues may demand a fancy new macbook but the sturdiness and brick-like quality of his workhorse can't be denied. besides, the red button brings back memories of IBM. 
ANKER POWERCORE SELECT 10000MAH PORTABLE POWERBANK WITH DUAL 12W OUTPUT PORTS
Simple and with enough usb ports to keep his devices powered, the anker powercore select 10000mah portable powerbank has enough juice to power even high-end smartphones like the samsung galaxy s10 and the iphone Xs more than twice over. All of the power to keep your mobile devices going in a package that can still fit into a pocket.  
BACK AT HOME
ASUS ROG SWIFT PG35VQ
An awe-inspiring 35-inch, 3440 x 1440 curved hdr, 21:9 ultrawide monitor running a crazy 200hz refresh rate, the asus rog swift pg35VQ is 1,000 nits of peak brightness, and 90% dci-p3 coverage. It even comes with g-sync support. Whether gaming, watching movies or even doing mundane work, there is more than enough real estate to do more than one thing on this monitor. Who can stay grumpy with a large screen?
CREATIVE SXFI AIR
With personalized mapping, the Creative SXFI Air headphones gently cup the ears without any soreness or feeling of comfortableness. The sound quality for both movies and games is akin to listening using a 7.1 surround sound system in your head. The richness of sound and throbbing bass from a Star Destroyer flying by or the drums during the William Tell overture all sound so much better from these headphones.
"EVEN THE MOST NAGGY DAD WANTS HIS FAIR SHARE OF GADGETS!"
The Snobby Audiophile
Audiophiles aren't snobs! They are just discerning individuals who happen to have a deep passion for music. They know that anything worth doing is worth doing well and so having music alone isn't enough, it needs to be reproduced faithfully and with deft and fidelity. Respect the artiste and the craft! So give the gift of sound this Christmas with these carefully curated gift suggestions for the demanding audiophile.
IN HIS POCKET
APPLE IPHONE 11 PRO MAX
Why is an iphone the perfect phone for an audiophile? It has no headphone jack, it doesn't have a built-in audiophilegrade DAC, it doesn't even support LDAC. Purists know that nothing beats a wired connection, and if you are going wired, you might as well pair it with an external DAC. If you are going to pair it with an external DAC, AudioQuest's Dragonfly USB DACs are a no-brainer. Android support for these USB DACs are patchy, but iphones work flawlessly.
ON THE GO
AUDIOQUEST DRAGONFLY COBALT
Get a Lightning to uSb adapter, plug the Dragonfly Cobalt into your iphone, plug in your favourite headphones, and thank us later. This little uSb DAC — the size of a typical uSb flash drive — gives a massive audio upgrade to your iphone. It just makes everything sound richer, fuller, and more incisive. best of all, when you are back home, it's slots perfectly into your desktop or living setup too. This has got to be the audiophile bargain of the year. 
APPLE AIRPODS PRO
We can see the fires and pitchforks outside our windows now, but hear us out first. If you want convenience, it really doesn't get better than the Airpods pro. These works seamlessly or should we say, magically, with the iphone. Open them next to each other and the pair instantaneously. What's more, the Airpods pro feature active noisecancellation, and it's surprisingly effective too, capable of turning a noisy train carriage into a bearable listening room. It's not the best-sounding wireless headphone but its feature set and incredible ease of use make it hands down the best wireless headphone you can get for the iphone.
BACK AT HOME
SCHIIT MAGNI 3
This may be Schiit's entry-level amplifier, but there's nothing entry-level about its performance. The gain-stage is fully discrete, DC-coupled, and uses a current-feedback design for better measured performance. The magni 3 is powerful too. Its single quarterinch jack delivers up to 5W of power per channel at 16 ohms and up to 3.5W per channel at 32 ohms. Even at 600 ohms, the magni 3 is delivering a maximum of 300mW per channel. It even has pre-amp outputs so you can hook up powered speakers.
DCS BARTÓK
If you are gunning for the high-end, you could do a lot worse than the bartók. It features the same custom-designed ring DAC that is used in the company's flagship Vivaldi DAC. You get single and balanced output for headphones and the amplifier runs in pure Class A. What's more, the bartók is roon ready and can stream directly from TIDAL, Spotify, or a NAS.
THE WANDERING CREATIVE
The wandering creative is into all things visual so you'll see him sketching or taking photographs wherever he goes. he's lately also got into doing short videos, so you may well find him spending hours plugged into his headphones, perusing audio for use as soundtracks for his next projects. Because inspiration is all around, he hates being stuck in the office, choosing instead to explore the world whenever possible. After all, that's where the symbols, metaphors and hidden meanings of life are.
IN HIS POCKET
SAMSUNG GALAXY NOTE 10+
This year, our favourite Creative gets a snazzy new phone that lets him directly pursue his passions of sketching and drawing – the Galaxy Note 10+. With the Note 10+ and its S pen, the Creative can even sketch and draw in augmented reality, so he can truly create his own realities. When it comes to video, the Note 10+ has a virtual zoom-mic for better audio and built-in editing capabilities so he can get his clips perfect without even using a computer.
ON THE GO
PEAK DESIGN
EveryDay Sling 10l  When you're getting out and about you really need a good bag with you. That's something that's large enough to carry everything you need for the day, while being compact to stay out of the way.  That's why we're gifting the Creative a new peak Design everyday Sling 10L. Made with a weatherproof 400D nylon canvas shell, the everyday Sling 10L has origami-inspired FlexFold dividers so he can easily organise a camera with spare lenses, and a tablet to boot.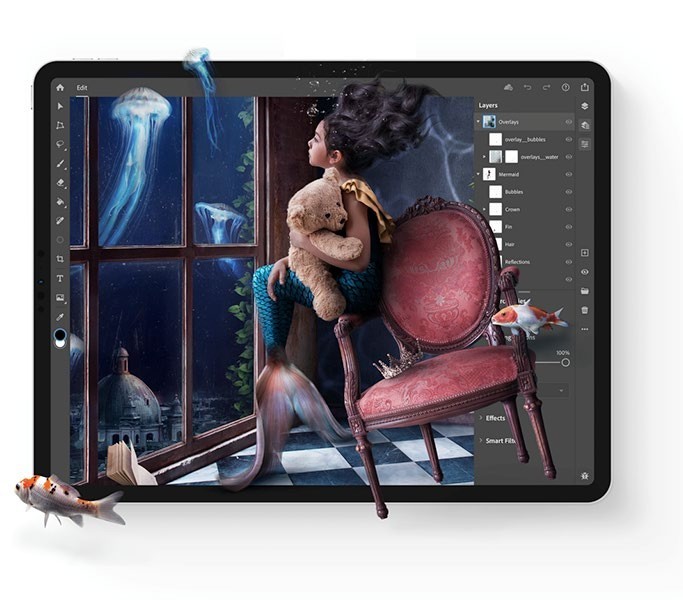 APPLE IPAD PRO
Speaking of tablets, another Christmas gift the Creative will definitely love is the new ipad pro paired with an Adobe Creative Cloud photography plan. That combination lets him sketch, paint and draw to his heart's content using Adobe Fresco, and he'll also be able to directly edit and manage his photographs with photoshop for ipad and Lightroom for ipad, synching it all in the cloud to his pC for final touch-ups when he gets home. 
BACK AT HOME
MICROSOFT SURFACE STUDIO
When it comes to a computer system for design and photography work, the Creative definitely wants a nice large monitor with accurate colours, and of course, a speedy system. The Surface Studio is both of that and more. He'll get a speedy i7-7820HQ processor, up to 32Gb rAm and a NVIDA GeForce GTX 1070, plus a 28-inch pixelSense Display with 4,500 x 3,000 resolution (192 ppI) and 10 point multitouch. He'll also get the Surface pen to use, so he can draw directly onto the screen.
SYMFONISK
TABLE LAMP
Finally, here's a present for when the Creative is ready to settle down for the day. The SYMFONISK table lamp with Wi-Fi speaker is exactly what its name implies – a mood lamp that streams his favourite audio feeds wirelessly.  It supports all the major music streaming services via Wi-Fi so he won't need to keep his phone or tablet around, and it even connects to any Sonos product for a quick multiroom setup.
"CREATIVE INPUT, INNOVATIVE OUTPUT!"
THE TRY-HARD GAMER
Above everything else, this gamer wants to win. it's not about having fun! What's important is their K/D ratio and win rate. You'll find them rocking the "meta" loadout in game and outfitted with the latest gaming gear to give them every advantage in the theatre of war. Their idea of a relaxing night is probably a sweat-fueled excursion on the rungs of the competitive ladder.
IN HIS POCKET ASUS
ROG PHONE II
This phone was practically made with the competitive mobile gamer in mind. It's incredibly powerful, boasting a Snapdragon 855 plus processor, 12Gb of rAm, and speedy uFS 3.0 storage. Its 6.6inch OLeD screen has a 120Hz refresh rate, so supported games should feel buttery smooth. There are plenty of accessories to enhance your gaming experience too, including the TwinView Dock II that turns the phone into a portable console not unlike the Nintendo 3DS.
ON THE GO
NINTENDO SWITCH
Nintendo's portable console has been a huge hit, and for good reason too. Gamers will delight in titles like mario Kart and The Legend of Zelda: breath of the Wild, while games like Overcooked 2 are perfect for house parties where you hook up the Switch to a TV. Overwatch is even available on the Switch, so you never need to take a break from blizzard's popular first person shooter.
RAZER
HAMMERHEAD TRUE WIRELESS EARBUDS
The Hammerhead earbuds are basically Airpods for gamers. They feature customtuned dynamic drivers for deep, punchy bass and a dedicated gaming mode that reduces latency. So when important audio cues sound off in game, you can respond right away. The earbuds are also IpX4 waterresistant, so they're good for exercise too (just in case).
BACK AT HOME
GLORIOUS MODEL O
A gamer's most important tool is their mouse. You want one that's light, comfortable, and has a flawless sensor. The Glorious model O- is all of those things and more – its versatile shape accommodates a wide range of grip styles and RGB lighting plays along the interior honeycomb shell. At a feather-light 58g, it's simply glorious.
BENQ ZOWIE XL2546
What's better than a 144Hz monitor? A 240Hz one, clearly. The benQ Zowie XL2546 gaming monitor's 240Hz refresh rate means flicking from one target to the next should feel exceedingly fluid, while its black equalizer feature ensures that you'll spot enemies hiding in even the darkest recesses of the map. But the best feature is probably the S-Switch, a puck that sits on the monitor's stand and lets you switch between different display settings onthe-fly.
PICTURE
123RF, XIAOMI, LENOVO, ANKER, ASUS
PICTURE
123RF, APPLE, AUDIOQUEST, SCHIIT, DCS
PICTURE
123RF, SAMSUNG, PEAK DESIGN, APPLE, MICROSOFT, SYMFONISK
PICTURE
123RF, ASUS, NINTENDO, RAZOR, GLORIOUS, BENQ