Are you finally ready to make the jump and invest in a pair of end-game planar magnetic headphones? We rounded up the best for a listen.
Are you finally ready to make the jump and invest in a pair of end-game planar magnetic headphones? We rounded up the best for a listen. 
ABYSS AB1266 PHI CC 
With its all-black aluminum frame and unorthodox design, the AB-1266 Phi CC looks more like a torture device and wearing it is unlike any other headphone too. At the top of the frame is a joint that lets users widen the headphone and allows the ear cups to be rotated front and back. To wear, pull the ear cups apart until it fits your head, then put it on and adjust the ear cups until you create a tight enough seal. It may be an elegant design, but unfortunately, it wears as uncomfortable as it looks. I found the clamping force to be a bit overbearing and the leather headband, which is suspended by thick rubber bands, to be over-damped, so it feels as if there is something pushing down on the top of my head. It also doesn't help that the headphone weighs a significant 620g. 
With the new AB-1266 Phi CC, Skubinski sought to create a more accurate driver by altering the trace pattern in the diaphragm. In addition, the new drivers are a tiny bit more sensitive with an impedance of 42 ohms (four less) and a sensitivity rating of 88 dB/mW (3dB more). However, don't think you can get away with a limp amplifier, even with these new drivers, the AB-1266 Phi CC demands a beefy amplifier to sound its best. 
This is evidenced by the cable that Abyss provides with the headphones. While most headphone makers bundle single-ended cables, Abyss provides a 4-pin XLR balanced cable with theirs - a sign that this headphone requires serious power. The cables are custom-made by JPS Labs and they are really unwieldy. There's no Y-connector and the left and right channels are split immediately from the 4-pin XLR Neutrik plug and they get tangled quite easily too. They are comparatively stiff and don't drape as nicely as some of the other cables here. Insofar as ergonomics and comfort are concerned, the AB-1266 Phi CC is not as accomplished as its rivals.
The AB-1266 Phi CC was designed to sound like good loudspeakers in a dedicated listening room and for the most parts, they do. The sound is expansive and the soundstage is one of the widest of the headphones assembled here. Imaging is good too and you can clearly make out the position of instruments in the mix. Also excellent is the bass response, which is typical of planar magnetics, but the AB-1266 Phi CC renders them excellently and with so much authority that they almost appear tangible. However, the overall tonality is uneven. The mids are forward but have a hollow quality to them, causing vocals to lack foundation and sound breathy. The upper mids to treble has too much energy, causing snare drums, cymbals, and the like to have a crinkly and sizzling sound. 
If it reads like the AB-1266 Phi CC sounds bad, it doesn't. Its soundstage is impressive and its imaging abilities are second to none. Its speed, clarity, and bass performance are also exemplary. But in this company of world-class headphones, its less than ideal tonality and other shortcomings are amplified and glaring.
The earpads attach magnetically to the cups which makes it easy for owners to adjust the fit. 
The leather headband is held in place by stiff rubber bands.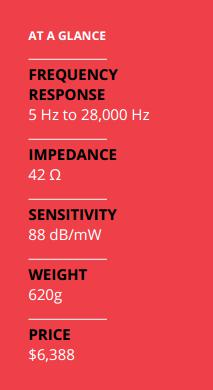 + Stellar imaging and wide soundstage. Head-shaking bass. 
- Uncomfortable to wear for long periods. Uneven tonality. 
AUDEZE LCD4 
Audio is as much about design as it is about performance and Audeze's LCD headphones have always stood out for their stunning looks and superlative build quality. The LCD-4 features a striking chrome grille on the outside of the ear cups, while the ear cups themselves are lined with exquisitely finished Macassar Ebony wood that is said to be 30 years old. The earpads are lined with leather and are amongst the thickest we have seen. They are deeply beveled to create a better seal and are incredibly plush. Though they are heavy at 600g, the carbon fiber suspension-style headband ensures even weight distribution so I didn't find them uncomfortable to wear even for long periods of time. 
As befits a flagship-class headphone, the LCD-4 is chock-full of Audeze's latest innovations. It has Fazor elements, which is Audeze's term for waveguides designed to smooth the sound as it passes from the diaphragm, through the magnets, and into the ears. It also has Double Fluxor Arrays, a specially designed configuration of magnets that yields incredibly high magnetic density. This is matched with ultra-thin nano-scale diaphragms with Uniforce voice coils. These are diaphragms with variable traces to compensate for varying magnetic density in the magnet array. All these technologies are aimed at creating a driver that is extremely well-controlled and low in distortion. 
The LCD-4 is smartly accessorized. It comes in a large shock and waterproof carrying case and comes with a very nice braided 2.5-meter long single-ended cable that terminates in a 6.35mm plug. It is soft, pliable, and drapes nicely. Balanced cables are sold separately but I thought the single-ended cable did a good enough job as long as you have a fairly powerful amplifier. According to Audeze, an amplifier with an output between one to four watts is recommended. While earlier LCD headphones were noted for their dark sound signature, recent revisions have gravitated toward a more neutral and even tone. Still, the LCD-4 retains the awesome bass response they've been known for. Bass extends incredibly deep and is amazingly textured and clean. The mid- range is crystalline, buttery smooth, and present, which gives vocals and guitars a lush and almost gooey presentation. Past LCD headphones were slightly rolled off in the treble, but the LCD-4 sounds far more neutral. As a result, the LCD-4 is brighter than its predecessors. Treble is clear and non-fatiguing, but there is some unevenness that makes it sound unnatural. There also seems to be some elevation in the treble, causing a bit of harshness on some tracks. 
Objectively, I do not regard the LCD-4 as the most technically competent headphone, but its signature is so alluring and easy to listen to that I think a lot of music lovers won't mind. It excels in all modern genres of music but struggles with classical and some forms of instrumentals because of its less than ideal treble presentation. Still, the upside to this is that treble sensitive folks should find this headphone very pleasing.
Thick earpads are used to create a good seal, which, according to Audeze, improves bass performance. 
The carbon fiber suspension- style headband makes the LCD-4 surprisingly comfy to wear despite its tremendous weight. 
+ Great looks, lush signature, out-of-the-world bass response. 
- Uneven treble makes it less than ideal with some music genres. 
FINAL D8000 
The Final D8000 is the company's newest flagship and first ever planar magnetic headphone. It comes neatly packed in a nicely decorated box with what seems to be faux crocodile leather. Inside, there is a custom-designed machined aluminum headphone stand and two cables. The shorter 1.5-meter long cable terminates in a 3.5mm plug, while the longer 3-meter cable terminates in a 6.35mm plug. The cables are heavy and bulky, but at least they are soft and don't tangle easily. 
The design of the D8000 mimics that of Final's other full-size headphones. I can't say I'm fond of its looks but at least it is different. More importantly, it feels well put together and it is comfortable to wear thanks to the thick and plush headbands and the comfy earpads. The earpads use a breathable fabric material and breathable foam. This, Final says, allows for more natural bass reproduction as the frequencies are allowed to spread naturally. 
As Final's first ever planar magnetic headphone, the story behind the D8000's development is interesting. Final decided on using planar magnetic drivers for their new flagship because they believe electrostatic and dynamic driver headphones have fundamental issues that cannot be solved. Electrostatics lack bass heft while dynamic drivers can't compete in treble performance. Planar magnetic headphones, they believe, lack naturalness in the bass and openness in sound. One reason why is because the diaphragm comes into contact with the magnets during large motion. To solve this, they came up with a solution called Air Film Damping System (AFDS). Using a specially designed enclosure, Final was able to create a thin layer of air between magnet and diaphragm that damps the diaphragm's motion and prevents it from touching the magnet. Ever tried slamming a door only to find that it sometimes stops itself from slamming because of air? That's the idea behind AFDS. 
Where most planar magnetic drivers use columns of magnets and diaphragms with zigzag trace configurations, Final instead uses donut-shaped magnets and diaphragms with spiral traces. This, they say, improves the openness of the sound as there are fewer magnets in the way of the diaphragm. 
The D8000 is prohibitively expensive and so the $4,999 question is this: Does all that research and development pay off? The answer is a resounding yes. The D8000 sounds fantastic. Its best qualities are its clarity, dynamism, imaging, speed, smoothness, and tone. The overall tonality of the D8000 is just spot-on and pleasing. Nothing seems elevated, missing, or sucked out. The bass is clean and punchy but perhaps not quite as textured as the Abyss or Audeze. The mids are perhaps the D8000's strong suit. It is detailed, present, and silky, giving vocals, pianos, and guitars an engaging and exciting sound. The treble is detailed too but also fast and non-fatiguing. However, it lacks the sweetness of the much more expensive Hifiman. Because the treble and overall sound is so clean, imaging is excellent. Coupled with its above average soundstage, the D8000 makes for a highly enjoyable listening experience.
To create a more open sound, he D8000 uses breathable fabric for the earpads. 
Every D8000 headphone comes with a custom-design stand made out of aluminum for storage. 
+ Well built, excellent tonality across the entire frequency spectrum. 
- Heavy cable and does not look that special. 
HIFIMAN SUSVARA 
There is no getting around it. We have to begin with the Hifiman Susvara's shocking price. At $9,500, it is pricier than any of its rivals but you might be hard-pressed to tell when you pick it up. There is light and then there is flimsy. The Susvara falls in the latter camp. I understand that Hifiman wants to keep weight down but the Susvara feels as if it could fall apart. Though the headband, yoke, and ear cups are all fashioned out of metal components, they don't feel as solid nor are they as nicely finished as its rivals. The gimbals even creak. Finally, though the wood lining around the cups is a nice touch, they don't feel nor look as nice as the Audeze or Kennerton. However, the Susvara is quite nicely packaged. Owners are greeted by a compact leather-lined display box with two 3 meter long cables inside - one that terminates in a 6.35mm plug and another that terminates in a 4-pin XLR plug. The cables are completely functional. They are not overly stiff and they are long and light. But they have a rubber sheath, which makes them look and feel cheap. 
Fortunately, things that a turn for the better when you put them on. At 450g, the Susvara is light for a planar magnetic headphone. The leather suspension-style headband cushions the headphone nicely on the head and although the earpads look thin, they are ample and extremely soft. 
The Susvara was also easily the best sounding headphone of the lot. However, to get there you will require a suitably powerful amplifier. The Susvara's impedance is not high but its sensitivity is extremely low. Even with Schiit's powerful Ragnarok amplifier set to its highest gain, I had to set the volume to about 12:30 to get the Susvara to sing. 
But once it does sing, you will find that it does a great many things well and is hard to fault. Thanks to the Susvara's ultra-thin Nanometer Grade diaphragm, the first thing I noticed about the Susvara was its amazing speed and agility. The driver sounds hyper-responsive, almost electrostatic-like. What also impressed me were its precise imaging, wide soundstage, and most of all, its amazing tonality. The sound was extremely even throughout the entire frequency range. Bass, mids, and treble are all evenly presented and they sound powerful and unrestrained. The treble, in particular, is well articulated and very sweet. This allows pianos to be rendered very realistically in their full glory - something very hard to do because of the complexity of piano tones. If there is anything wrong, I would say the bass is a tad soft and could be textured, but that's only a very, very minor complaint. In terms of realism, I find the Susvara to be unmatched. 
In the end, I find myself feeling conflicted about the Susvara. It isn't the best headphone to live with. Its build quality is seriously lacking for a product of its price, and its inefficient drivers necessitate the need for an equally high- end and big amplifier to get the best out of it. But if you can look past these shortcomings and have the cash to splash, what you will be getting is one of the best sounding headphones ever made. Period.
The Susvara's diaphragm features gold traces, which is why it is so inefficient. 
The Susvara is the only headphone here that uses 2.5mm connectors. 
+ Magnificent sound, super comfortable to wear. 
- Build quality is less than ideal, requires high-end gear to sound its best. 
KENNERTON THROR 
Kennerton likes to name its headphones after prominent mythological and fictional characters. Its newest flagship, Thror, is, presumably, named after the Dwarf king of Tolkien's legendarium. Thror is the successor to Odin and has numerous improvements mostly to the driver to improve its sound and to its design to reduce weight and improve comfort. 
The driver is made in-house and remains 80mm large but it has been tweaked for a better tonal balance and higher resolution. Impedance remains at 42 ohms but sensitivity has dipped from 104 dB/mW in the Odin to 100 dB/mW in the Thror. Nevertheless, it remains to be the only headphone here with a three digit sensitivity rating. The other major improvement is weight. At 480g, the Thror is still fairly heavy, but this actually represents a 200g reduction or nearly 30% compared to the Odin. 
Kennerton has also made improvements in other areas. The Thror comes packaged in a beautiful wooden case and is accompanied by a 2-meter long detachable single-ended braided cable that terminates in a 6.35mm plug. The cable is quite stiff but at least it is light and not as cumbersome as the Abyss'. 
The Thror itself feels solidly put together with quality materials. Aerospace-grade aluminum and steel are used for the yokes and headband adjustment system, the ear cups are made out of exotic bog oak wood, while the earpads are soft lambskin leather. The headband adjustment system bears mention because it is incredibly fussy to use. The idea is to give owners the freedom to adjust the height and position of the cups and then use the fasteners to secure it in place. In practice, it took me quite a good number of attempts before I got the Thror properly sized. Once the Thror is sized, it is actually surprisingly comfortable. Much of this is due to the well-padded leather strap of the suspension headband, and also because of the Thror's reduced weight. 
Underneath that cumbersome headband adjustment system is actually a very good- sounding headphone. While the Audeze is a tad dark and the Abyss too bright, the Thror treads a very good middle ground alongside peers like the Final and Hifiman. Like the Final and Hifiman, the Thror's tonality is mostly even. The bass is emphatic but well controlled with no signs of bloat. On the other hand, the mids and treble are both well portrayed and have a fairly good transition. My only complaint is that I hear a slight spike in the treble which manifests as some sizzle and sibilance. But otherwise, vocals sound natural with the right amount of body, while pianos are delivered with life-like realism. 
Because of its very balanced sound, the Thror excels in all genres of music like a good headphone should. Audio performance certainly commensurates with its asking price, and so does its build quality. At the end of it all, the only major letdown of the Thror is its frustrating headband adjustment system. If that doesn't bother you, there is a good chance you will find the Thror to be a thoroughly charming and enjoyable headphone.
Because of the unusual headband adjustment system, getting the Thror to fit right takes numerous tries. 
The Thror uses 3-pin mini-XLR connectors like the Audeze and Abyss headphones. 
+ Excellent sound, easy to drive, charming looks. 
- Hard to wear, some sizzle in the treble. 
MRSPEAKERS ETHER FLOW 
MrSpeakers got their head start in the business by modifying Fostex T50RP headphones. Eventually, they had the funds required to develop their own headphones from the ground up and the result was the open-backed Ether. A year later, MrSpeakers improved the Ether by adding TrueFlow waveguides resulting in the Ether Flow that you see here. The TrueFlow waveguides were designed to reduce turbulence within the driver and help guide sound more smoothly to the listener's ears. The idea behind this is similar to that of Audeze's Fazor elements. 
The drivers in the Ether Flow are also quite unique. Unlike other drivers which typically have flat diaphragms, the Ether Flow's diaphragm is creased so that when it moves through large motions it does it in a manner similar to an accordion. According to the brand, there are numerous benefits: it improves bass response, dynamics, treble, and reduces distortion. 
The Ether Flow is easily the most comfortable headphone in this shootout and that's mostly down to its weight, or rather the lack of it. At just 400g, it is the lightest headphone by a fair margin. It has a clever design too. The suspension-style headband, in particular, is noteworthy because it is made of NiTinol. This is an alloy of nickel and titanium, and it is extremely light and flexible. It is also a memory metal that retains its shape so well, clamping force is extremely consistent. Also aiding with comfort are the soft lambskin leather headband and earpads. You can easily wear the Ether Flow for hours without any discomfort.
Accessories-wise, the Ether Flow comes with the bare necessities; a hard carrying case that's easy to transport in and a choice of either 6.35mm or 4-pin XLR cables. At just 1.5 meters, the accompanying cable is on the short side though, even with my amplifier sitting right next to me on my desk. At least it is light and isn't overly stiff.
The Ether Flow might cost substantially less than its rivals, but since when was price ever an indication of audio performance? The first thing that struck me about the Ether Flow was its pleasing overall tonality and excellent imaging. Dan Clark has voiced his flagship planar magnetic headphones very tastefully. 
As is with the case with most planar magnetic headphones, bass is hard hitting and fast, although there is a slight mid-bass bump that makes the Ether Flow sound just very slighted bloated and warmer than its rivals. Mids are slightly veiled, and, as I hear it, vocals sound slightly held back and lack that last bit of enunciation and air to make them truly outstanding. Treble is fairly smooth and has just the right amount of energy to give it sparkle without sounding harsh or tiring. 
Though the Ether Flow has its shortcomings, they are apparent only because of it is in the company of these high-end headphones. The Ether Flow is by no means affordable, but in comparison to some of the outrageous price tags of its rivals and its performance, I think that it is actually something of a bargain. In all honesty, the Ether Flow is one of the most affordable tickets to the rarefied world of truly high-end headphone audio.
The NiTinol headband is super flexible, which contributes to the Ether Flow's wearing comfort. 
The lambskin leather earpads are beveled to align the drivers to your ears. 
+ Great tonality, immensely comfortable, great value. 
- Sound lacks the refinement and resolution of some of its rivals. 
DYNAMIC VS. PLANAR MAGNETIC DRIVERS 
Over 99% of all headphones use what is commonly known as dynamic drivers. In a dynamic driver, a metal coil is inserted into a magnetic field and fixed to a suspended driver cone. When a charge is applied to the coil, it reacts with the magnetic field, causing the driver cone to move and produce sound. 
Planar magnetic drivers work very differently. Here, a thin conductive diaphragm is typically positioned between two magnets. When an electrical charge is applied, the diaphragm reacts to the magnetic field of the magnets and moves to produce sound. 
So instead of focusing force on a small part (the voice coil in a dynamic driver), the motive force is spread across the entire diaphragm. The upsides to this are increased responsiveness, a wider frequency range, and lower distortion. On the other hand, because the magnets need to cover the entire diaphragm, planar magnetic driver headphones can be heavy and bulky. They are usually also quite inefficient and require much more power to drive.
OUR SETUP 
To ensure we get the best out of these headphones, we are using Schiit's flagship amplifier, the Ragnarok, as well as its flagship DAC, the Yggdrasil, to power these headphones. The Ragnarok is a solid state amplifier that is well suited for driving power-hungry planar magnetic headphones because of its bottomless reserves of power. It is capable of delivering a staggering maximum of 10W per channel into 50 ohms. The Yggdrasil, on the other hand, eschews off-the-shelf delta-sigma DAC chips in favor of medical grade digital to analog chips that run off Schiit's proprietary digital filter. The key benefit is that unlike delta-sigma DACs which up samples the original samples, the Yggdrasil handles PCM files natively and retains all of the information of the original sample file. For purists, this means their music is untainted.
AND THE BEST HEADPHONES ARE... 
HIFIMAN SUSVARA 
The Susvara is not perfect. It feels flimsy, the cable is rubbery, few amplifiers can even power it properly, and it is shockingly expensive. But you won't care about any of these once you put them on your head and hear them sing. It is a life-changing experience. That's how incredible it sounds. The tonality, the clarity, the punchiness, and the staging are all top draw material. If you can stomach its price, what you are getting is one of the finest headphones ever made.
MRSPEAKERS ETHER FLOW 
The Ether Flow from MrSpeakers gets a lot of things right. Build quality and wearing comfort is top notch and it sounds great. It has stupendous bass, outstanding clarity, very low distortion, and a very pleasing signature. The only thing it lacks in comparison to the best headphones here is that lack bit of resolution and air. And considering it costs substantially less than its rivals, it gets our award for Best Value.
Photography by Frenchescar Lim & Zaphs Zhang
Art Direction & Digital imaging by Ashruddin Sani
PICTURES (MAGNET, STONE CUBE, GUY GUITAR) 123RF