ASUS ZenFone 4 Max.
ASUS ZenFone 4 Max.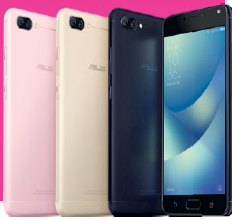 The ZenFone 4 Max is the entry-level phone in ASUS' huge ZenFone 4 lineup and, like its name suggests, emphasizes battery life thanks to a huge 4,100mAh battery. The phone itself is of a safe, generic design that's pretty much indistinguishable from other such phones in the past five years.
It does have a dual rear camera setup though, which sits almost flush with the back of the phone. It's worth noting that at 8.7mm, it's one of the fatter phones out there and, for a fully plastic phone, quite heavy at 156g.
The camera setup pairs a 16-megapixel, f/2.0 primary lens with a 120-degree wide-angle 5-megapixel secondary lens. There's a slight lag switching between lenses, and unlike other dual camera setups, zooming with the wide-angle lens is purely digital. Image quality from the main lens is decent, but colors are generally on the cooler side and there's noticeable processing throughout the image. On the other hand, the secondary camera's 5-megapixel sensor results in a huge drop in image quality with a very obvious fisheye effect.
The ZenFone 4 Max's screen is a 5.2-inch 1,280 x 720 pixels resolution (~282ppi) IPS LCD display. With many entry-level phones (eg. Xiaomi Redmi Note 4) now coming with Full HD panels, the HD resolution doesn't really cut it anymore at this screen size. UI elements are noticeably jagged around the edges, and the low resolution is especially obvious when reading text. The display itself is a little dim, with a noticeably blue tint, and there's a pretty bad color shift when looking at the screen off angle.
Performance from its Qualcomm Snapdragon 425 quad-core processor was on par with other entry-level phones and it performs fine for most daily tasks like web browsing and social media usage.
In our video looping battery benchmark, the ZenFone 4 Max fared well, and lasted over 13 hours. The phone supports fast charging, but only with the supplied default power adapter. It does not support Qualcomm's Quick Charge standard though, and took about four hours to charge from flat to full.
Finally, it's worth pointing out that the phone only supports up to 802.11n Wi-Fi, and it also lacks NFC connectivity, so you won't be able to use it with most mobile payment services.
All things considered, if all you care about is battery life, the ZenFone 4 Max may be worth considering, but if display, camera, or modern conveniences like NFC and faster 802.11ac Wi-Fi are at least somewhat important, look elsewhere.
Dual rear camera setups are quite rare on entry-level phones.
AT A GLANCE
OPERATING SYSTEM
Android 7.1.1 with
ASUS
ZenUI
PROCESSOR
Qualcomm Snapdragon 425, 3GB
RAM DISPLAY
5.2-inch 1,280 x 720 pixels resolution (~282ppi) IPS LCD
REAR CAMERA
Dual 16-megapixel, f/2.0 + 5-megapixel wide-angle
BATTERY
4,100mAh
DIMENSIONS
150.5 x 73.3 x 8.73mm
WEIGHT
156g
PRICE
$258
PICTURES ASUS