Huawei Mate 10 Pro.
Huawei Mate 10 Pro.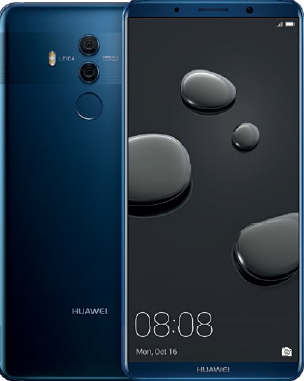 Huawei has moved away from the all metal design of previous Mate smartphones, and the Mate 10 Pro now sports a glass back with an aluminum frame running around the sides. In a first for Huawei, the Mate 10 Pro is also IP67 dust and water resistant.
Jumping on the bezel-less bandwagon, the Mate 10 Pro boasts an extra tall 18:9 display. The screen doesn't curve around the sides like the Samsung Galaxy Note8, but its side bezels are still impressively slim. In fact, the Mate 10 Pro boasts a screen-to-body ratio of around 81 percent, which puts it ahead of the likes of the Google Pixel 2 XL and LG G6, and only slightly behind the Note8 and iPhone X (both 83 percent).
The rear of the phone is curved at the edges, which gives it a nice, comfortable feel in hand. The dual rear camera setup is sits on a stylish strip of color that's slightly different from the rest of the phone. There's an IR blaster and mic on the top, and at the bottom there's a second downward firing speaker, another mic and a USB-C port. Unfortunately, unlike the regular Mate 10, there's no headphone jack - so you'll need to go wireless or use an adaptor, which Huawei supplies in the box.
While every other Huawei phone uses an LCD display, the Mate 10 Pro has a gorgeous OLED display. The 6-inch Full HD+ display has a 2,160 x 1,080 pixels resolution (~402ppi) with vibrant, punchy colors and deep contrast. Like all extra tall displays, the 18:9 aspect ratio means that 16:9 aspect ratio content will display with black borders on the sides. When watching 16:9 content on the Mate 10 Pro, the amount of screen displayed is roughly equivalent to a 5.5-inch smartphone.
Somewhat to my surprise, the Mate 10 Pro is running on the latest version of Android 8.0 Oreo. It's almost impossible to tell though, due to Huawei's continued insistence on completely overhauling the UI with its own EMUI skin. While Huawei has cut back on a lot of the bloatware that used to come pre-loaded on its phones, EMUI still needlessly reworks several Android features, including the Settings menu, of all things, which makes it frustrating to find exactly what you're looking for. As with most Chinese UIs, it also removes the app drawer from the main menu, favoring instead an iOS-like layout of pages and pages of apps. Fortunately, you can restore the app drawer by going to Settings > Display > Home screen style, then selecting Drawer style.
The Mate 10 Pro runs on Huawei's own HiSilicon Kirin 970 SoC paired with 6GB RAM. The Kirin 970 is a 10nm octa-core processor that uses 4x ARM Cortex-A73 cores clocked at 2.4GHz, with 4x ARM Cortex-53 cores at 1.8GHz. Benchmark performance was fairly good, but was slightly behind the Qualcomm Snapdragon 835.
Like the last few Huawei phones, the rear of the Mate 10 Pro houses a Leicaengineered dual camera system comprising of a 12-megapixel RGB sensor paired with a dedicated 20-megapixel monochrome camera. It's worth noting that while you will generally use both sensors together, only the RGB sensor has OIS.
Image performance was generally good, and photos taken in good light look sharp across the entire frame, with good color production, high contrast and low noise. Low-light images could be better, and the autofocus isn't the best in tricky lighting situations. Contrast in low light could also be better, and I sometimes encountered distorted color rendering in low-light situations.
The Mate series has always been known for its massive battery capacity and the Mate 10 Pro is no different with a huge 4,000mAh battery that lasted just over twelve hours, in our video looping benchmark, which puts it on par with the iPhone X and Samsung Galaxy Note8.
The Mate 10 Pro is Huawei's best phone yet, with a beautiful metal and glass design, a stunning OLED display, an IP67 build and great battery life. But while Huawei continues to show improvement, there are still a few things holding it back. Its HiSilicon Kirin processors are getting better and better, but they still trail Samsung's Exynos processors and Qualcomm's Snapdragon processors in benchmark performance. Huawei's EMUI is much improved too, but there are still some puzzling design decisions that make it frustrating to use.
AT A GLANCE
OPERATING SYSTEM
Android 8.0 with EMUI 8.0
PROCESSOR
HiSilicon Kirin 970
BUILT-IN MEMORY
6GB RAM
DISPLAY
6-inch Full HD+ 2,160 x 1,080 pixels (~402ppi) OLED
CAMERA
Dual 12-megapixel RGB + 20-megapixel monochrome
BATTERY
4,000mAh
DIMENSIONS
154.2 x 74.5 x 7.9 mm
WEIGHT
178g
PRICE
$1,098
PICTURES HUAWEI
The back of the Mate 10 Pro is glass, but it doesn't support wireless charging.
There's no headphone port on the Mate 10 Pro, but you do get an adapter in the box.
CONCLUSION
Huawei's best ever phone, but there's still room to improve.