Huawei MateBook 13
The Huawei MateBook 13 may look like a MacBook Pro but it is genuinely one of the most interesting and value for money 13-inch notebooks you can buy today. For a start, unlike many other brands, Huawei only offers it a single configuration. Thankfully, it's a sensible one that comes with a Core i5-10210U processor with 16GB of memory and a 512GB SSD. It also has discrete graphics in the form of NVIDIA's GeForce MX250.
It's fairly compact, measuring just 14.9mm and weighing a handy 1.3kg. The body is aluminium, but doesn't have a unibody construction like the MacBook Pro. Still, it feels sturdy and strong.
One unique aspect of the MateBook 13 is the 13-inch display with a 3:2 aspect ratio. The upside here is that you have a lot more vertical space, making it easier to read long emails, spreadsheets, and websites at a glance.
Resolution is 2,160 x 1,440 pixels, giving it a pixel density of 200ppi – just 27 pixels shy of the MacBook Pro's 227ppi count. The display is sharp and crisp, with sufficiently vibrant and punchy colours. Maximum brightness is a claimed 300 nits. To my eyes, I found it slightly above average compared to most notebooks of the same class. It supports touch input too and I found it to be accurate and responsive. Bezels are fairly thin, but thankfully, the webcam is still positioned above the display. However, you'll need a standalone webcam if image quality is important to you.
Connectivity is possibly the most disappointing aspect of this notebook. To start, it doesn't support Wi-Fi 6, odd because almost all new Windows notebooks do. As for physical ports, you only get two USB-C ports and a headphone jack. They aren't Thunderbolt 3 either, and you're limited to USB 3.1 Gen 1. Furthermore, only the left port can be used for charging; the right port only handles data and video transfers.
Now, having just two ports isn't the end of the world, but the lack of Thunderbolt 3 support is a bummer because it denies you the ability to pair the notebook with high-performance accessories such as external SSD storage or graphics docks. There's also no SD card reader, which means that a USB-C adapter is probably going to be the first accessory that every MateBook 13 owner buys.
The keyboard has full-size keys and a conventional layout. It's not as tactile as I would have liked, but there's an adequate amount of key travel and the overall feel is satisfactory. There's a dedicated power button in the top right corner that doubles up as a fingerprint scanner for quick and secure logins.
The trackpad steals the show for its sheer size. At 12cm wide and 6.5cm from top to bottom, it's one of the largest that I have measured in a 13-inch notebook. The surface feels a bit sticky at first, but thankfully the feeling goes away after a few days of use. And because it uses Windows Precision drivers, the trackpad is fluid and accurate.
Performance is good. Despite having only a Core i5 processor, its PCMark 10 and WebXPRT 3 scores weren't that far behind similar notebooks with more powerful Core i7 processors. Even on Cinbench, the MateBook 13's scores were very competitive. Graphics performance was stellar. It was the fastest performer amongst other notebooks with the same NVIDIA GeForce MX250 discrete GPU.
Battery life was also very decent, despite having only a 41.7Wh battery – which is one of, if not the smallest in its class. Even with its display brightness set to 100%, it lasted an impressive 6 hours and 40 minutes in our general computing workload test, which involves tasks like web browsing, spreadsheets, and video conferencing. To put that number into perspective, it's the second-longest timing we have ever recorded, and about 80 minutes longer than your average 13-inch notebook.
The MateBook 13 combines performance and value in a compact and well-built package. The 3:2 display aspect ratio is great for work, and at $1,598, you'll be hard pressed to find another notebook with comparable specs and build quality.
That said, it's not without flaws. Two USB-C ports is a little stingy, especially when it doesn't support Thunderbolt 3 and only one port supports power charging. The lack of Wi-Fi 6 isn't a big deal especially if you don't have a Wi-Fi 6 router, but it is puzzling for a notebook released this year.
AT A GLANCE
PROCESSOR
Intel Core i5-10210U
MEMORY
16GB
STORAGE
512GB
GRAPHICS NVIDIA
GeForce MX250
PRICE 
$1,598
The MateBook 13 is only 14..9mm thick and weighs just 1.3kg.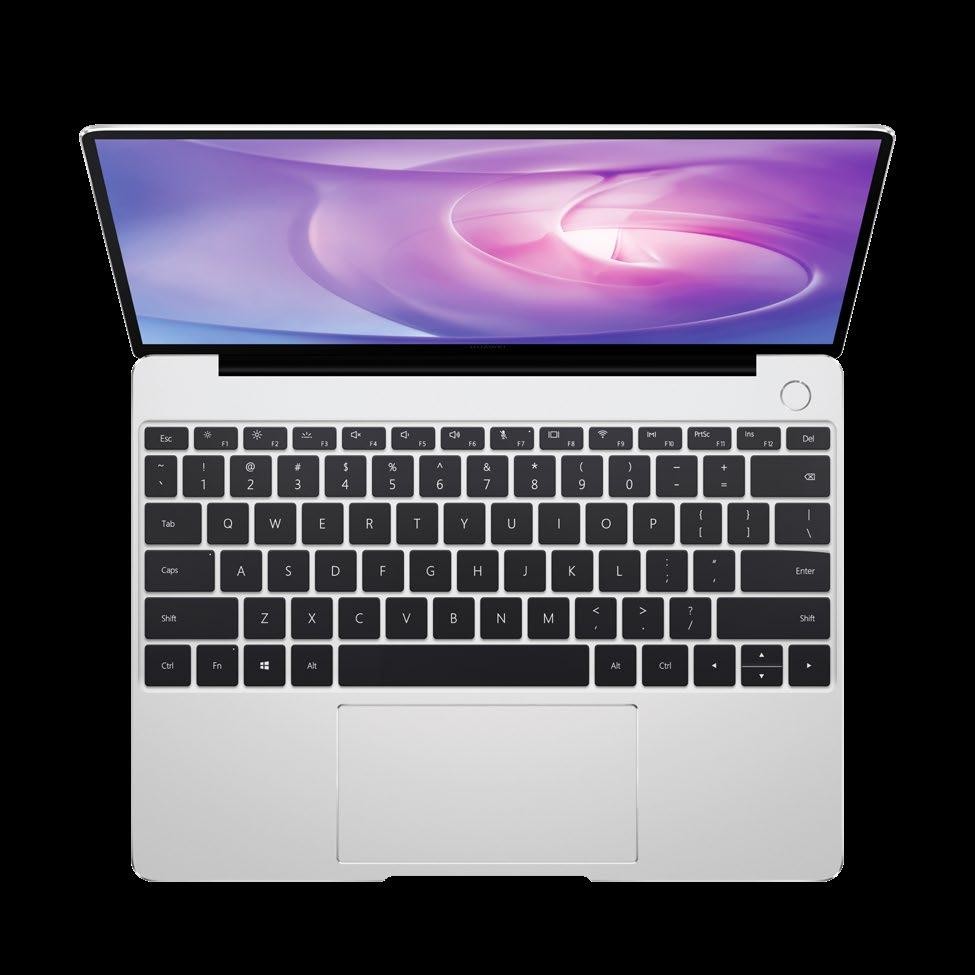 The keyboard is good and trackpad is one of the largest in its class.
The MateBook 13 is only 14..9mm thick and weighs just 1.3kg
CONCLUSION
IF I HAD $2,000 TO SPEND ON A NOTEBOOK, I'LL TAKE A LONG AND GOOD HARD LOOK AT THE MATEBOOK 13.
PICTURES HUAWEI