HiBy R6. By Marcus Wong
Made by Hong Kong based HiBy Music, the HiBy R6 is an Android-based audio player that is powered by a Qualcomm Snapdragon 425 SoC with 3G RAM, and a Quad-core 64-bit Cortex A53 processor. It runs on Android 6.0.1 with custom direct transport audio architecture so you can get bit-perfect non-resampled output from your music player app (save what the app itself applies).
It comes with 32GB of internal storage, and supports microSD cards up 2TB in size. That's a good amount of storage, and we like that HiBy has chosen to use a sim-card like slot to store the microSD rather than the spring-loaded one, as you don't bear the risk of your microSD card flying across the room when you're trying to eject it.
The HiBy R6 comes with a 4,000mAh internal battery that is said to give up to 12 hours of playback time using the single-ended output, or 7 hours if you're using the balanced output.
There's also a type-C USB 2.0 port for both transfer and charging. This features QC3.0 quick charge capabilities, so you can get a full charge in about 140 minutes, and 70% charge in about 70 minutes.
The HiBy R6 measures just 116 x 66 x 15mm and weighs around 275g, so while it's probably a little too thick to comfortably stuff into your pocket, it's certainly small enough to carry around with you all day. It's built of 316L high-impact stainless steel, with a nice brushed metal finish to it.
The body is CNC curved to fit nicely in your hand, and the large metal buttons on each side offer nice response so you can probably operate them without having to look. The front of the R6 is dominated by a 4.2-inch, 1280 x 768-pixel multi-touch screen that has 16.8 million colors and 300ppi resolution. It also comes with dual band Wi-Fi connectivity, with support for both 2.4GHz and 5GHz frequencies so you can connect to your music streaming services with ease.
You use a pin to retrieve the microSD card, just like with the SIM card in your phone. 
We do like that the R6 offers the option of a 2.5mm balanced headphone jack alongside the regular 3.5m one, as that gives you more options to play with. Of course, Bluetooth is available too, so you can use your wireless speakers/ headphones with the player if you so wish.
The R6 also comes with its own music player app, offering you a simple way to access your music. View all files in Folder mode, or go through your music via categories like album or artist. A total of six categories are available, though you can easily disable any of the categories at any time. Once you've found your desired track, simply tap to start or pause playback. You can also easily add tracks to a playlist by tapping and holding to bring up a separate menu; simple and easy.
The HiBy R6 proved itself to be more than capable from the get-go. We started testing with a recording of Take Five by The Dave Brubeck Quartet, featuring Joe Dodge on drums, Bob Bates on double bass, Paul Desmond on alto saxophone, and of course, Dave Brubeck himself on piano.
There's a delicate balance between Brubeck's piano work and Bate's double bass in this piece, and the R6 renders that perfectly, showing its great imaging abilities. Needless to say, the acoustic instruments also showed off the R6's ability to carry pieces with good energy and naturalness.
Moving on to Doin' It Right by Daft Punk gave us a better gauge of the R6's bass capabilities. The bass line from this player tends to be lean and doesn't extend very low. So, you'll feel the bass if you push the volume up, but it won't move you like some other players will, nor will you get a warm decay.
Ending our testing with Queen's I want to Break Free, we felt the R6 displayed great imaging capabilities. Rendering both vocals and instruments well so you had a sense of where everything was. The electric guitar in particular is rendered with good detail, showing that mids are a strength.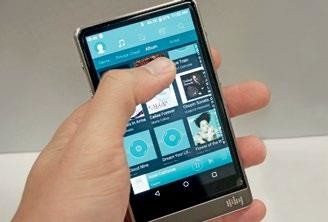 CONCLUSION
An impressive DAP with capabilities that justifies its price tag.
AT A GLANCE

PROCESSOR Qualcomm Snapdragon 425
DAC ARCHITECTURE Dual ESS ES9028Q2M with DTA architecture
INTERNAL STORAGE 32GB internal storage; support for up to 2TB microSD
BATTERY 4,000mAh
DIMENSIONS 116 x 66 x 15mm
WEIGHT 275g
PRICE Stainless steel edition - $1,099 Aluminum edition - $999
PICTURES HIBY,123RF