Razer Huntsman Elite
Razer Huntsman Elite
Traditional mechanical switches register key presses when two metal leaves come into contact with each other, but metal oxidizes and wears out, leading to performance degradations. This has led manufacturers to pursue optical switches that use light for actuation instead. 
The Huntsman Elite is Razer's new flagship mechanical gaming keyboard that uses what Razer calls Opto-Mechanical switches, but that's really just marketing jargon for the aforementioned optical switch mechanism.
In the Razer switch, a light beam passes horizontally across the switch shaft. This is normally blocked by the switch's stem, but when the switch is depressed, a hole in the stem is exposed, which then allows the light beam to actuate a receiver. This sends a corresponding signal to your computer, which translates into a key press. 
You'll also find a clear piece of plastic located at the rear of the switch that helps diffuse the light more evenly. Each switch also comes with its own metal stabilizer bar. This supposedly helps reduce key wobble, and I think it's pretty neat that Razer hasn't limited stabilizers to just the larger keys. 
The Razer Opto- Mechanical switch is a tactile, clicky switch with a shallower travel distance than regular Cherry MX switches. In addition, the mechanical click and optical actuation mechanisms are separate, so the switch actuates at the same point as its click. The 45g actuation force makes this a very light switch though, and it's diffi  cult to avoid bottoming out when typing. 
One of the key advantages optical switches have over conventional mechanical switches is that there's no need for a de-bounce delay. This is usually necessary to account for the bouncing, or generation of multiple signals, that occurs when two metal contacts touch each other, but it also adds a small delay to each keystroke. 
But for all their upgrades over a regular mechanical switch, Razer's Opto- Mechanical switches don't feel all that different. The improvements are better characterized as under-the- hood changes that make the switch faster and more reliable on paper, while still retaining the feel of a traditional clicky switch. 
And Razer's new switch actually feels very good. Each keystroke feels consistent and smooth. If I had to describe them, I'd say that they feel like a clicky version of Cherry MX Reds. 
The distinct 'click' sound has a lower pitch than Cherry MX Blues, which I find less annoying. They're still rather noisy however, so you'll need to think twice about using them in an offi  ce setting.
Overall, the keyboard itself is quite elegant by the standards of most gaming keyboards. It features a floating-key design for a cleaner, more minimalist look, and I do like the matte black aluminum top cover. 
The stock keycaps are made of ABS plastic, which unfortunately picks up the detritus of daily life all too well. You want to make sure your hands are clean before you touch this keyboard, as grease stains show up way too clearly. Furthermore, ABS generally wears easily and picks up an unpleasant shine after a while. Time will tell how well the Huntsman Elite's keycaps will hold up after months of use. 
Optical switch aside, another standout feature is really its Chroma RGB lighting. The Huntsman Elite ships with a plush, leatherette wrist rest, and both it and the keyboard are ringed by customizable LEDs. In addition, the keyboard supports per-key RGB lighting and individual lighting zones for the media control keys and volume dial. 
In total, the Huntsman Elite boasts a total of 168 customizable lighting zones, so you can really go to town with the customizations. The underglow surrounding the keyboard and wrist rest comprises 38 and 24 different lighting zones respectively. 
This is also Razer's first keyboard to feature onboard memory, following in the footsteps of mice like the Basilisk and Lancehead.
You can store up to five profiles and toggle between them by pressing Fn + Menu, so you'll have access to them even if Synapse isn't installed on the PC. 
When it comes to build quality, the aluminum top cover helps confer some extra rigidity, but the rest of the keyboard is predominantly plastic. While the Huntsman Elite still feels like a quality product, I'd have preferred to see more metal in a keyboard that costs this much. At $339.90, this is one of the most expensive keyboards you can buy. 
Furthermore, the volume dial feels like it could have more clearly defined notches, and it doesn't feel as smooth when you're trying to make small adjustments.
The wrist rest snaps into place magnetically and interfaces with the keyboard via pogo pins. 
Each switch has its own stabilizer bar.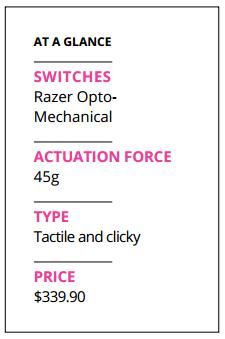 CONCLUSION 
A premium keyboard with technically competent switches and a very stiff price tag. 
PICTURES RAZER