IKBC CD87 BT
IKBC CD87 BT 
At first glance, the IKBC CD87 BT looks like any other regular mechanical keyboard. It has a nondescript all-black plastic case and it has a conventional tenkeyless (TKL) layout. It's not a very inspired design, but that also means it is easy to get used to. 
Unlike some other wireless Bluetooth mechanical keyboards, the IKBC CD87 BT was designed with a resolute focus on usability. There's no odd-shaped keycaps to get used to or odd layout to get acquainted with. 
Though the all-black chassis is plastic, it still feels solidly put together and there's no discernible creaking or flexing even with my typically heavy keystrokes. IKBC has instead wisely chosen to focus their resources on the keycaps, which are made out of high-quality PBT plastic and feature laser-engraved legends that are more resistant to wear. 
The CD87 BT is available with the usual selection of Cherry MX switches: black, blue, brown, and red. The unit I tested came with brown switches and they work well. They feel slightly softer than other keyboards with brown switches that I have used but that could be because of the PBT keycaps. The CD87 BT also features anti-ghosting and full key rollover which makes it a viable keyboard for gamers, but one thing to note is that the keyboard has no backlighting. The CD87 BT is quite well accessorized though. You get a USB Type-A to USB-C cable, a keycap puller, two AAA batteries, and a couple of extra keycaps in solid red and blue. 
The CD87 BT connects wirelessly via Bluetooth 3.0 without the need for a dongle. Additionally, it can be paired with up to four devices simultaneously and users can switch between paired devices easily with a keyboard shortcut combination. Power comes from two triple-A batteries and IKBC claims a battery life of at least three months. Even if you are out of juice, the CD87 BT can be used in a wired mode through its USB-C port. 
Underneath the keyboard are stands to adjust typing height. Two height choices are on offer so most users should be well covered. There are also four DIP switches that switch the positions of some keys around but most importantly, turn the keyboard's Window layout to a Mac layout right down to the Mac media shortcut keys. All you need are Mac-specific keycaps and the CD87 BT turns into a bona fide wireless Mac keyboard. 
At $169, the CD87 BT is a little pricey considering it doesn't have features like customizable backlights and macros. However, it is well constructed, Bluetooth function works well, and it is a joy to type on. All in, the CD87 BT is a keyboard more suited to general productivity than gaming, and I highly recommend the CD87 BT for both Windows and Mac users alike.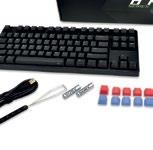 The CD87 BT comes with batteries, a keycap puller, USB cable, and additional keycaps. 
CONCLUSION 
A no-frills and fuss-free keyboard that works well and is well-built. 
PICTURES IKBC