What if you told you it could just be a Google search away.
What if you told you it could just be a Google search away.
We've all been there at some point or another. There's no forgetting all the time wasted on overturning sofa cushions or rooting around in odd places for your phone – only to find that it was really on your bedside table all along. But what if that happens to you out in the urban jungle? Fortunately, Google has made it easy to track down your phone, all without requiring you to download a dedicated tracking app like Cerberus. iOS owners already have Find My iPhone, so this is for you Android users out there.
PRE-REQUISITES

Ensure that Location is on and the mode is set to High accuracy. This option can be found in the Google Settings app under Location > Mode > High accuracy.

Your phone must be linked to Google. This means updating the Google app on your phone, turning on Google Now cards and notifications, and signing into your browser.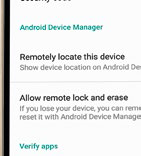 Enable the options that allow your device to be located, locked, and erased remotely. These are found in the Google Settings app as well, under Security.
Make sure your device isn't hidden on Google Play. Unhide a device by going to play.google.com/ settings and selecting it in the Visibility column.
1. ASKING GOOGLE FOR HELP
There isn't actually a fixed activation phrase that you have to use. Conversational prompts like "I lost my phone" or "where is my phone" will work just fine, and Google will ask you to sign in to verify ownership, before attempting to locate your device.
If all goes well, you should see your phone's location below the search bar, along with options to ring or attempt to recover the phone. In our tests, this was accurate to around 20 meters, which isn't too shabby.
2. LOCATING YOUR PHONE IN THE REAL WORLD
If you're lucky and the phone is in the immediate vicinity, you can choose to ring it, and hopefully that'll be the end of it.
With that said, it's worth noting that when you do locate your phone, a notification will appear in the notification pull-down window that the phone has been located by Android Device Manager. If your phone was in fact stolen, this might alert the thief that you're onto him and lead him to take the phone offline, stymying further recovery efforts.
3. RECOVERING (OR SECURING) YOUR PHONE
Clicking the "recover" button lets you lock your phone or write a note to whoever happens to be holding onto your phone at the moment.
In addition, you can include a contact number in order to better facilitate the recovery.
You can also sign out of your Google account on the phone to prevent access to it. You'll still be able to ring, locate, lock, or wipe the phone after doing this.
4. WIPING THE PHONE
If your phone turns out to be stolen, the above measures are probably going to prove futile. In this case, you might even want to consider the nuclear option – erasing all data.
However, this method isn't foolproof. If your phone is offline, it'll only be wiped the next time it comes online.
But if it never comes online again, your data will remain intact. Furthermore, there is no guarantee that Google will be able to properly wipe any memory cards in the phone.
If Google isn't good enough…
There are also dedicated anti-theft solutions like the Cerberus app. Cerberus offers more advanced functions than Google, and you'll be able to pull your device's location history to find out where it's been, and even get a list of the last calls sent and received. It's primarily aimed at locating stolen phones, so you can also take pictures, screenshots, and record videos to attempt to identify the thief. Audio recording is within its capabilities as well, and you'll be able to remotely activate the microphone.
Of course, you don't want the thief to know that you're spying on him (or her), and you'll be able to hide Cerberus from the app drawer.
USING THE CAST APP
Singtel's Cast app is currently available for download, but only Singtel Postpaid Mobile subscribers are eligible to subscribe to Cast and access content on the Cast app after signing up for a content pack within Singapore. There are four ways to subscribe: through the My Singtel app, by calling the 1609 hotline, visiting a Singtel Retail Shop, and using the official Cast website, or the official Singtel online shop site.
Users have an easy way to check their subscriptions from the Cast app. It's tucked away to the menu on the left. The Cast app recognizes a user's subscription based on the phone number used to acquire the respective content packs. The menu offers basic controls, such as the toggling of mobile data usage and accessing of downloaded shows (yes, you can watch your stuff offline).
Do note: only one active stream is allowed from one subscribed mobile number - this means if your phone is streaming content from Cast, the other devices with your Cast account won't stream your content.
Singtel said that Cast SD content is pegged at 576p – that's higher than the conventional YouTube SD resolution (usually up to 480p). 576p is actually closer to the PAL standard for DVD resolution (720 x 576 pixels resolution). Like your typical ondemand services, you can start and stop shows as and when you desire.
WHAT CAN I GET ON CAST?
Each Cast content pack is $4.90 per month with a 12-month subscription contract ($6.90 without contract), and they are:
Viu Premium: This is recommended for users who want the absolute latest Korean content from Viu, with a smattering of Japanese dramas. Getting this content pack requires both the Cast app and Viu app. If you are using the Viu Premium content pack, the Cast app will simply fire up Viu for you.
Kids Pack: Features the Nickelodeon and Nick Jr. channels, and other popular children entertainment programs.
Asian Hits Pack: Features up to 1,000 hours of popular hit movies, entertainment and drama series from Singapore, Taiwan, Hong Kong and China in their original languages.
Hallyu Pack: Different from the Viu pack, this offers Korean entertainment from top Korean broadcasters on popular channels such as ONE, Oh!K and KBS World.
EXPLOITING THE CHEAPER MOBILE DATA OFFER
Customers who pick up a Cast content pack can buy additional 1GB of mobile data at $3 per month. It doesn't matter if you are on a 12-month Cast subscription or otherwise – any Cast user can get this 1GB offer for every content pack they subscribe to. Since Cast offers four content packs at the moment, so you can theoretically boost your mobile data bundle by 4GB, but only if you pay 4 x $7.90 per month for everything ($31.60/month).
That mobile data will be tagged onto your existing postpaid plan, and it's added to your total bundled data allowance.
The My Singtel app is best at managing your content pack subscriptions. Since each pack is tied to an individual postpaid number, you can purchase the pack's subscription via the "Browse Add-Ons" menu inside your My Singtel app.
OFFLINE VIDEO WATCHING
You can download content into your phone from Cast. Not only is this convenient in poor data reception areas, but this option can also be useful if you're overseas for short periods as you will not be able to access streaming content when travelling abroad. One thing to note however, is while Cast does not limit the number of videos downloaded, content will remain under the "Download" section of the app for only seven days.
Cast focuses on Asian content, and they package the content based on the genre, and they cost a fraction of a full Netflix subscription. Cast was also designed with the mobile format in mind, and it bundles cheaper mobile data for video-watching. In a way, it's like an alternative for folks who don't go for western content, and it's designed for a great mobile video-watching experience.