With iOS 9.3 bringing Night Shift onto its platform, we decided that a quick run-down on Night Reading is in order.
With iOS 9.3 bringing Night Shift onto its platform, we decided that a quick run-down on Night Reading is in order.
Before we start using Night Reading mode on our smartphones, we first have to understand what normal smartphone lighting can do to us, and what night reading mode hopes to achieve for these devices. Here, we also look into the possible options across various platforms, and the possible customizations you can make for each of them.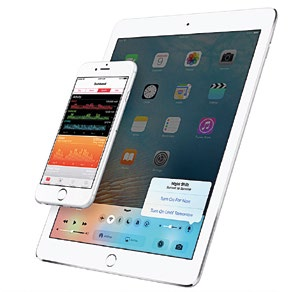 WHAT IS NIGHT READING?
To understand the need for Night Reading modes on our devices, we need to first understand what light does to our body.
Melatonin is a hormone that influences our circadian rhythm, and the change in melatonin levels affects the quality of our sleep. Studies done by Harvard Medical School proved that the presence of blue light suppresses melatonin – even if there's only 8 lux (and typical night lights have double of that brightness level). All types of colored lights affects melatonin levels, with blue having the biggest influence.
The same study explained that the human body likes blue light during the daytime as it boosts attention, reaction times, and mood. Since blue light signals daytime to our brains, night-time exposure to it alters our sleeping patterns for the worse.
According to the Scientific American, the light from our devices is "short-wavelength-enriched". It emits a higher concentration of blue light over natural light. However, it is unrealistic to stay away from displays once the sun sets – even more so in today's modern city life.
If light exposure at night becomes unavoidable, researchers suggest that we make changes to minimize blue light exposure. That's where Night Reading modes in devices come in. The redder, warmer tone adopted by these displays reduces the negative impact to our sleep patterns.
This phenomenon goes by many different names, but that's mostly because of different brands trying to come up with their own catchy marketing term for providing a warm display at night.
GETTING NIGHT READING MODE ON DIFFERENT PLATFORMS
We now know that having an appropriately-lit display at night is important, even if the effects it has on the human body aren't immediate. We are also fortunate enough to be living in an age where we can painlessly minimize the risks that blue light has at night. Here, we explore some Night Reading options that are available across a range of popular devices.
Night Shift for iOS
Apple calls this in-built feature Night Shift – paying homage to the need for night-shift workers requiring blue-light blocking shades in order to adapt to their work hours. To get Night Shift, you must have iOS 9.3 installed. You can find it in your Settings, under Display & Brightness.
Night Shift is toggled off by default – you only need to turn it on,either by scheduling it to happen between certain hours, or by manually turning it on until the next morning. Here, you can also adjust the color temperature of your display – the warmer tones lean to the right of the bar. Night Shift can also be activated via the Control Center shortcut found on the same row where your torchlight is.
Read Mode for Xiaomi's MIUI
First introduced with the MIUI 7 update, Xiaomi has had this night-reading functionality before Apple did, and they call it Read Mode. It's easily accessible by default – you can toggle the option within the pull-down notification bar. You can adjust the strength of Read Mode just like how you do so on iOS. You can't schedule it, but the MIUI offers app-by-app customization – you can select specific apps to have that warm overlay while leaving out the rest.
Night Light for Google Play Books
If you're using a non-Xiaomi phone with Android OS, you have a wide range of options for night reading. Google has a proprietary Night Light mode that's only available for their Google Play Books e-book reader app. It's an impressive night-reading feature, if not for its limited use: you can only use it when reading e-books from the app itself, and not on other applications. This may be very handy if you strictly want your e-books to have night reading compatibility, while the rest of your phone remains untouched.
To use Night Light, simply go into the Google Play Books app and fire up an e-book. Tap the edge of a page and tap the 'A' icon that shows up, and you can toggle Night Light mode. Even if you have the inverted color scheme activated, Night Light mode will still make the white text become increasingly orange as it gets later into the night.
Other Android OS alternatives
If you're not an e-book person either, don't fret. There are plenty of blue light filter apps available in the Google Play Store, and Twilight stands out in particular.
Twilight is a free-of-charge app that's been in the app store even before mainstream manufacturers started integrating night reading modes within their phones. It overlays a red tint over your other apps, and it gives you the freedom to select apps you want affected. You can also make the overlay follow your current time zone, and it will match its filter intensity based on the day's sunrise and sunset.
Twilight takes their customization a little further than the rest. You can adjust color temperature, maximum intensity, and maximum screen dim with separate sliders in the settings. Other night reading alternatives we've listed so far only has one slider for adjustments, but all of them get the work done.
As a third-party app, it goes without saying that Twilight does have its quirks when compared to in-built night reading modes, but it is still one of the top picks out of the countless blue light filter apps available in the Play Store.
f.lux for Windows, OS X, and Linux
If you're prone to working late nights at your computer, you can still benefit from a blue light filter. One such blue light filter program like f.lux works across Windows, OS X, and Linux operating systems (provided you get the compatible version). By far, this program is the most customizable out of all the ones listed here.
After installation, you can find the f.lux icon in the system tray, where your system clock resides. One quirk about f.lux is how it doesn't show up in your dock, settings, or alt-tab menu and you are forced to edit your settings in the taskbar.
The program has a preset and it's already available upon installation, but not everyone's lifestyle habits fall within the generic default settings. Altering the settings isn't very different from other blue light filter apps mentioned here, although understanding the unique features of f.lux will bring you to your desired result sooner.
Recommended colors: Unlike other apps where they stick to one hue in different shades and intensity, f.lux lets you choose a color that suits your eyes best. This feature is where you choose your overlay preferences before you start deciding on other parameters.
Disable for an hour: You can disable f.lux for one hour at your discretion, and the f lter will re-apply itself after the hour is over. This is ideal for people working on color-sensitive projects. Once you get these basics down, you can try out the other quality-of-life settings that are nice to have.
Fast transitions: You can get your filter up and running in 20 seconds at sunrise and sunset. Having it toggled off will make the gradual transition happen over an hour.
Sleep in on weekends: The f.lux filter applies itself later on Friday and Saturday nights, so you can stay up for all your night-time nonsense, and wake up late on the weekends.
Movie mode: Partially disables your blue light filter for two and a half hours – it preserves colors and shadow detail for watching movies while reducing alerting light.