Tablets and smartphones are getting so powerful that many find they no longer need a dedicated laptop. But if you're trying to get serious work done, a touchscreen keyboard just won't cut it. Bluetooth keyboards are easy to set up, usable on multiple devices, Hardware and give you a real typing experience.
Tablets and smartphones are getting so powerful that many find they no longer need a dedicated laptop. But if you're trying to get serious work done, a touchscreen keyboard just won't cut it. Bluetooth keyboards are easy to set up, usable on multiple devices, Hardware and give you a real typing experience.
APPLE MAGIC KEYBOARD
You might be asking, 'Why is an Apple keyboard in a multi-device shootout?' While Apple doesn't publicize it, it's actually really easy to pair the Magic Keyboard with any iOS, Android or Windows device. Just turn it off and on again with the power switch in the top right corner and it will be discoverable in your device's Bluetooth menu! Select Magic Keyboard and pair. Unfortunately, unlike the other keyboards in this shootout, you can't easily switch between devices – every time you want to connect to a new device you'll have to re-pair it again.
It weighs 231g and measures 279 x 115 x 10mm with a tapering wedge shape, making it fairly portable. Like all Apple products, it's beautifully designed with a frame made from silver aluminum with white keys. The back doesn't look as good though, with its glossy white plastic rear. The keyboard has a rechargeable battery which Apple says will last about one month between charges, after which you'll have to use the provided Lightning cable.
Apple has designed a new low profile scissor switch mechanism for the Magic Keyboard that offers increased stability while still allowing for a generous amount of key travel. The keyboard is essentially the same one found on Apple's MacBook, and the typing experience on the Magic Keyboard was the best out of all four of our keyboards. The keys feel firm with absolutely no wobble, and the wedge shape of the keyboard provides a comfortable typing angle. The only downside to the keys is that they're a little noisy.
As an Apple keyboard, the Magic Keyboard is designed for iOS and OS X devices so some of the extra functionality buttons may not work with all devices. While the media keys (F7 to F12) seemed to work fine, screen brightness (F1 and F2) didn't work when paired with my Android phone. The Command and Option buttons do actually work with Windows and Android, but you won't find any extra functionality there like with the Logitech K380.
+Beautiful aluminum frame. Low profile scissor switch keys.
-Only one device pair at a time. Pretty expensive.
LOGITECH K380
At just $54, the Logitech K380 is by far the most affordable keyboard in our shootout. It's also the heaviest, weighing in at 423g with its batteries installed. The keyboard is made entirely of gray plastic and measures 279 x 124 x 16mm. It has a sloping profile, which gives it a comfortable typing angle. The keyboard is powered by two preinstalled AAA batteries, which Logitech says will last two years assuming daily heavy-usage (defined as eight hours a day), which is pretty fantastic. Standard batteries also means that you can easily replace them if the keyboard dies on-the-go. There's a power switch on the left-side of the keyboard.
Pairing a device is as simple as holding down one of the three yellow buttons on the keyboard until its light starts blinking. Then just pair to your device like any other Bluetooth keyboard. You can do this for three devices and it's quick and easy to switch between devices by pressing its corresponding button. The keys are labeled with both Apple and Windows/Android functions, and the keyboard will automatically sense the platform it's paired with and switch the keys to suit.
Rather than the more conventional square keys, the K380 has rounded chiclet-type keys. The keys aren't really harder to type on, but they do feel different. Round keys can actually result in fewer mistypes, as there's more space between each key, so you won't accidentally hit the key next to the one you were aiming for. Typing on the K380 is comfortable, thanks to the elevated typing angle, and the keys themselves feel firm with a decent amount of travel for a portable keyboard.
There's also some added functionality for mobile devices, as the F4 to F7 keys double up as home, recent apps, menu, and back on an Android device, and also share some functionality for other OSes. For example, the menu key opens up the right-click menu on a Windows device. You also get a full set of media control keys on F8 to Insert. 
+Great price. Connect and switch between three devices simultaneously.
-Fairly heavy.
MICROSOFT UNIVERSAL FOLDABLE KEYBOARD
Microsoft's Universal Folding Keyboard is uniquely split in two with a hinge in the middle so you can fold it in half. This makes it by far the most portable choice in our shootout.
Open, it measures 295 x 125 x 5mm, but when folded closed, it's just 145 x 127 x 10mm. It's also the lightest keyboard in our shootout at just 178g. The keyboard is made of a gray soft-touch material on the outside and around the edges, while the keys are black plastic. The whole thing is water-repellent. The keyboard is powered by a rechargeable battery, which Microsoft says will last for three months, after which you'll have to charge it using the included microUSB charger.
Open it up and the keyboard will turn on automatically. To pair the keyboard, just hold down one of the two function keys used to switch devices, wait for it to light up, and pair. You can pair two devices at the same time. An OS Switch key in the upper right corner flips the function keys between Windows, Android, and iOS modes.
On the inside, the keyboard is essentially the same as Microsoft's Surface Type Cover keyboard, but with a big gap in the middle. While this gap in the keys makes it look similar to a split ergonomic keyboard, the Foldable Keyboard doesn't qualify as such, as it doesn't angle the two portions of the keyboard into a more comfortable typing position. Unlike our other keyboards, it also lies completely flat.
The big gap between the keys is hard to get used to. The unusual layout, in combination with some keys being twice the size of others (T, G, 7, H, and N) also makes typing on the keyboard quite awkward as the keys just aren't where your fingers expect them to be. On the plus side, the keys themselves are  rm with a nice tactile response. Note that there are also no function row keys, although you do get a line of dedicated media controls.
+Portable. Water repellent.
-Split layout makes typing awkward. Oddly shaped keys.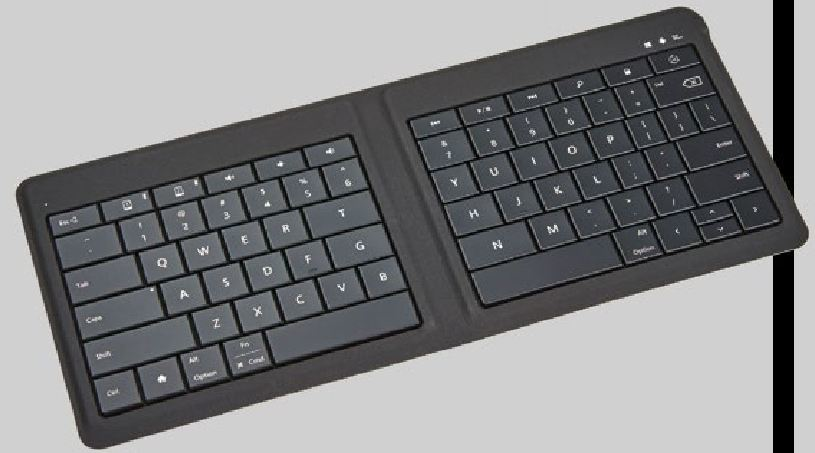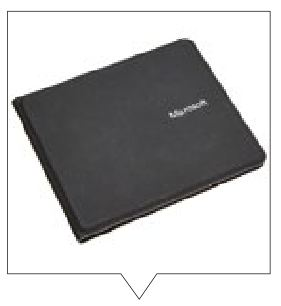 RANGER TOUCHPAD BLUETOOTH KEYBOARD
The Ranger Touchpad Bluetooth Keyboard is the only keyboard in our shootout with a builtin touchpad. The keyboard is made entirely of white glossy plastic and measures in at 287 x 125 x 12mm. It's fairly light at 250g and tapers slightly, but not enough to provide an elevated typing angle.
To pair a device, flip the keyboard over and you'll find a small selector switch on the bottom. Choose one of the three positions and hit 'connect' to discover and pair your device. Being able to pair and switch between three devices simultaneously is nice, but the position of the switch on the bottom of the keyboard makes it annoying to use. The keyboard has an integrated battery, which Ranger says will last about 48 hours of continuous usage between charges. Recharge it with the provided microUSB cable.
The keys on the Ranger keyboard are nice and firm, thanks to a stiff scissor switch mechanism. There's also a surprisingly large amount of travel and a decent amount of space between the keys as well. In the top right corner, there are indication lights for caps lock, Bluetooth connectivity and charge status. Like the K380, the F3 to F6 buttons double up as Android keys and you also get media control keys on F7 to F12. 
The keyboard's integrated touchpad is an interesting addition but a bit too small to replace a mouse or proper touchpad. Its best feature is the scroll portion on the right, which is useful for browsing long websites. Annoyingly, it doesn't have a click on it, so you have to use the left control key to left click and the windows button to right click.
The touchpad also takes up a lot of space and, as a result, the comma, period and question mark keys are halfsize, which is really frustrating, as I almost always tap the top of the touchpad when trying to hit them. Another thing to note is that the letters on the keys are screened on, which, in combination with the glossy white plastic, makes the keyboard look a bit cheap. The screened on letters may also peel off over time.
+Integrated touchpad. Connects up to three devices simultaneously.
-Screened on letters. Half-size comma, period and question mark keys.
AND THE BEST MULTI-DEVICEBLUETOOTH KEYBOARD IS
LOGITECH K380
In this case, more expensive doesn't mean better, as the Logitech K380 is our winner for its fantastic price and excellent all-around feature set. Its ability to pair with three devices simultaneously and switch between them quickly and easily is very useful for anyone with multiple devices, especially in combination with its automatic OS detection and contextual keys.
It's a bit heavier than our other keyboards, but in our opinion it's still portable enough, and while some may not like its non-rechargeable battery, two years between battery changes is a worthwhile tradeoff, and better than having to recharge your keyboard every month. Finally, we enjoyed typing on the keyboard thanks to its elevated typing angle and well-spaced chiclet-type keys.