Fantastic mid-range ultra-wide gaming performance, but comes with a steep premium.
Fantastic mid-range ultra-wide gaming performance, but comes with a steep premium.
LG 34UC89G
The sharp lines and black-red colors of the LG 34UC89Gmakes it clear that this curved ultrawide is built for gaming. The 34-inch IPS finally brings NVIDIA G-Sync to the LG table, yet like its predecessor, is locked to a 2,560 × 1,080 pixels resolution. Even so, the reduced pixel density may be an acceptable sacrifice for mid-range systems looking to run games at speeds of 144Hz or more.
While evidently targeted at gamers, the 34UC89G manages to toe the line between reserved and flashy. From the front, the gentle curves and blackgray finish looks entirely at place in an office setting. It's the sleek, V-shaped stand and the monitor's rear panels that brings "gaming" to mind the most, the splashes of red and the chiseled lines looking right at home among contemporaries such as ASUS ROG and Acer Predator.
The stand itself offers both angle and height adjustments but, as expected of a curved display, not rotation. Colors aside, the stand doesn't stray from LG's usual design conventions and it's both stable and easy to set-up. You can adjust the monitor with one hand, though I'd recommend using two just to prevent wobble and stress on the panel. More pertinent is the interface panel. You'll find a DisplayPort 1.2 and (disappointingly) HDMI 1.4 for video, as well as four USB 3.0 and a utility port. One of those USBs is reserved for an upstream connection, though I do wish the remaining USB and audio ports were located to the side – having them all grouped together leaves the 34UC89G in a neitherhere-nor-there spot when it comes to accessibility.
A clickable, 4-way joystick along the bottom edge is used to access and navigate the on-screen display. LG isn't the only one to take the joystick approach, but it does slow the initial set-up as you go through the same set of menus again and again to access the settings. The better alternative, one I discovered when browsing LG's product page, is to download the OnScreen Control app, and it is by far a more pleasant way to use and navigate the OSD. 
Fresh out the box, the 34UC89G cut a better impression than its predecessor. Colors were better presented, although users won't have plenty of options when it comes to fine-tuning. Nonetheless, the display looks great for both games and Netflix movies, with strong black level performance that leaves the overall presentation satisfyingly vibrant. It handled the dark vastness of space in Elite Dangerous (highly recommended for an ultrawide!) and the carnival of colors in Heroes of the Storm well enough, while shows such as Star Trek: Discovery and Stranger Things 2 proved just as enjoyable. While a great fit for gamers, the lack of advanced calibration tools will likely give digital artists and photographers pause, sRGB mode or not.
On the bright side, viewing angles didn't pose any problems when sharing the screen with another, seated user. The curve is gentle and contrast shifts were only more evident when standing and off to the side, but nobody's going to look at a curved display like that. The biggest letdown is, of course, the 2,560 x 1,080 pixels resolution. The extra real estate is a plus, but if you're sizing up from a 1440p monitor then this does feel like a downgrade.
Where that 1080p ceiling does come in handy is for games, allowing mid-range systems to redirect their efforts towards framerate. The 34UC89G goes up to 144Hz but can be pushed to 166Hz when overclocked. Motion blur and ghosting were negligible (unless one obsessively compares it to a 240Hz esports monitor) and G-Sync was ready to smooth over any hiccups. Its 5ms response time is sufficient for a majority of gamers, too, with no perceptible lag when hopping about in Overwatch or CS:GO.
The LG 34UC89G is a great monitor that addresses any gamer's desire to go ultra-wide. While the 21:9 aspect ratio takes some getting used to, especially at a 1080p resolution, its agreeable colors and fast performance help drive up this display's appeal.
While the $1,399 price tag doesn't seem to mesh with the mid-range crowd it seems to be targeting, note that LG also offers a 32-inch option, the 32GK850G, at the same price point with a QHD (2,560 x 1,440 pixels) display, G-Sync and 144Hz support. So, you have a choice to go curved and ultra-wide 21:9 at a lower 1080p, or a standard 16:9 flat screen at a higher 1440p resolution.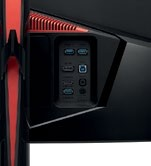 AT A GLANCE
PANEL
Curved, 34-inch, IPS
RESOLUTION
2,560 x 1,080 pixels,
21:9 ratio
REFRESH RATE
144Hz, G-Sync
RESPONSE TIME
5ms GTG
BRIGHTNESS
300cd/m2
PRICE
$1,399
By Ade Putra (GameAxis) Pictures LG
Read More Gamexis.com