Another year, another set of true wireless earbuds. This year the competition has only gotten stiffer, with Bluetooth 5.0 and water resistance becoming the norm. But there's far more competition too. Here's your definitive true wireless shootout.
Another year, another set of true wireless earbuds. This year the competition has only gotten stiffer, with Bluetooth 5.0 and water resistance becoming the norm. But there's far more competition too. Here's your definitive true wireless shootout.
Apple AirPods Pro
Audio Technica ATH -CKS 5TW
Creative Outlier Gold
JBL Reflect Flow
Klipsch T5 True Wireless
Master & Dynamic MW07 Plus
Padmate PaMu Slide
Plantronics BackBeat Pro 5100
Sennheiser Momentum True Wireless
Sony WF-1000XM3
APPLE AIRPODS PRO
AT A GLANCE
Frequency Response -
Battery Life 4.5 hours
Weight 5.4g
Price $379
PROS: Good noise-cancelling. Solid Bluetooth connection.
CONS: Proprietary ear tips. You lose features if you don't have an iOS device.
The AirPods Pro from Apple have a brand new design that gives the option of replaceable ear tips for the very first time. Its stems have been shortened rather significantly so they now measure only 30.9mm in height compared to the 40.5mm of the regular AirPods. This results in a more compact carrying case, so the overall package is much smaller.
We like that you can now use different sized ear tips to get a better fit as this really affects your listening experience. In line with that is a test feature for iOS that will play a short tune and analyse the quality of the seal based on the size of tips you've chosen and the shape of your ears. That's a feature we really like, as it helps you better find the right fit quickly. We just wish it was easier to find.
Unlike other brands with dedicated apps for their earbuds, Apple built the features and options into iOS, so you have to go into Bluetooth settings and tap on the paired AirPods Pro. This also means that you won't get certain features like Fit Test and battery level indication with Android, so hopefully Apple plays nice by releasing a companion app sometime in the future.
Still uses a Lightning connector to charge the case, but it is also Qi-compatible so you can charge the case wirelessly too.
That aside, the AirPods Pro are the first AirPods to boast of active noise-cancelling, and we must say this works extremely well. They're about on par with the level of noise-cancelling you get with Sony's WF-1000XM3; no mean feat. You also get a transparency mode that lets ambient noise in so you can have a conversation without having to take your earbuds out. 
We started our testing with a recording of Pharrell's Happy, and we thought the AirPods Pro did a fairly good job of keeping up the pace of this fast piece. There's a segment where you have people clapping to the beat in this track, and the AirPods Pro demonstrated good naturalness on this.
One of the smaller charging cases around, which feels as important to the design of a true wireless headphone. You want to be able to fit the case into your pocket for easy access and storage.
Bon Jovi's Livin' on a Prayer gave the AirPods Pro a chance to show off how hard it rocks, and here they fell a little short of the competition. The drums in particular didn't hit hard enough, while the track on a whole wasn't delivered with enough body.
Finishing off our testing with Nils Lofgren's Keith Don't Go gave additional confirmation that the AirPods Pro does not have the clarity of the top headphones in this shootout. That being said, the AirPods Pro are the best that Apple has released so far. And while it is the same sentence you're going to read on just about every Apple peripheral, it's the best thing for your iPhone.
AUDIO TECHNICA ATH-CKS5TW
AT A GLANCE
Frequency Response 5Hz-40kHz
Battery Life 15 hours
Weight 8g (each earphone)
Price $218
PROS: Great battery life. Affordable price.
CONS: Limited app functionality. Carrying case is too large to fit in your pocket.
True to Audio Technica's design aesthetic, the ATH-CKS5TW is a futuristic-looking pair of true wireless earbuds that feature a mix of matte plastic and shiny accents. There's a single control button on each earbud towards the top, and these handle your usual playback controls, and they're large enough to reach just by feel.
As with most headphones these days, the ATH-CKS5TW also comes with a companion app. However, the app doesn't allow you to customise controls in any way besides flipping the side they're on. (I.e. shifting volume controls to the right and playback to the left). You can also choose to prioritise between AAC and SBC, but that's generally well handled by leaving it on the "auto" setting.
You get a single tactile control button on each earbud for controls.
The ATH-CKS5TW comes with four sets of replaceable ear tips of varying sizes and wingtips that you can use to adjust position once it's in your ear. The carrying/charging case is on the long side, so you probably won't be fitting that into your pocket. What you get in return for that inconvenience though, is battery life. The ATH-CKS5TW gives you a whopping 15 hours of playback on a single charge, with the case providing two more charges for a total of 45 hours!
The first thing that stood out in our audio test was how much we had to push up the volume to get the details expected. Overall, audio has a bit more bass than Audio Technica's usual neutral sound, but this is well controlled and not bloomy. For example, on a recording of the acoustic version of Eric Clapton's Tears in Heaven, we could physically feel the bass line, though this was a little leaner than we'd like. 
Case is charged by USB-C and carries two more charges. That's 30 hours of extra playback time, but the compromise is a case that's too large to fit into your pockets.
Moving to a recording of Technologic by Daft Punk gave the earbuds a chance to show off how they handle faster moving tracks. The earbuds do well on this, bringing good energy to the performance. However, the stereo imaging left us wanting as we thought the track should envelope us more.
Finishing off with a recording of Rebecca Pidgeon's Spanish Harlem showed off the earbuds' bias towards the upper mids, as Pidgeon's vocals are imaged forward of the backing instruments. There's good weight to vocals with these earbuds, but you won't get the widest soundstage here.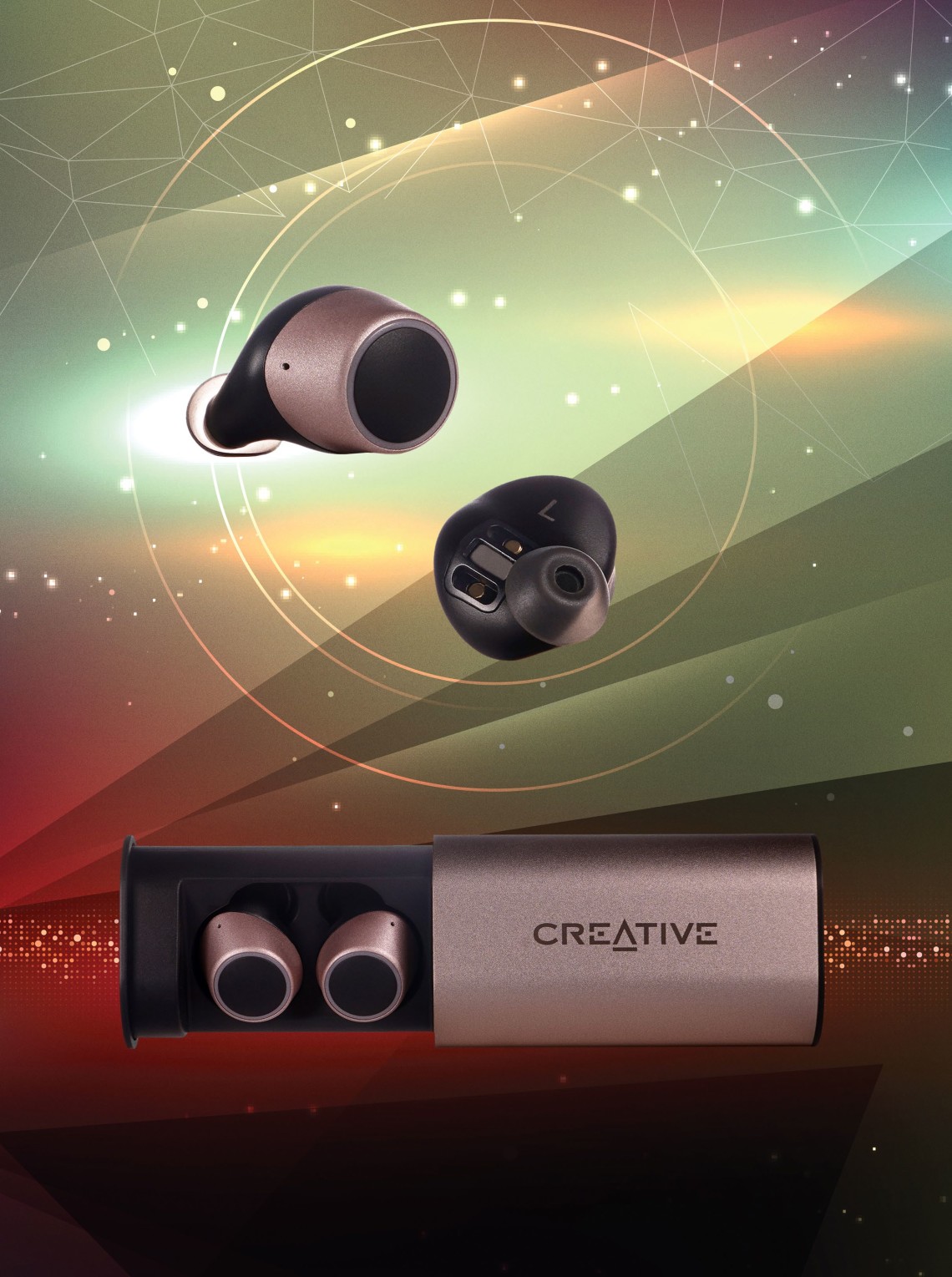 CREATIVE OUTLIER GOLD
AT A GLANCE
Frequency Response 20Hz-20kHz
Battery Life 14 hours
Weight 10.0g (each earphone)
Price $239
PROS: Can be used in Mono mode for calls. Good battery life.
CONS: Super X-Fi limited to local files and Creative app. Not as immersive on its own without Super X-Fi enhancement.
As the name implies, the Creative Outlier Gold are gold earbuds that come with a gold charging case. The aluminium case has been given a matte metallic finish, but in the hands the package feels more plastic than metal because there isn't that corresponding heft. However we must say it's very functional – you get individual indicators to which earbud is charging, if the case itself is low on charge, and if the case is charging.
Battery life is also a strong suit for the Outlier Gold; capable of up to 14 hours on a single charge, with the case bringing that total up to 39 hours. The Outlier Gold also comes with replaceable ear tips for a better fit, and that's important because they can fit pretty deep into your ears, giving you a strong passive seal.
Creative added microphones in both earbuds, and you Gold's support for software-based Super X-Fi audio. 
The case gives you individual charge indicators for each bud and the case itself.
That's Creative's version of 3D sound, and this works fairly impressively, with the caveat that you're limited to using Creative's app for playback, and only on local files, so you're out of luck if you listen via a streaming service like Spotify.
Because our testing was done through a single app for consistency, this meant that the following observations were based on the Outlier Gold's base audio characteristics without Super X-Fi enhancements. On Macy Gray's Beauty in the World, and the Outlier Gold impressed with its robust bass response. Gray's backup singers are clapping the percussion line through this piece and the earbuds render this with good naturalness.
Each bud has a built-in mic, and can be can be used as a mono earpiece for hands-free phone calls so you don't always need to wear them both.
Johnny Frigo's I love Paris gave the Outlier Gold a chance to show off how it does on faster tracks. There's decent separation between the violin, cymbals and the various strings at play too, so you can almost picture all the instruments at play. Paradise City by the Guns N' Roses led us to conclude that the sweet spot for these earbuds is from the midrange can use one to make calls while leaving the other in the case. Used this way, the main controls will be assigned to the active earbud, so you can still have control over playback. Perhaps the most unique feature though, is the Outlier to the upper bass. The highs lacked that bit of sparkle to be really engaging, and the performance doesn't feel as immersive as what we got from the top earbuds in this shootout.
JBL REFLECT FLOW
AT A GLANCE
Frequency Response 20Hz-20kHz
Battery Life 10 hours
Weight -
Price $239
PROS: TalkThru mode is a handy addition. Good set of replacement eartips included.
CONS: Lacks performance in the lower range. Controls are uncomfortable to use.
The JBL Reflect Flow are sporty looking earbuds from Harman with replaceable ear tips and two sets of ear fins that cover the entire driver, maintaining sweat and water resistance. While the earbuds are somewhat small and minimalistic, the rectangular carrying case seems rather chunky. It's not something you will be able to easily fit in your pocket, but it does offer another 20 hours of charge for 30 hours of audio playback in total. It has a quick charge feature so you get back an hour of listening from a short 10-minute charge.
Like the AirPods Pro, the reflect flow offers ways to stay tuned to your environment. ambient aware does what the name implies, and feeds in sound from your surroundings without stopping your music. TalkThru however, turns down the volume greatly while increasing the ambient levels so you can have a conversation without removing the earbuds.
No USB-C here, you get a micro-USB charging case.
The reflect flow is one of the few earbuds that doesn't come with a supporting app, so there are no options to adjust equalization or orientation of control sets. Playback controls are fixed on the right bud, while the button to toggle between ambient aware and TalkThru is set on the left bud. Unfortunately the reflect flow's earbuds are almost too small, so every button press feels like we're jamming them deeper into our ear.
The design and default eartip feels a little on the small side that pressing the buttons feel like we're jamming the buds into our ears. Do try and change up the size if this is your case too.
The reflect flow performed best in mids to low highs. For example, The Killers' Mr brightside rings out nicely here, likely because most of the action happens in this sweet spot. In Diana Krall's Temptation, we found the bass slightly lacking. There's a cello that features prominently in this piece, but with the reflect flow you didn't hear any sort of resonance or reverberation. Conversely, the vocals and cymbal work took on a more significant role, giving us a brighter rendition of the track then what we're used to.
Guns N Roses' Knocking on Heaven's Door gave us a pretty good demonstration of imaging capabilities, the reflect flow does a good job of setting the stage here, with enough clarity delivered that you can make out where each of the instruments in the piece is.
KLIPSCH T5 TRUE WIRELESS
AT A GLANCE
Frequency Response 10Hz – 19 kHz
Battery Life 8 hours
Weight 5.5g
Price $349
PROS: Smart looking carrying case. Good separation in complex tracks.
CONS: App is still unreleased at time of review. Metal case is bound to get scratches.
The most striking feature about the Klipsch T5 True Wireless earbuds is undoubtedly their lighter-style carrying case. you get a choice of a brushed metal finish or a glossy black one, with a good heft to it and a lid that you'll have to flip open.
On the front of the case are three small LED lights that indicate remaining battery. These only light up when the earbuds are placed back into the case or when you plug in the USB-C charging cable. The earbuds are rated for eight hours on a single charge, with the case providing another 24, bringing the total to 32 hours on the go.
Flip open the case, drop the buds in, safe and secure.
Touch controls are available with the T5 True Wireless. These are right below the logo on each earbud. a single tap on the right earbud starts and stops playback for example, while holding down on the left one decreases the volume. Perhaps because of the size of the logo relative to the earbud, it seemed we were jabbing the earbud into our ears each time we wanted to skip a track. also, the companion app that's meant to "unlock the full potential" of the T5 wireless has yet to appear on the app store (at time of our review).
We started our testing of the T5 True Wireless with a classic track – the unplugged version of Hotel California by The eagles, and found that the earbuds do a good job of imaging with this piece. The percussion instruments are well picked-out, and the main vocals are kept separate from the backing instruments. you really feel like you're in the crowd with these earbuds, making for a most enjoyable experience.
While the outer shell looks rounded like most true wireless earbuds, the T5 actually has one of the more angular, chunky designs.
Pharrell William's Happy gave the earbuds a chance to show off how they handled faster pieces and they didn't disappoint, keeping up nicely with the pace of this piece. We thought the bass line was only just enough to be felt, but at least there was enough to move the piece along. 
With Queen's epic track Show Must Go On, we thought the earbuds managed a suitably dramatic delivery, but found ourselves raising the volume to get a bit more body. The dynamic range could be a little better to bring out the subtleties of the track a bit more, but it was a most competent delivery nonetheless.
MASTER & DYNAMIC MW07 PLUS
AT A GLANCE
Frequency Response -
Battery Life 10 hours
Weight 9g (each earphone)
Price $469
PROS: Great looks with a classy finish. Very refined audio delivery.
CONS: Expensive. Noise-cancelling weaker than the competition.
If there was a prize for best looking, the Master & Dynamic MW07 Plus would undoubtedly run away with it. These earbuds look every bit as good as the stylish stainless steel charging case they come in. 
Made of handcrafted acetate, the MW07 Plus looks the part of a fashion accessory, with 10 hours of playback and a case to boost that up to 40 hours. They have quick charge support. It does 50% charge in 15 minutes, and a full charge in only 40 minutes.
The charging case has three LED indicators to reflect battery status of each earbud and the case itself. a green light indicates the battery is between 70%-100%, amber indicates 30%-69%, and red indicates 1%-29%. If nothing is lit, that means the case and your earbuds are entirely depleted.
Whenever we see USB-C, we likey.
Small physical buttons on the top of each earbud give you access to the usual playback and volume controls. Holding down on either volume button will activate ambient listening mode and active noise cancelling respectively. This works pretty well, though we do feel the noise-cancelling is slightly behind the airPods Pro and Wf -1000XM3. 
In terms of audio, the MW07 Plus' strengths are in the region from mids to highs, as the earbuds turned in a great rendition of r ebeca Pidgeon's Spanish Harlem. Pidgeon's vocals are sweetly rendered and have good weight to stand separate from her backing instruments, and there's good depth to the piece. The piano in this piece is particularly well rendered, as are the accompanying strings.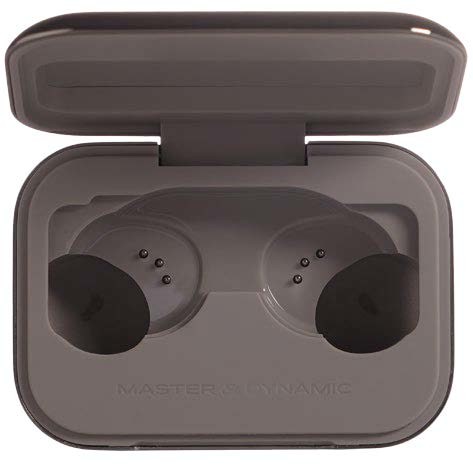 Charging case is also on the large side, but carries three full charges and is designed like a classy jewelry box with a stainless steel exterior.
The MW07 Plus produced an energetic performance of Pharrell William's Happy that would get most people dancing. There was nice pace to the piece, with good naturalness in the claps of his backing singers. Our only complaint would be that the bass could do with a bit more body. 
With Santana's Riders Whole Lotta Love, we were pleasantly impressed by the MW07 Plus' delivery. There's good detail right from the start, and a nice wide soundstage. It almost feels like being surrounded by the band, with Santana working his guitar right to your left.
PADMATE PAMU SLIDE
AT A GLANCE
Frequency Response -
Battery Life 10 hours
Weight 7.1g (each earphone)
Price $179
PROS: Incredible battery life. Generous accessories.
CONS: Audio quality not up to par. Large carrying case won't fit in the pocket.
With the mesh-like design on the PaMu Slide's carrying case, you'd be forgiven for mistaking it for a portable speaker, but that extra bulk contributes to these earbuds having the longest total battery life here. The earbuds alone go for 10 hours on a single charge, while the case is good for another 5 full charges, bringing the total up to 60 hours! and there's also a fast charging feature that gives you an hour of playback from just five minutes of charging.
It seems the case design is also what contributed to its name. The top lid is built to slide up, granting access to the earbuds within. These are held in place by magnets so you can generally just drop the earbuds in and they'll fall in place. They also do double-duty by acting as a wireless Qi charging pad, so you just have to double click the charging button to activate wireless charging, then place your mobile phone on top of it for a quick charge. 
Another large case, but with 5 extra charges and a Qi Wirelss pad, it can double up as a phone charger too.
The earbuds are quite nicely designed, though they're on the long side. you'll get your usual controls spread over both sides with this too, with functions activated by touching the top of each stem.
There is also a dual-mic noise reduction system in place, but that seems to be always on, and is applied for both calls and music listening. There's nothing in the manual to suggest otherwise. We must say Padmate is very generous with the replaceable ear tips though; there's total of six sizes in the box (S, S+, M, M+ L and L+). 
Pretty design and functional touch controls, but overall audio quality doesn't stand up to claims.
With Daft Punk's Technologic, we were pleasantly surprised at the level of clarity the earbuds were able to achieve, but the presentation felt like it could do with more body, as we didn't feel immersed. Leny Andrade's Maiden Voyage confirmed that these earbuds perform best from the mids to highs, providing decent separation between andrade's vocals and the backing instruments. 
Finishing off testing with the red Hot Chilli Peppers Snow (Hey Oh) showed that the earbuds handle stereo imaging fairly well. However, the bass in was a little underwhelming, and so failed to move us.
PLANTRONICS BACKBEAT PRO 5100
AT A GLANCE
Frequency Response 20Hz – 20 kHz
Battery Life 6.5 hours
Weight 5.8g (each earphone)
Price $269
PROS: Proximity sensors auto-pause playback. Noise-cancelling works well for calls.
CONS: Overall battery life is low. Noise-cancelling isn't applied for music.
Following in the usual design language of Plantronics, the backbeat Pro 5100 has a rather utilitarian design, with a rather plain looking carrying case to match. There's only one colour option (black), and one of the smallest cases in the group, so it almost seems as though the entire package is trying to blend in rather than stand out, which we actually love.
The earbuds however, only offer 6.5 hours of listening time per charge, with the case bringing the total up to 19. This falls on the low end of the competition considering the average today is about 30 hours. Oddly, Plantronics is still using micro-USB for the case instead of USB-C.
The backbeat Pro 5100 boasts four noise-cancelling mics with WindSmart technology to knock out ambient noise. However, the system is only meant to improve call quality, but surprisingly not implemented universally for music listening.
Plantronics continues to focus more on vocal quality in the BackBeat Pro 5100.
The earbuds do have some smarts in them though. Proximity sensors detect when they're out of your ear, pausing playback until you put them back in. There's also basic haptic control so you can, for example, trace a circle clockwise on the left earbud to change the volume. Single and double taps also activate different commands, and there's a whole list of functions you can assign using the companion app, so you can for example, get your earbuds to tell you the time.
In terms of audio, the backbeat Pro 5100's sound signature did well on faster moving tracks. Perhaps unsurprisingly for Plantronics, there's good naturalness to vocals, reflecting their experience in call centre products. 
Another modern device with an older micro-USB connector. Let's all agree to standardise.
Santana's Smoke on the Water showed that the earbuds needed more punch in the highs though. The performance seemed to be slightly veiled overall, a result of overly flat mids and highs. The main riff for this piece features a cutting electric guitar backed by booming drums, but with the backbeat Pro 5100 neither aspect really moved us. 
Rebecca Pidgeon's Spanish Harlem has a decent amount of body to the bass cello, but you don't quite get the bass extension with these earbuds. It fares better on the higher notes though, as we thought the piano and string instruments were rendered quite nicely.
SENNHEISER MOMENTUM TRUE WIRELESS 

AT A GLANCE
Frequency Response 5Hz – 21 kHz
Battery Life 4 hours
Weight 6.6g (each earphone)
Price $469
PROS: Good sound quality. Compact size makes it easy to transport.
CONS: Charging case doesn't maintain charge. Expensive compared to competition.
Sennheiser's Momentum True Wireless ties the Master & Dynamic MW07 Plus for most expensive in this shootout, but where the MW07 Plus impresses immediately with build quality, the Momentum True Wireless (henceforth MTW) opts for a more functional approach, with a lightweight fabric-wrapped case. This has magnetic slots for your earbuds so they'll snap nicely in place, and a single LED light on the rear to indicate the remaining charge of the case. The LED glows green for more than 50 percent, yellow for less than 50 percent and red for empty.
The earbuds themselves are rather basic plastic drops that feature the Sennheiser logo prominently. The logos act as touch capacitive buttons to allow for basic playback controls. However, the manner in which the controls are activated are slightly complicated, so much so that there's a dedicated page in the companion app to explain them. The app also allows for the usual EQ adjustments and firmware updates, while letting you adjust the level of ambient noise you hear when activating Transparent Hearing.
Magnetic drop in slots in the case fit quite well.
The earbuds only give four hours of playback, and a total of 12 hours with the case; the lowest in this shootout. In fact, its total battery capacity is even lower than the Audio Technica's earbuds alone. We've also found that the case doesn't maintain charge well. It could, for example, be fully charged on Friday, but drained over the weekend even when not in use.
Audio is a whole different game. The MTWs deliver rich and warm sound, with good detail to boot. On Queen's epic The Show Must Go On, we felt truly immersed, almost as if Freddy Mercury was right in front of us.
Lightweight case indicative of its lower battery charge. The Momentum True Wireless sounds great, but has the lowest run time in the whole shootout, by far, which is a shame.
Keith Don't Go by Nils Lofgren gave the earbuds a chance to show how they performed on more acoustic pieces, and they didn't disappoint either. There's good body piece thanks to robust performance in the mids and the highs ring out nicely too. The frantic solo is also handled well, the earbuds easily matching the attack of Lofgren's guitar.
Finishing off with a somewhat fast moving pop piece in Ed Sheeran's Shape of You gave the MTW a chance to show off its lower range, and it did so superbly.
SONY WF-1000XM3
AT A GLANCE
Frequency Response 20Hz – 20 kHz
Battery Life 6 hours
Weight 8.5g (each earphone)
Price $349
PROS: Best active noise-cancelling. Best overall sound. 
CONS: Battery life falls behind the competition. No IP rating for water and dust protection. 
Available in a choice of black and silver, the Sony WF-1000XM3 is designed in a minimalist style.
These stand out because they were one of the first true wireless earbuds to implement streaming direct to both earbuds instead of a master-slave connection.
They have a six-hour battery life with active noise-cancelling activated. This might be on the low end, but there's a quick charge feature for 90 minutes of listening time in 10 minutes of charging. The case also provides three additional charges instead of the more common two, so you do get a 24-hour total listen time with these.
We've got USB-C and a case with enough juice for three additional charges.
The WF-1000XM3's dedicated app is one of the most full-featured here. You can enable Adaptive Sound Control, which adjusts how much background noise to let in depending on what situation you're in, or choose which controls go to which earbud. There's Quick Attention, which turns down playback volume as long as you have a finger to the earbud, and it automatically pauses playback when they detect they're out of your ear.
The WF-1000XM3 easily stood out as one of the few sets that really provided full-bodied sound, with good performance through most of the audio spectrum. Evanescence's Bring Me to Life exhibited good dynamics, going from focusing on just Amy Lee's vocals in the intro to bringing in the entire band and later the orchestra seamlessly as the piece comes to life.
Like most case designs, the WF-1000XM3 uses magnets to hold them in place. The oval design of the earbuds also mean they are placed in a flat horizontal line instead of angular.
If I Ain't Got You by Alicia Keys let the WF-1000XM3 show off its midrange, and this is where it particularly excels. Keys vocals are rendered with good warmth, and her piano rings out crisply with proper reverberation so you really feel like you're right there with her. 
You can really feel the energy of fast moving tracks like She Owns the Night by Far East Movement too. The synth layer here is nicely resolved, and the earbuds do a good job of immersing you in sound, so we wouldn't be surprised if you started head-bopping along to the track.
THE BEST WIRELESS EARBUDS IS...
SONY WF-1000XM3
SIMPLY PUT, the Sony WF-1000XM3 offered the best performance over the most genres. It was also one of the few that delivered the full-bodied sound you'd associate more with traditional cabled in-ear options, hence qualifying as one of the few true wireless earbuds that don't compromise audio quality. While total battery life may seem to be on the low end, 24-hours is certainly adequate for most uses. Sony's active noise-cancelling capabilities have been among the best in the industry, and it shows. Meanwhile, the companion app really adds a host of meaningful features and customisations so you can really get it set up the way that best fits you. Finally, it helps that the WF-1000XM3 is very reasonably priced considering all its features, up to a good $120 cheaper than the more expensive models in this list.
THE BEST VALUE WIRELESS EARBUDS IS...
AUDIO TECHNICA ATH-CKS5TW
RETAILING FOR JUST $218, the ATH-CKS5TW is easily one of the cheapest earbuds you can find, but they sound better than some of the more expensive competition. There's good refinement in the highs, and, if you get the fit right, a good amount of bass too, so these will serve you well on most genres of music. Battery life is a strong point at 15 hours from just the earbuds alone, and a full 45 hours with the case. You won't get extras like active noise cancellation or automatic pausing, but that's also why you pay a lower price. If you just want true wireless earbuds that sound good and don't cost a bomb, then the ATH-CKS5TW is what we'd recommend.