Did you know LINE can do so much more than just send messages? Here are a few cool things to try out. (Oh, and while you're at it, follow us @CLEOsg if you aren't already!)
Did you know LINE can do so much more than just send messages? Here are a few cool things to try out. (Oh, and while you're at it, follow us @CLEOsg if you aren't already!) 
1. Face play with friends 
Up the fun factor of your video chats with Face Play, a series of Augumented Reality (AR) games where you battle your friends using facial expressions and movements. There are currently five different Face Play games to choose from, such as BT21 Says (in collaboration with K-Pop boy band BTS) and Monsterpop.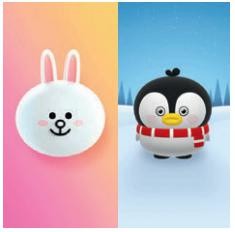 2. Video chat your friend as a LINE character 
Let's admit it—we all have a soft spot for LINE's cutesy characters, which is why you'll love Character Effects! Tap the Face Effects button when you're using the in-app camera, video call or live chat and watch the characters move along to your facial expressions. 
3. Upgraded photo album
You can now select more than one photo to be displayed on your photo album's icon, and also store, delete and share up to 20 photos or videos at once with the handy multi-select feature. Oh, and album names now have a longer 50-character limit.
4. Live-stream videos to selected friends 
On holiday and wish your friends could witness that gorgeous sunset with you? Well, LINE now lets you stream live videos in group chats, or chats with selected friends. You can even add filters and effects, because those are never not fun. You're also given the choice of how much of the chat screen the live video takes up, from full-screen to one-eighth of the original size. To activate this feature, just tap on the phone icon at the top of the chat screen and select the Chat Live option. 
5. Find friends by shaking your phone 
If you're adding a new contact to your LINE app, this feature will save you a few steps. Simply hit the "Shake it" tab under the "Add friends" function, and shake away! LINE users nearby will pop up on your screen, and you can add them to your contacts. Easy peasy! 
IMAGES LINE, UNSPLASH.COM