We prove that fun and family can co-exist in a neat little package, as these three European hatchbacks show.
We prove that fun and family can co-exist in a neat little package, as these three European hatchbacks show.
IT'S a tough decision to make when you're looking for a sensible car which can do everything. You want something practical and useful, but yet tickles your inner racing driver once you've (temporarily) shorn yourself of family commitments. 
In a perfect world, you'd have a sensible but plain car meant for the daily school run (maybe a people carrier of sorts) and another slightly impractical but fun one for punting around on the weekend. Alas, we live in the real world, and that means having to deal with really expensive car prices, parking and fuel charges in Singapore. 
In this round up, we prove that both fun and family can peacefully coexist in this world, as the three hatchbacks all have five doors and space for cargo, but retain a sprinkling of dynamism should your right foot feel extra twitchy. 
The facelifted, seventh- generation Volkswagen Golf makes a return in 1.4 Highline trim, vying to maintain its status as the world's best-selling hatchback. With the snazziest set of wheels in the trio, it's akin to a suited-up businessman wearing Phua Chu Kang's boots, but inside it's as logically laid out as a vicar's house. 
At the other end of the bonkers spectrum is the facelifted MINI Cooper 5-Door. In the words of our associate editor, our Solaris Orange example is a car which "makes you feel that you're constantly late for meetings", which tells you all you need to know about the darty nature of this endearing pocket rocket. 
Nipping at their heels is the preppy Opel Astra 1.4, with its sweet handling and responsive engine bringing a good fight to the big boys. It has the most powerful engine output here, but can be thirsty when pushed. Let's see how they fare alongside each other. 
COOPER 5-DOOR 
ENGINE & GEARBOX
MINI's thrummy turbocharged 1.5-litre 3-cylinder engine pumps out 136hp and 220Nm. It's not a lot, but all that power is accessible throughout the rev range, and always ready if you decide to flex your right foot. MINI's 7-speed dual- clutch gearbox is the most responsive of the three, swopping cogs instantly when the driver demands it. 
RIDE & HANDLING 
Most playful of the three with its direct and accurate steering. Its 17-inch Hankooks grip the road like barnacles and it leans into turns with little to no body roll, but at the expense of a harsher ride than the other two. Its brakes are strong and linear. 
COCKPIT 
The smallest cockpit, but has plenty of gadgets and the funkiest design. Well-damped toggle switches are a joy, while its front seats are the only ones which have adjustable thigh bolsters. Despite its small glasshouse, visibility isn't compromised. 
METERS 
Large, motorcycle- style speedo complements the car's sporty nature. The large instrument cluster moves together with the steering wheel when you adjust it for rake, making sure that you can always see your dials. 
BACKSEAT 
The cupholder on the transmission tunnel means only two passengers can be comfortable at the rear, which has supportive, comfortable seats and surprisingly enough legroom despite the car's diminutive dimensions. Isofix covers, thankfully, simply flip up. Small windows and high beltline mean adults have less to see out of, but it should do just fine for children. 
BOOT 
Astra's 370-litre boot doesn't have the niceties found in the other two, but the 40:20:40 split-folding rear seats make this space the most flexible. Longer items won't fit as neatly, though, because the seats don't fold flat. 
GOLF 
ENGINE & GEARBOX 
VW's ubiquitous turbocharged 1.4-litre 4-cylinder engine delivers 123hp and 200Nm, and is refined enough for daily driving around town. Its 7-speed dual-clutch changes gears speedily and efficiently, making it feel at home around town as it does overtaking on the expressway. 
RIDE & HANDLING
The Golf is the most pliant, soaking up small imperfections and smoothing out larger ones with ease. It corners flat in sport mode and the amazing grip, even in the wet, gives you confidence to push on. 
COCKPIT 
Low beltline and large windows helps visibility, and ingress and egress is helped by wide-opening doors. Materials are the nicest to touch. The 9.2-inch infotainment screen is the largest and clearest, and has clever touches like gesture control and a proximity sensor. 
METERS 
The large instrument panel means your eyes don't need to move around as much, and maps can be displayed right in your sightline. Provides the most information and customisability. 
BACKSEAT 
Rear air-con vents keeps backseat passengers cool, while the longest and comfiest rear bench of the group means they'll be comfortable, too. Large rear windows mean passengers won't feel claustrophobic, and wide- opening rear doors make child seats easy to fit, but parents may not like the easily detached Isofix point covers.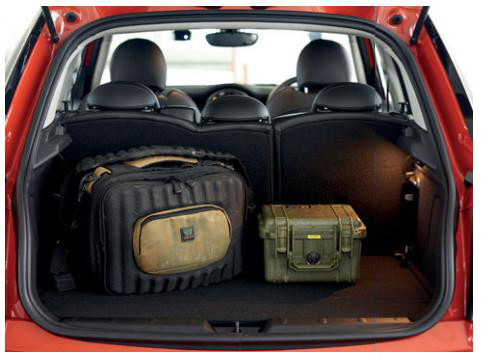 BOOT 
Cooper 5-Door's 278-litre trunk is by far the smallest here, making it difficult to stow bulky items such as prams and golf bags. With the seats folded, the boot expands to a more useful 941 litres. 
ASTRA 
ENGINE & GEARBOX
Opel's turbocharged 1.4-litre 4-cylinder with 147hp and 245Nm is the mightiest, and has no trouble keeping up with anything on the expressway. But it feels slower than the MINI, and has a thirst for unleaded. Opel's 6-speed automatic shifts gears smoothly, but can't keep up with the dual-clutch units of its rivals. 
RIDE & HANDLING 
A good mix of capabilities between the Golf and Mini. Its suspension is firm but forgiving, and its steering provides you plenty of feedback through the wheel to know where you're pointed. 
COCKPIT 
Spacious and well- thought out cockpit can't disguise the fact it is the most plain, and has the least storage of the trio with only a half-pocket in the centre stack to place your smartphone. The infotainment system is compatible with both Apple CarPlay and Android Auto. 
METERS 
Plain, easy-to-read dials flank a central information screen, which can display anything from a digital speedometer to the speed limit on your current road, thanks to the clever traffic sign recognition feature. 
BACKSEAT 
Rear doors open wide to accommodate three rear passengers comfortably. They will enjoy the well-bolstered bench and roomy backseat, but the slightly tight shoulder room means the three in the back will still have to do some shuffling and squeezing. Isofix covers flip up, so you won't lose them when fitting a child's seat. 
BOOT 
Golf's 380-litre boot is the biggest and most useful in this company, thanks to the tethering points and a 12-volt socket. Folding the rear seats gives you a flat load space and more than triples the capacity to 1270 litres. 
THE ASTRA IS TOPS IN SAFETY, THE MINI HAS THE BEST HANDLING, WHILE THE GOLF IS THE MOST PRACTICAL. 
Astra's device (left) has the fewest functions, MINI fob (middle) has the funkiest shape but its tiny buttons are better suited to daintier thumbs; large buttons on the Golf's key are the easiest to press, while the "switchblade" function is ideal for fidgety fingers. 
LAST WORD 
To paraphrase, pick a well-rounded car and you never have to buy anything else ever again. 
If you're the sort who prioritises fun over family, we won't blame you. After all, the MINI Cooper 5-Door is a rocketship that its rivals here cannot touch when it comes to driving dynamics and roadholding. 
But the small dimensions which make the Cooper 5-Door fun to drive also make it less practical. Its boot is the smallest, and rear seat passengers will long to reach their destination a little too eagerly (your driving notwithstanding) due to the snug cabin. But if you can look past these shortcomings and the high price tag, then this MINI will be the most fun you can have below the speed limit. 
When you spot the handsome Astra on the road, you know its driver is having a hoot punting it around. It has the most power among the three contenders, and we have nothing to complain about its ride and handling. Even the backseat passengers will enjoy the pliant ride. 
In a vacuum, this would be the car to have. But its high fuel consumption during testing, lack of front storage options and relatively basic boot keep it from pole position. 
The seventh-generation Golf is a sweet-handling, supple-riding and spacious hatchback, and it is precisely these qualities which have helped it move millions of units since the first-generation model debuted in 1974. 
VW's facelift has given the Golf a futuristic, sporty stance. Nifty items such as cupholders with rubber pull-tabs (so you can pull out the bottom to clean them) and felt-lined door pockets speak of attention to detail, and the generous equipment level means you won't be wanting for much. 
The Golf is also the most attractively priced. Combined with its solidity and family-friendly size, it's the hatchback to get in this story. 
PHOTOS TAN MENG CHOON
ART DIRECTION MICHAEL CHIAN