Things are looking up for upwardly mobile urbanites in Singapore, thanks to this pair of premium compact SUVs with personality.
Things are looking up for upwardly mobile urbanites in Singapore, thanks to this pair of premium compact SUVs with personality.
QASHQAI. The name that changed the world of crossovers. Who would have thunk it?
Nissan jacked up a hatchback, gave it the thinnest of pretences to ruggedness and started a 21st century automotive gold rush.
Kadjar, HR-V, C-HR, Eclipse Cross, Renegade, Ateca, Karoq, Tiguan… The names are as numerous as they are funky.
Yet, for a few years now, the industry only had the eternally weird MINI Countryman as a bulwark against the tide of unrelenting blandness in the segment.
Happily, the compact crossover has matured somewhat since the niche was first flooded with faceless penalty-boxes, and we are beginning to see some semblance of distinctiveness and flair in the movement's second decade.
Suddenly, the challenge to MINI's idea of a premium compact SUV is thus now very intense, not least in the form of Volvo's unabashedly tall and angular XC40.
Flush with Chinese cash and undergoing a company-wide renaissance, Volvo has fleshed out its model range downward after the more expensive 90 series and the astoundingly good XC60.
The new XC40 is a car from a car company clearly surging with confidence and clarity of direction.
Volvo affectionately declares its entrant a "tough little robot", which, looking at the two-tone colour, angular lines and robobulldog stance, strikes me as a stroke of genius.
The description seems to be an epiphany for the identity of the compact SUV niche, a segment borne from focus groups and corporate meetings, and hence struggling badly for definition.
The butch, modern, and techno connotations which "tough little robot" have are as appropriate for the type as "sultry seductress" would be for an Italian supercar.
It also helps that the XC40 is usefully differentiated in visual character from its bigger brothers, eschewing the Russian-doll sameness afflicting the German competition's lineups.
Finally, the compact SUV can mean something beyond a white good.
Eternally spunky MINI, for its part, has been forging its own path by making cars as fun, pretty playthings.
However, as is the case with my young colleagues and my wife, many people soon outgrow their Coopers, both in taste and in practical requirements.
MINI hopes that they, along with their families, will then fall into the larger embrace of its cute ute.
Despite the swollen proportions, cute the Countryman still remains, particularly when dressed up in the "ALL4" exterior package standard on Cooper S variants.
All stripes, attitude and growly intent, the Countryman's pugnaciously cartoonish appearance never fails to provoke a chuckle.
Both crossovers are immensely likeable to look at, though my suspicion lingers that the XC40 has more universal appeal.
Get yourself over the preconceived notion that Minis are but toys and you will find a perfectly useable family car losing nothing to its peers.
Underneath the colourfully distinctive sheet-metal of the Countryman are the bones of BMW's UKL platform that sees duty in the X1 and 2 Series bread van.
With a length of 4.3 metres and a boot size of 450 litres, this "mini" will do family-hauling duty perfectly satisfactorily for all 10 lunar new years of its COE.
It will do that with your family in considerable comfort, too, for the interior provides an undeniable aura of richness and vivacity with much success.
Lush and chunky compared to the Volvo's light and airy, the Countryman's cabin bear-hugs you with soft, luxuriant leather and abundant but tasteful smatterings of chrome.
BMW's iDrive, in a cleverly playful and very attractive skin, lives in the ring of shooting, pulsating neon light that will either amuse or irritate the living daylights out of you.
Volvo's critical acclaim since the XC90 is contributed to hugely by the brand's fresh, bright and very Scandinavian take on luxury interiors.
Inside the XC40, modern dashboard inserts with ambient lighting that bleeds bewitchingly through in the night are subtly laid around a gigantic, vertically oriented central touchscreen through which most of the car's functions are controlled, including the air-con.
Brightly coloured felt surfacing fills in spaces which are more expensively lined with metal and mouldings in bigger models, yet adds youthful energy without detracting from an impression of high quality.
A digital instrument display, absent in the Countryman, puts a big map between two virtual dials and offers yet more control redundancy via the steering-wheel buttons.
Uniquely beautiful and becalming, the cockpit of the XC40 is like a cool breeze and radiant sunshine that whisk away the emotional clouds and mental exhaustion of a hard day's work.
You could find some hard plastics if you deliberately go hunting, but they harm the ambience not one bit.
It is, however, possible to be initially quite annoyed at certain choices made by Volvo concerning the XC40's ergonomics, some of which were no doubt made in the spirit of form over function.
These include requiring two separate pulls of the gearlever to move between Reverse and Drive, having no audio controls on the steering wheel, and needing to prod at a touchscreen to control the air-conditioning.
Climb into the Volvo, and you do actually climb a bit because it is about 10cm taller than the MINI, you will find your knees more bent and your body sat more upright, looking out at the world's vastness through more glass than the cosseting Countryman has.
The Volvo's driving position is not less comfortable, only less recumbent, and is another indication that the XC40 embraces its SUV remit more emphatically. Just like that, expectations are set for the drive in the two vehicles.
Lornie Road is relatively narrow, but has three lanes and a good flowing speed. In other words, within the limits of the law and good sense, it is a safe challenge.
A jaunt down Lornie always sees my mind lock on the car ahead like a homing missile, and that Lornie flows into the serpentine Old Upper Thomson Road is a delightful bonus.
It is the Countryman that takes to the game with far more relish, even peppering your ears with joyful snorts and childish burbles.
SUVs, tall of height and short of wheelbase, are always going to sway and amplify deflections more than sedans and hatchbacks.
Quite nakedly the XC40 demonstrates dive, squat, and roll, and it is possible to feel quite alarmed at the Volvo's tippy disposition if you had jumped straight into it from a Mazda MX-5 (like I did).
Ease back on the uncouth violence, however, and the Volvo settles into a tranquil rhythm, and will go securely where you point it as long as you drive it with a sensible attitude.
In contrast, the 1.55m-tall Countryman is almost a hot hatch thinly disguised with some cladding. It is nicely balanced and eager to turn in, doing the brand's fun-to-drive reputation no disfavour, even if it is quite some way from going like a "go-kart".
Is the 2-litre T5 XC40 faster than the 2-litre Cooper S Countryman on paper and tarmac alike? With 251 Swedish horses versus 192 British ponies, of course.
But the XC40 is not the kind of car that goads you to deploy its full complement of firepower, nor is there a commensurate increase in pleasure from going that bit faster. Also, its engine, when extended, sounds like a leaf blower having an asthma attack. Which is just fine here, however, given that it is a very muted leaf blower.
Don't drive the XC like a GTI and you will enjoy it very much. Actually, as much as I hate to find myself advocating less power, this car would likely not lose any of its charms if it is equipped with the company's 180hp T4 engine at a lower price.
Now, a word on the XC40's autonomous functions. This technology has seen major leaps in recent years and Volvo's adaptive cruise control with lane-keeping system is one of the best I have sampled so far, locking on to lane markings and firmly assisting in steering the car most of the time.
The key word being "most", as this is the kind of technology you must trust completely or not at all.
It guided me faultlessly… until it didn't. I found myself pogoing between an SBS bus and a cement mixer, quickly losing my bladder control in terror. I never turned the system on again.
It was inconceivable a few short years ago, but here we have two compact SUVs brimming with unique personalities and, more incredibly, suffused with the identities of their parent brands.
Perhaps I am thinking far too much in straight lines, but if terrier-like dynamic behaviour is my objective, I would not be poking around crossovers.
Which is the MINI Cooper S Countryman's problem here, because an overtly fun compact SUV is like spicy milk – not really the point.
Midway into your test drive of the XC40 while having the experience of the Countryman fresh in your mind, you could either be deeply underwhelmed by the Volvo's clumsier disposition, or comfortingly impressed by its loping, easygoing gait that in no way disgraces itself, all things considered.
I enjoyed tossing the MINI about more, but chances are SUV buyers will conclude on the latter.
Then they will remember the wonderful airiness and delightful design of the XC40 that bathe them in elegant modernity, and sign gleefully on the dotted line of the Volvo order form.
STORY DR KONG YONGYAO
PHOTOS YANG
VOLVO XC40 T5 vs MINI COOPER S COUNTRYMAN
Volvo cockpit is more relaxing and has more gizmos; MINI cockpit (far right) is much funkier and has a sportier driving position.

Countryman performs like a hot hatch in SUV attire and corners more confidently than XC40, which packs plenty of power but prefers to be driven sensibly.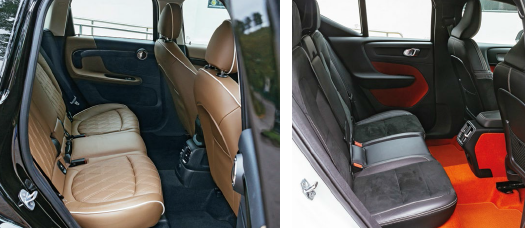 VOLVO XC40 T5 vs MINI COOPER S COUNTRYMAN
"THE XC40 LOOKS LIKE A TOUGH LITTLE ROBOT, WHILE THE COUNTRYMAN IS DESIGNED AS A CUTE UTE."
XC40 cabin is light, airy and useful; Countryman cabin is lush, chunky and family friendly.
DRIVETRAIN
TYPE
Inline-4, 16-valves, turbocharged
CAPACITY
1998cc
BORE X STROKE
82mm x 94.6mm
COMPRESSION RATIO
11:0
MAX POWER
192hp at 5000-6000rpm
MAX TORQUE
280Nm at 1350-4600rpm
POWER TO WEIGHT
131.5hp per tonne
GEARBOX
8-speed automatic with manual select
DRIVEN WHEELS
Front
PERFORMANCE
0-100KM/H
7.4 seconds
TOP SPEED
225km/h
CONSUMPTION
15.4km/L (combined)
CO2 EMISSION
149g/km
SUSPENSION
FRONT
MacPherson struts, coil springs
REAR
Multi-link, coil springs
+  MORE PUGNACIOUS, MORE NIMBLE AND MORE PLAYFUL THAN XC40 
BRAKES
FRONT / REAR
Ventilated discs / Discs
TYRES
TYPE
Bridgestone Turanza T001
SIZE
225/50 R18
SAFETY
AIRBAGS
 6
TRACTION AIDS
ABS, DSC
MEASUREMENTS
LENGTH
4299mm
WIDTH
1822mm
HEIGHT
1557mm
WHEELBASE
2670mm
KERB WEIGHT
1460kg
TURNING CIRCLE
11.4m
BUYING IT
PRICE INCL. COE
$184,088 (after $10k VES surcharge)
WARRANTY
3 years/200,000km
- CARTOONISH APPEARANCE, LACKS ALL-WHEEL-DRIVE DESPITE "ALL4" PACKAGE 
VOLVO XC40 T5 vs MINI COOPER S COUNTRYMAN
Cooper S Countryman is a hot hatch disguised as an SUV, while XC40 T5 is a truer SUV trying to be sporty.
"THESE COMPACT SUVS ARE BRIMMING WITH UNIQUE PERSONALITIES AND SUFFUSED WITH THE IDENTITIES OF THEIR PARENT BRANDS."
DRIVETRAIN
TYPE
Inline-4, 16-valves, turbocharged
CAPACITY
1969cc
BORE X STROKE
82mm x 93.2mm
COMPRESSION RATIO
10.8:1
MAX POWER
251hp at 5500rpm
MAX TORQUE
350Nm at 1800-4800rpm
POWER TO WEIGHT
148.3hp per tonne
GEARBOX
8-speed automatic with manual select
DRIVEN WHEELS
All
PERFORMANCE
0-100KM/H
6.4 seconds
TOP SPEED
230km/h
CONSUMPTION
13km/L (combined)
CO2 EMISSION
176g/km
SUSPENSION
FRONT
MacPherson struts, coil springs, anti-roll bar
REAR
Multi-link, coil springs, anti-roll bar 
+ MORE UNIVERSALLY LIKEABLE, MORE PRACTICAL AND MORE GROWN-UP THAN COUNTRYMAN
BRAKES
FRONT / REAR
Ventilated discs / Discs
TYRES
TYPE
Pirelli P Zero
SIZE
245/45 R20
SAFETY
AIRBAGS
6
TRACTION AIDS
ABS, DSTC
MEASUREMENTS
LENGTH
4425mm
WIDTH
1863mm
HEIGHT
1652mm
WHEELBASE
2702mm
KERB WEIGHT
1692kg
TURNING CIRCLE
11.4m
BUYING IT
PRICE INCL. COE
$200,000 (after $10k VES surcharge)
WARRANTY
3 years/100,000km
- COSTLIER THAN THE MINI, UNSPORTY SOUNDTRACK, TALLHATCH HANDLING