This motoring writer didn't make it to the podium at the Porsche Media Driving Academy because of his sneakers (or so he said).
This motoring writer didn't make it to the podium at the Porsche Media Driving Academy because of his sneakers (or so he said).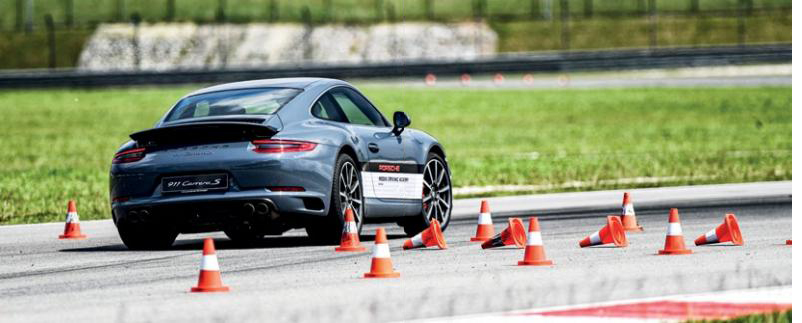 THE Porsche Media Driving Academy was introduced in 2015. Designed for journalists in the Asia Pacific region to improve their driving skills and to experience Porsche's models at their peak performance on a racetrack, Porsche Asia Pacific has gone to great lengths to spoil the journos. 
It is a three-level course – Individual, Professional and Elite. Having been "Individual-ised" last year, I was ready to be a Pro. 
I looked forward to more piloting of Porsches at their highest levels on the Sepang track, without fear of being charged in court for what would have amounted to dangerous driving if executed on a public road.  
And knowing that we would be the first journalists in the region to drive Porsche's Panamera Turbo and 4S on the track made my statin-free heart palpitate even more.  
We stayed at the cosy and now familiar Sama-Sama Hotel for the night. There were many recognisable faces from last year's event, and like me, some appeared determined to be the fastest in the slalom. 
The complimentary red Porsche polo T-shirt adorned with the legendary "Porsche Martini Racing" blue and red stripes in the welcome bag was especially pretty and desirable. I wanted to sleep in it, but gave in to my better judgment in order not to nauseate my driving buddy the next day with foul smell. 
Unlike car review jaunts in Europe and America, I did not have to suck on a melatonin tablet or two to sleep that night since I was in Kuala Lumpur.  
I woke up fresh the next morning, and after my shower, I put on my jeans and proudly wore my new Porsche tee. My Puma driving shoes which I wore for the first level have had their last breath, and so I slipped on a pair of sneakers. Hopefully that will not slow me down on the track. 
After some tasty nasi lemak with fried chicken from the hotel buffet spread, we were ferried to the Sepang International Circuit.   
A Cayman GT4 Clubsport in lime and chrome livery, along with various Porsches, greeted us upon our arrival. The Cayman is a 385bhp mid-engine racer for motorsport and we would be given a flat-out "taxi" ride in it at the end of the day.  
As expected, there was another spread of breakfast at the hospitality suite. I did not consume any, unlike last year, so as to keep myself light and fast. 
After a safety briefing by lead Porsche-certified instructor, Matthias Hoffsuemmer, we broke into groups of four. 
My group's first driving exercise of the day was the Moose Test – when suddenly faced with an obstacle on the road – to demonstrate Porsche Stability Management (PSM). 
With the PSM switched on in the 911 Carrera S, we did not have to brake when swerving suddenly to avoid the "moose", and the 911 remained stable and easy to handle. 
With the PSM switched off, we experienced a complete reversal in handling when the car oversteered (i.e. when the back end starts to spin out). But we were taught how to bring the car back in control, with quick steering in the direction of oversteer and braking as hard as we can should the rear end continue to slide even more. 
The next station was Braking, for us to learn handling in an emergency-brake situation. 
All we had to do was to propel the 911 Turbo S as fast as we dared and then stomp down on the brake pedal at the braking line. Whilst braking, we had to steer the Miami Blue 911 either to the left or the right cone-lined channel and come to a complete stop. Sounded simple enough, but in my group, we all had, at least once, run over a cone or two.   
We then broke for lunch and I had one of the best-tasting white sauce pasta with mushrooms, a dish I could not pronounce. Again, I watched my calorie intake and did not go for seconds. 
Then came the Slalom station after lunch. The weather was hot and my fellow journos looked sleepy. I felt I had the edge, as I had a diet Pepsi and freshly brewed black coffee during lunch to stay alert and focused for my main event of the day. 
The mid-engine 718 Boxster S and I were in sync, during practice. 
"I would surely be the fastest," I thought, confidently. 
We were to execute two timed runs and the average will be taken. For the first run that counted, I braked and stopped outside the "garage" and that resulted in a two-second penalty. But I was fast! I did the second timed run quick and proper. 
"Surely I am still in the running!" The final station for the day was Handling. This was what racing lines are all about – when to brake, steer, aim for the apex and accelerate out. 
My highlight Porsche for this rapid round-the-track drive was the Panamera Turbo. Such a lithe-handling car despite its girth, with a huge reserve of power that I thoroughly enjoyed on the 5.543km circuit. 
When the track session ended, the prizes for the fastest in Slalom were presented. I did not win – not even third on the podium. I blame my sneakers. 
But I am sure I will win at the next level, Elite, because Porsche Asia Pacific gave me (and each participant) a pair of very cool OMP Porsche driving shoes. How timely they are to replace my demised Pumas. 
I LOOKED FORWARD TO MORE PILOTING OF PORSCHES AT THEIR HIGHEST LEVELS ON THE SEPANG RACETRACK.