More people are now aware of polycystic ovary syndrome, thanks in part to celebrity "cysters" – a play on "cyst" and "sister". EVELINE GAN talks to the doctors about the infertility condition and two women who overcame it.
More people are now aware of polycystic ovary syndrome, thanks in part to celebrity "cysters" – a play on "cyst" and "sister". EVELINE GAN talks to the doctors about the infertility condition and two women who overcame it.
''I was put on horrible cycles of medication to stimulate egg growth, with no result, only more pain,more weight gain, and cycle after cycle of disappointment.''
When Hartini Ab Ghani was diagnosed with polycystic ovary syndrome (PCOS) at 18, she wasn't overly concerned about her irregular periods at that age. Nor the fact that the hormonal disorder, which causes small cysts on the ovaries, may cause infertility.
But that became Hartini's major stumbling block when she was ready to start a family. With PCOS, Hartini says it was virtually impossible for her to become pregnant naturally.
"The scans showed many 'bubbles' (cysts) in my ovaries. While my eggs were there, they weren't coming out and I wasn't ovulating. Even after I took medication, underwent surgery as well as intrauterine insemination (IUI), nothing happened," shares Hartini, 36, a senior specialist at the Singapore University of Technology and Design. "It was really frustrating."
IUI is a fertility treatment that involves placing sperm inside a woman's uterus to facilitate fertilisation.
The #TTC saboteur
One of the leading causes of infertility, PCOS affects as many as one in 10 to 20 women of childbearing age, says Dr Seng Shay Way, a specialist in obstetrics and gynaecology and consultant at the Raffies Women's Centre.
More people are made aware of the hormonal disorder today, thanks in part to celebrity "cysters" – a play on the words "cyst" and "sister" often used on social media to refer to women with PCOS – such as American model-actress
Jaime King and local social media star Velda Tan (pictured, top right). Both have shared their #ttc (trying to conceive) struggles online. Jaime, 38, took almost five years of trying and suffered five heartbreaking miscarriages before welcoming her first child in 2013.
In July, Velda, who founded fashion brand Collate The Label and Love, Bonito, shared on her Instagram account @belluspuera that her road to conceiving "wasn't quite a walk in the park".
At one point, she found that she wasn't ovulating anymore. "Over the next year, I was put on horrible cycles of medication to stimulate egg growth, with no result, only more pain, more weight gain, and cycle after cycle of disappointment," Velda wrote.
She is about five months' pregnant, and continues to be open in sharing her infertility struggles to inspire other women.
There are no official PCOS statistics in Singapore. But Dr Serena Lim, an associate consultant at Singapore General Hospital's (SGH) department of obstetrics and gynaecology, says it is "not surprising" if PCOS is on an uptrend among women here, given the rising obesity rates and greater awareness about women's health issues.
Researchers cannot pinpoint the exact cause, but believe it could be due to a combination of genetic and environmental factors.
What is known, says Dr Lim, is that the condition tends to run in families (you have a greater chance of getting it if your mother or sister has it, for example) and is more common among South Asian women. Being overweight also increases your risk.
Studies have also shown that PCOS sufferers are less responsive to insulin, a hormone that helps prevent high blood sugar. They also appear to have low-grade inflammation in the body, says Dr Seng.
Signs not always obvious
Women with PCOS may find it harder to conceive because the hormonal imbalances affect ovulation, narrowing the window of fertile period when a mature egg is released from the ovary.
This reduces the chance of the sperm meeting the egg and becoming pregnant, SGH's Dr Lim explains.
Plus, they tend to have slightly higher than normal levels of the male hormone, testosterone, Dr Lim says. As such, they may develop masculine characteristics like excess hair on the face, chest and stomach, male-pattern hair loss, a deeper voice, acne and weight gain, Dr Seng adds.
The signs aren't always obvious, though. Apart from irregular menses – a sign which many women tend to attribute to stress – Hartini shares that she did not experience other classic symptoms like weight gain or hair growth in unlikely areas.
"It is a heterogenous disorder with different symptoms and severity," Dr Lim says.
For example, while obesity can raise PCOS risk, about 30 per cent are of normal weight. If they put on too much weight, any symptoms they experience could worsen.
Higher risk of pregnancy complications
Studies show that becoming pregnancy is only the first hurdle. PCOS troubles may continue even during pregnancy, putting mums-to-be at a higher risk of certain complications including miscarriage, gestational diabetes and preeclampsia (high blood pressure in pregnancy) as well as a C-section delivery, Dr Seng shares.
Malaysian blogger Audrey Ooi, 32, better known as Fourfeetnine online, is one sufferer who has experienced the pregnancy complications first-hand.
At around 28 weeks of her first pregnancy, Audrey developed preeclampsia. She fought to keep her baby in her womb until 31 weeks to give him a better shot at survival, risking health complications herself. In severe cases, mums with preeclampsia can get seizures, strokes, become blind or die from it.
Against the odds, both mother and child survived the ordeal. The high blood pressure came back during her second pregnancy, but was kept under control until she delivered her daughter at 36 weeks.
Now,  the good news
Not all women with the condition may find it hard to conceive, Dr Lim says. It can be treated and the odds of conceiving naturally "are very good", Dr Seng adds.
According to the experts, it helps to watch what you eat and to exercise regularly. For overweight patients, for instance, losing just five to 10 per cent of body weight can reverse some symptoms without the need for medication, Dr Lim says.
Reaching a healthy weight and blood sugar levels before you conceive can lower pregnancy complications risks, Dr Seng adds.
There is also medication in the form of tablets or injections to help a woman ovulate. More than 95 per cent of patients who seek treatment for fertility are usually put on medication first, Dr Lim says.
If that doesn't work, Dr Lim says there are other options, such as keyhole surgery known as ovarian drilling, which may be helpful in certain patients, particularly those of normal weight.
This procedure involves "burning" holes in some parts of the ovaries – using laser or an electric current – which may balance hormone levels and restore ovulation.
When ovarian drilling and other fertility treatments failed to work for Hartini, she turned to in vitro fertilisation (IVF). She conceived successfully, but miscarried twin babies in her second trimester.
Last year, she finally closed her seven-year-long heartbreaking #ttc chapter by welcoming Baby Eiman, whom she delivered naturally at 36 weeks.
Her journey to grow her family hasn't ended. Hartini intends to go through IVF again next year to give Eiman a sibling. She tells her fellow "cysters" who are struggling to conceive not to give up.
"There was a point where my husband and I thought of giving up after we buried our twin babies. But we decided to give it another shot. At the end of the day, even if we don't succeed, at least we know we've tried our best," she says.
Early treatment saved this blogger's fertility
Audrey Ooi, 32, is a blogger in Malaysia and the executive director of Colony, a co-working space in Kuala Lumpur. Her children, Jude and Penelope Tiah, are aged four and two respectively.
"He thought we should start trying for a baby even before the wedding," Audrey says with a laugh. Her husband, Timothy Tiah, co-founder of Colony, as well as Nuffnang and ChurpChurp, was initially concerned that they might have trouble starting a family due to PCOS.
It turned out that Audrey, who goes by the online moniker Fourfeetnine, is one of the luckier PCOS sufferers who didn't face an infertility condition.
In an exclusive phone interview with Young Parents, she shares that they conceived their fi rst child within six months of trying. About a year after she gave birth, she learnt that she was pregnant again.
Audrey believes she "got lucky" because she started treatment for PCOS early during her teenage years.
At 17, a bout of unusually painful stomach cramps led her to a medical check-up where she was diagnosed with the condition. She also suffered from unusually short menstrual cycles.
The scans showed multiple cysts on her ovaries and blood tests revealed higher-than-normal levels of the male hormone testosterone. Audrey was later put on treatment, in the form of birth control pills, to regulate her menstrual cycle.
"I went for a check-up around the time we got married. The scans showed that the cysts seemed to have reduced over the years. I think the early treatment helped in my case," she says.
New research suggests this could be true. In teenage girls with PCOS, early treatment may help prevent a drop in fertility in the future, according to a study from Spain presented in April 2017 at the annual meeting of the Endocrine Society in Orlando.
"I know of many women (with PCOS) who have successfully conceived. With the right treatment, it's possible to start a family," Audrey says. "If you've been diagnosed, it's important to get it treated properly early."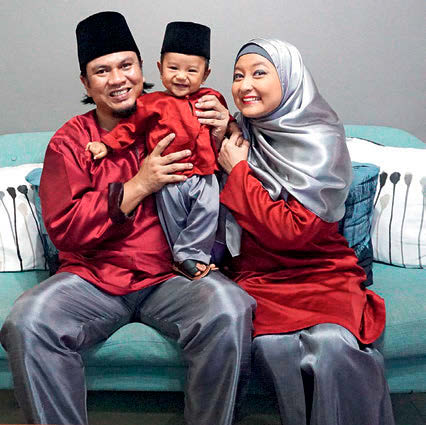 A miracle baby, against all odds
Hartini Ab Ghani, 36, is a senior specialist at the Singapore University of Technology and Design. She also runs a wedding-event business. Her son, Eiman Wafi y, is 11 months old.
Popping countless fertility pills, two rounds of in vitro fertilisation (IVF) costing $50,000 and one traumatising second-trimester miscarriage were just some of the things PCOS sufferer Hartini went through to have a baby. She left no stone unturned, even opting for ovarian drilling. In some women, this medical procedure – having electric currents burn holes in her ovaries – could help normalise PCOS hormonal imbalances and trigger ovulation.
It was IVF that helped Hartini conceive – with twins – for the first time in 2014. However, the pregnancy ended in a heart breaking miscarriage at 21 weeks of her pregnancy after she had a fall.
"I carried my twin babies for five months and delivered them. But instead of holding them in my arms after I gave birth to them, I had to bury them. It broke my heart and the thought of giving up (having children) crossed my mind," she says.
Along the way, she also had to fend off questions from well-meaningfriends and relatives who werunaware of her heart breaking story.
"They'd ask what's taking us solong to have a baby, and sayI shouldn't wait too long becauseI'd be very old by the time my kidows up. I tried to take all these in apositive manner but, at night, I'd bebawling my eyes out in my bedrshe says.
A year after her miscarriage, Hartiniconceived again through IVF. Whileher second pregnancy filled her joy and hope, the trauma from hermiscarriage lingered and she was ontenterhooks until her baby was born.Her son Eiman turns one in November Hartini says she intends to underanother round of IVF next year"For now, I'm just so thankful to beable to have a child and experience mother hood," she says.