INSTEAD OF SPENDING TIME ENJOYING HONG KONG'S MARINE ENVIRONMENT, CONCERNED CITIZENS ARE JOINING TOGETHER TO CLEAN UP ITS RUBBISH.
INSTEAD OF SPENDING TIME ENJOYING HONG KONG'S MARINE ENVIRONMENT, CONCERNED CITIZENS ARE JOINING TOGETHER TO CLEAN UP ITS RUBBISH.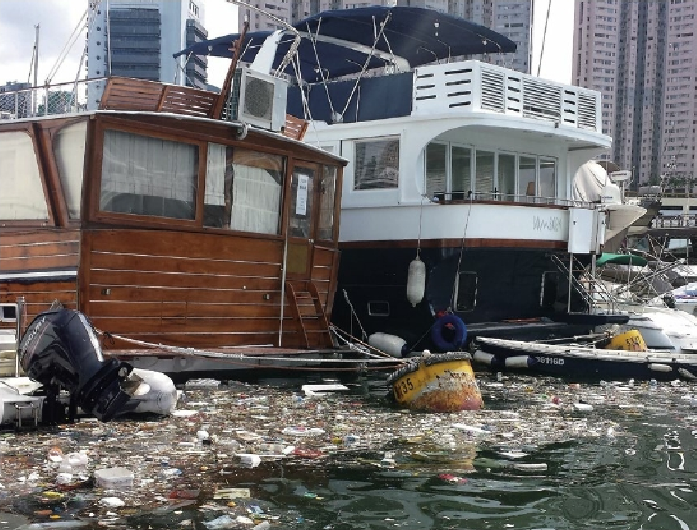 The quality of Hong Kong's waters has declined seriously in recent years. While the ban on trawling in 2013 had a great positive impact on water clarity and saw an increase in wildlife, recently the amount of rubbish floating in the water appears to have skyrocketed and there are no signs that anything constructive is being done by the Hong Kong Government to address the underlying problems.
Many groups are out there every weekend cleaning the beaches and in August a group called the Save Aberdeen Harbour Alliance took to the water in the Aberdeen typhoon shelter for the second time to 'Fish for Trash'.
The event saw some 12 RIBs/tenders along with two motherships and more than 80 volunteers spend five hours collecting what rubbish they could from the harbour. The rubbish was brought to a public pier, where it was sorted and catalogued before being separated for recycling or sent to landfill.
The team estimated that some 1,100 plastic bottles, 1,600 polystyrene lunch boxes, 8,200 pieces of plastic cutlery and around 1.2 tonnes of rubbish were collected on the day.
The Alliance consists of concerned individuals including District Councillor Paul Zimmerman, NGOs including Plastic Free Seas, WWF, Hong Kong Cleanup, Living Lamma and Sea Shepherd, the Aberdeen Marina Club, Aberdeen Boat Club and the Royal Hong Kong Yacht Club (who all supported with boats and volunteers), and Simpson Marine sponsored the event with people, boats and fuel costs.
The fish market organisation also sent representatives to help and will continue to work with the Alliance to find ways to help clean up the harbour and work to prevent rubbish from entering the water in future.
The Government could do so much to help if it were willing, but there appears to be little interest in improving the quality of the local waters. The harbour is no longer fragrant, unfortunately.
Examples of positive actions to prevent dumping of waste at sea could include enforcement of legislation by the Marine Department
and Police. Control waste on land through education, fines and better cleaning efforts along with programmes to significantly increase in the amounts of all materials captured for recycling would help to reduce the volumes of material that escape into drains and waterways.
A simple plastic bottle deposit scheme (proposed to Legco in 2006 but never implemented by the EPD) would see a drastic reduction in bottles thrown away as they would suddenly become very valuable.
A review of the effectiveness of the current holder of the Marine Department's contract to clean the water would also help. The current contractor has some 70 boats out there "collecting", but we still see rubbish everywhere and the Alliance questions their commitment to the job.
There is even talk of creating a new role for a Harbour Master for Aberdeen and all of the marinas and shelters. Such a person could easily act as the coordinator for all departments and interested parties in the harbour to manage the harbour and keep it clean.
The local NGOs and experts have a number of proposals and the Government is aware of the pool of knowledge available. All we need is for our Government to show an interest in making our waters and beaches places to enjoy at the weekends rather than the dumping grounds that they are currently.
http://www.plasticfreeseas.org
http://www.livinglamma.com
http://www.coastalwatch.hk/about-coastal-watch/
http://www.seashepherdglobal.org
http://www.aberdeenmarinaclub.com
http://www.abclubhk.com
http://www.rhkyc.org.hk
http://www.simpsonmarine.com
http://www.facebook.com/saveaberdeenharbour
Darren Catterall is a sailor and enjoys being on, in or under the water whenever he can. An enthusiastic environmentalist and member of the Save Aberdeen Harbour Alliance, Darren has lived for more than 9 years in Hong Kong where he works for Peters & May, the yacht logistics company.
Darren@petersandmay.com