From fast cars to luxury boats, Edward Tan steers Hong Seh on a journey that beg an 80 years ago. The peak takes a glimpse into a not-so-typical day for the executive director as he sits in the cockpit of the company.
From fast cars to luxury boats, Edward Tan steers Hong Seh on a journey that beg an 80 years ago. The peak takes a glimpse into a not-so-typical day for the executive director as he sits in the cockpit of the company.
10 am 
With an arm akimbo, Edward Tan paces back and forth across the dining room. The other hand has his Apple iPhone 6 glued to his ear. The executive director of Hong Seh Group has been locked in conversation with Shanghai for an hour. Breakfast has long gone cold.
Tan must have covered kilometres on the wooden floor of private club Madison Rooms in Coleman Street. It's an important call worth $9 million. He's sold a 100-foot Riva yacht to a VVIP in China and is ironing out the fine print. The paperwork is a necessary irritant and deals don't get through without them.
With schedules ever changing, he is a difficult man to pin down and should have been in Shanghai attending to that all-important business deal. But he pencilled in an appointment with The Peak today and stuck with it.
The only typical thing about his daily schedule is that it begins at 7am with breakfast that is usually a ham or turkey sandwich, or bread and jam that he washes down with a glass of water. After spending time with his mum and a quick scan of the morning's news, Tan, an only son, is off to either one of two company offices at Leng Kee and Jurong.
He broke form this morning and came to Madison Rooms, which opened as an exclusive members-only club in May. "I started coming here twice a week ever since it opened," says Tan, as a string of text messages floods his mobile phone.
The Madison Rooms is laid out as a cosy apartment. The space is decked with armchairs, couches and coffee tables. It is private and personal, and Tan has the dining room all to himself this morning. "It feels like my own home. I can collect my thoughts and get stuff done. I have my personal space here and can be open and communicate with like-minded individuals. Or I can take my time, just do my work and stuff , and mull over my thoughts in one place."
Tan needs that personal space on a day he is putting the finishing touches on a hot deal that has been simmering on a stove."
10.30 am 
He is finally off the phone. It is going to be a long day before pen is put to paper but, at last, he gets to settle down for breakfast. It's two sunny side-ups, baked tomatoes on toast, mushrooms, beans, and a banger. The MacBook and iPad Pro are companions feeding him the latest news and e-mail.
Although Tan's father, Alfred, is the managing director of Hong Seh, he is very much its captain. The company was founded by his grandfather and started life as a ship chandler in 1936. Over the decades, it evolved to trade in plastics, paints and chemicals. In 1982, the company ventured into the car rental business, before landing the Ferrari sports car franchise the following year. It added Maserati to its portfolio in 1999.
In December 2008, Tan steered the company towards the marine business when he acquired the Riva yacht agency for the Singapore and Malaysian markets. After relinquishing the Ferrari agency in 2009, Hong Seh sailed full steam ahead, bagging dealerships for a range of boats, including Italian giant Ferretti's entire line of yachts, which are widely regarded as the epitome of luxury on the seas. More on this later.
12.30 pm 
By the time Tan finishes tackling more calls at the Madison, it's almost time for lunch. He hops into his silver Maserati Ghibli and zooms across town to the company's marine arm at One°15 Marina Club in Sentosa. He is giving Jurong and Leng Kee a miss today to play host to The Peak this afternoon on his yacht, the $4-million Riva Sportriva 56.
Lunch and even dinner on a weekday, says Tan, is what can be found near the workplace. But the moment he steps into the Hong Seh Marine office, the cellphone buzzes. It's Shanghai again that locks him down into another conversation. His marketing manager, Shirley Sng, comes to the rescue and offers to get a takeaway. Tan opts for seafood hor fun.
3 pm 
It's mid-afternoon by the time Tan boards his boat. He's not planning on sailing far, as it has been raining and the waters are a little choppy. He tells skipper Mohamed Firdaus to head to the bay between Lazarus and St John's islands, a 15-minute ride away.
After taking on the agitated waters, the Riva 56 finally arrives at the bay. Protected by the two islands, the waters are a little more peaceful. He takes a peep at the time. Tan owns several timepieces, and a 20-year-old Rolex Daytona from his dad is the star in his prized collection that also includes a few Audemars Piguets. But a $207 Huawei Talkband is Tan's workhorse. A detachable earpiece allows him to talk on the move, especially on a day like this when so much is going on.
But work is sometimes mixed with pleasure and today is one such instance. "I get on the boat at least once a month. You don't have to sail out all the time. You can just have dinner on board when it is docked, and spend time with family and friends. I find it conducive to entertain on board and it preserves the privacy of my home. When you want to clean up when everyone leaves, just hose it down."
Foodtrail
For over two decades, edward tan has led discerning groups to culinary hotspots outside of Singapore. Here are seven of his must-visit restaurants in italy, Spain and Thailand. 
Italy
OSTERIA FRANCESCANA, MODENA
Run by owner-chef Massimo Bottura, the three-Michelin-star restaurant came up tops at last month's World's 50 Best Restaurants Awards. While Bottura is widely recognised for his molecular style, Tan lets in on a secret: "He was also classically trained and, if you have a chance, you should make an appointment and ask him to prepare a half-classic, half-modern menu. What he can come up with will truly blow you away. My vegetarian friends also love it here. I never knew you could do so much with vegetables."
BUCA LAPI AND BUCA MARIO, FLORENCE
Tan readily admits he needs to evict "permanent residents" that have set up home around his waistline. But the man likes his meats. "Florence is famous for its steaks and these are the two good places. The steaks at both restaurants are about 1kg each and their pastas are also good. The flourless chocolate cake at Buca Lapi is heavenly and would probably put a few 'friends' round your waist." 
Spain
EL CELLER DE CAN ROCA, GIRONA
While many visit this three- Michelin-star restaurant for dinner, Tan suggests going for lunch instead. "You will be able to see and explore the grounds, and have a different take on the place. It is brighter and airier. Eating is not just about enjoying food, but also taking in the ambience. It is a totality of how everything makes you feel and El Celler is at a nice location, being a short drive from Barcelona."
AKELARRE, SAN SEBASTIAN
The coastal city is said to have more Michelin stars per square metre than any other place in the world. So it is no surprise that it rates highly in Tan's books. "I will always remember the way a lady at Akelarre baked prawns in a cast-iron pot with a little bit of alcohol underneath it. It was amazing. I think Spain offers so much value for food at very good prices."
ABAC RESTAURANT, BARCELONA
Eat like a king here, says Tan. For 150 euros (S$230), one gets a degustation menu of eight to 10 courses. "In Asia, we live at a faster pace and are short on space. At Abac, you can enjoy a four-hour meal leisurely and experience different types of food."
Thailand
RAYA RESTAURANT, PHUKET
Don't be surprised to bump into Tan here during the Christmas season. Phuket is a favoured destination that time of the year as it is cooler. One dish that he always orders at Raya is its signature crabmeat curry served with rice vermicelli, also known as kanom jeen. "This is the only place I know I can get it at the moment. Their pork dishes are also good."
4 pm 
While chatting in the lounge of the Riva 56, Tan takes another call. It is a long-time customer who needs to get dog food. It is not the first time he is handling such requests. He contacts an aide to have it delivered. "You know the usual, lamb or chicken, but no beef," he rattles away.
In selling yachts, Tan provides a whole suite of concierge services for buyers, from getting captain and crew to pilot the boats, to stocking the vessels with food and water. But dog food to their homes? "I help out because I can and will gladly do so. Besides, most of them have become friends and we regularly sail out together and go on food trips to Europe."
Tan's boat fronts the new face of Hong Seh. But he is truly a child of his family business, having grown up in an environment of fast cars. He has a collection he prefers not to reveal, loves classic cars and is in the process of rebuilding a Series 2 Jaguar E-Type that is more than 40 years old. "Before I got my driving licence, Hong Seh was already dealing in Ferrari and my passion for cars grew only after I got my driving licence. I also own a Ferrari Dino that was made in the early 1970s."
Now that the focus is on boats, he is turning that passion into prime business for his company. It is a change Dad endorses and in an endless streak that began in the morning, his cell phone buzzes to life again. "It's Pa, he wants an update on the Shanghai deal," says Tan.
What the future will hold for Hong Seh on the new course Tan has charted for it occupies his mind constantly. "I think we need to bring the business forward all the time because time doesn't stand still. As businesses, we need to revamp, rethink and reorganise what we do in order to stay relevant in the modern age.
"We entered the yachting business because not many companies were into it at the time. Also, yachts do not have the 180 per cent tax that is levied on cars and there is no certificate of entitlement that expires after 10 years. The buyer owns it for as long as he wants and the only tax on boats is GST."
Hong Seh's car business is as healthy as ever. It sold 75 Maseratis across all models last year, 19 more than in 2014, but the growth for boats can be exponential. "We are selling about eight big boats a year, each costing at least $1 million. The most popular are the above 80-foot Riva and Ferretti boats, as they have more space. These are the type of yachts our customers position in places like Phuket and Hong Kong, where they spend a lot of time."
Redirecting the company his grandfather founded back to its roots of ships and boats was a natural thing, as his affinity for watercraft began as a child. "I've been fat since I was young and cannot run. So in primary school, I was forced by my mother to go to Toa Payoh Swimming Complex to learn how to swim. Since I can't run, at least I should learn to float and swim. So I have had no fear of water and found boating interesting and fun."
Tan is candid, says what is on his mind and often employs self-deprecating humour to make a point. The shy man he often claims to be isn't one when he is able to sit down for a conversation. He's as comfortable with talking shop as he is with more sensitive topics like his bachelorhood, blaming it on a punishing schedule that changes at the drop of a hat. "I've got nothing to hide. I am what I am, and what you see is what you get."
The world through his lenses
An avid photographer, Edward Tan takes us through his camera collection. 
He takes some 10,000 photos a year from a select few cameras and veers towards small compacts, and prefers shooting on film. From vintage classics such as the Olympus XA to the digital Sony, Tan's photography passion is serious business. A handful of these out-of production cameras were tracked down via online marketplace E-bay and restored to mint condition. Hand-me-downs are among Tan's collection of 20 cameras, but his investment has so far topped $50,000. His pet subject is people.
"Photography allows me to capture life and times, something that is real and passes by that we cannot recover again. That's also the nice thing about shooting with film – you can't modify shots. You have to observe, shoot and pray that the photos that you get are what you'd hoped to capture.
"I like to snap people more than anything else because we build relationships with people. I like to capture them in their natural state. Sometimes, it is nice to quietly sit a couple of metres away and be able to snap that private moment of a person. I think these are true pictures of a person."
Here are seven cameras that are in Tan's regular rotation.
01 & 04 TRUSTY PALS When all else fails, Tan relies on Leica because "it is fully mechanical". His go-to pieces are M-P, M6 and M3, though he also has the R6. "I like Leicas because they are silent and allow me to shoot unnoticed. What you shoot is transferred from the glass onto the film. There is no computer to correct distortion."
02 BIG SHOT For more special moments, the Hasselblad 503CX is Tan's choice. "It is a 6cmx6cm medium format, and I can load it up with black and white or colour film. Although it is not exactly the most compact camera to carry around, the medium format gives me a very good resolution and nice feel."
03 SMALL BUT GREAT Celebrity photographer Mario Testino is a fan. The Contax T2 has a Carl Zeiss Sonnar lens that "doesn't let you down". Tan adds: "It is one of the best compact cameras ever produced in the world. I also had the later model T3 but it was stolen two years ago when I was in France. I've been meaning to replace it because it was a superb camera, but have not got around to it." 
05 MODERN TOUCH While he prefers film photography, Tan also uses digital camera Sony RX1R Mark II. "It is a fantastic little piece with a Carl Zeiss lens and has one of the highest resolutions in the market. Colours and sharpness are fantastic, and it is one of the little marvels out there because of its size and weight."
06 RARE FIND Discontinued in 2014, the Fuji GF670 features a collapsible front piece with an accordion-like bellows system that allows the lens to move for focusing. "I wanted one that gives better resolution and allows me to shoot more. This is a flat compact piece, switchable between 6x6 and 6x7 formats, and it is a rangefinder. It's darn easy to use and not many people know about it or use it."
07 CLASSIC TAKES Manufactured in the late 1950s, the Rolleiflex 3.5E was purchased from Tan's friend. "I love to use this for black and whites. As there is nothing metred inside it, you just have to guess and shoot. Twin-lens reflex cameras are interesting because you view the subject from one lens and take the picture with the other. I love the results."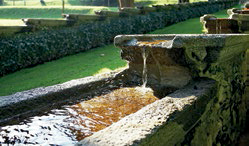 6.30 pm
Twilight is now upon the Riva 56 and he calls on Firdaus to head back to its Sentosa home port. True to his word, he heads to "what can be found near the workplace" when the boat docks – on Sentosa, it's Skirt steakhouse at the W Singapore hotel. The restaurant is also a hideout for him, whenever he needs some quiet time to chill out.
Tan orders grilled king prawns for starters and a 300g tenderloin done medium rare for the main course, but confesses he indulges in such luxury only twice or thrice a month. As a Singaporean, what tickles his fancy, he says, are bak chor mee, bee hoon goreng, crispy prata, ice cream on bread, kaya toast and half-boiled eggs.
He wants to shed weight and is watching his diet. "At this point of time, I am trying more simple meals. I love my Teochew muay – you can't get very good ones these days, but I do enjoy it."
Halfway through dinner, Tan takes another call. He smiles. The Shanghai deal is signed and sealed. "It's been a good day," he says and lets out a big smile. But his day is anything but over.
A different VVIP calls and he jumps into the Maserati and heads across town once more. Another deal beckons.