Fueled by the desire to stretch herself creatively and help women and girls around the world, The Hustle star ANNE HATHAWAY opens up about tossing old insecurities and finding a new level of strength and purpose.
It's not every Monday that you're tasked with walking the wing of a Boeing 747, but Anne Hathaway is up for anything. (Our photoshoot took place at the famed 747 Wing House, made from the jet's components, in Malibu.) After 18 years of Hollywood stardom and the sometimes-bumpy ride that comes with the gig, she not only pulls it off convincingly in a power suit and pool slides but looks as nonchalant as Bond, Jane Bond. Which is fitting, because she proves she's got a knack for acting British in her hot new buddy-scam comedy, The Hustle, a winning remake of the 1988 classic Dirty Rotten Scoundrels. Anne plays upper-crust Brit con artist Josephine, a millennial version of the signature character played by Michael Caine. "For the role, I put on an accent that I think sounds more like Stewie from Family Guy than Julie Andrews, but that's intentional," she laughs. "Josephine is an affected person, so I wanted her to have a slightly fake accent."
The film takes place in a glamorous fictional French resort town (shot in Majorca in real life), where Anne, 36, inhabits personas and glam looks that range from boss to Riviera Barbie to a sexpot German doctor. "We had such a good time creating all these distinctive characters in the cons," she says, reliving the fun and sounding downright tickled at how she often gets to play dress-up for a living.
"I AM PART OF A U.N. TEAM WORKING TO MAKE PAID PARENTAL LEAVE A GLOBAL REALITY – SOMETHING THAT MATTERS TO ME GREATLY." 
The script for The Hustle came across her desk around the time her son, Jonathan (now 3)—with her husband, the producer Adam Shulman—was born. His arrival has had a happy grounding effect on her schedule (more on that later), but it hasn't slowed her impulse to pay her good fortune forward. She champions girls and women as a longtime U.N. Women Global Goodwill Ambassador and is a founding member in the Time's Up movement. She openly strives to keep her plastic use low. And she collaborates with pals like fellow Time's Up trailblazer Jessica Chastain on projects that speak to her passions. The two are doing research for a potential movie set in the 1960s, when men had a certain level of legal control over their wives. "Fifty years from now, people are going to look back and feel there were monstrous things about our time too," she says of the overdue reckoning of Time's Up. "This is just my way of saying, Yes, there have absolutely been changes. But by no means is the work done."
Pushing her own boundaries—developing, writing, and producing films—also propels her these days. "I love what I do," says Anne, who goes by Annie right from hello. "And to stretch out a bit and see if I can occupy this community in a way that's larger than I currently do is really cool." This is a woman who feels good in her own skin. She shares how she arrived at this point.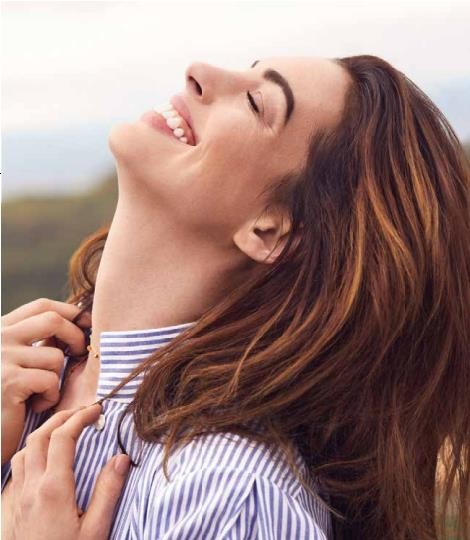 Zoe Chicco 5 Itty Bitty Dangling Disc & Diamond
necklace and
Long Graduated Discs & Diamonds
necklace (
zoechicco.com
).
The Row Stretch Cotton Poplin shirt (the Row store in New York City).
"I'M ACTUALLY A PRETTY SIMPLE PERSON AS IT TURNS OUT. I'M JUST DOING MY BEST TO MAKE BEAUTIFUL MEMORIES AND ENJOY THE GIFT OF MY TIME HERE." 
Zoe Chicco 5 Itty Bitty Dangling Disc & Diamond
necklace (
zoechicco
.
com
) 
SHOW YOURSELF COMPASSION
"Finding yourself takes as long as it takes, and I'm still in the process. It's not as if I'm sitting in the lotus position ready to dole out advice. Some days are still like, Whoa, I just fell off this cliff again! But learning how to be kind to yourself while you're discovering who you are is something I wish for everybody. Not having all the answers, not knowing what to do, and making mistakes— those aren't reasons to beat yourself up." 
RECALIBRATE YOUR LIFE BALANCE
"Before I had my son, I sensed this pressure to fill my schedule. If I wasn't working, I felt like I was wasting time. Now I know I have to build in breaks in my year, and there are times when I'm just not available to work because it's important for me to be home with him. "So I shop a lot less. I cook a lot more. I read a lot more. I write a lot more. I communicate a lot more. I make more time for the things that matter to me because suddenly I have more time." 
DECLUTTER YOUR DEFAULT ROUTINES
"The thing is, with the low-plastic lifestyle, I really have to choose what matters. I recently did a photoshoot with crazy eye makeup and temporary eyelashes that got glued under my real lashes. I couldn't wait to get them off, but then my makeup artist was like, 'Oh, I don't know how they come off. You probably want to use an oil-based remover.'
"I got home and I had an old eye-makeup remover, but it wasn't oil-based. So to avoid buying more products in plastic containers, I used coconut oil, and it worked. "I always have coconut oil because I use it for my body—I find that a combination of coconut, jojoba, and shea butter works great. But I can buy all that stuff in glass bottles, and I can mix it up myself and then add essential oils. And voilà, you don't have to put plastic into the ocean because of it." 
"I'M SATISFIED WITH MISTAKES I'VE MADE. AND I FEEL EMPOWERED TO CHOOSE A DIFFERENT PATH." 
DO WHAT FEELS GOOD
"I'm not a natural wellness warrior. I have friends who go to longevity conventions. They take crystal baths. For me, I try to make it to yoga three or four times a week. It's a different story when I'm working on a film, though. I work out with a trainer, and I do a lot of strength training and HIIT when I need to do that. "With eating, my number-one thing is trying to buy food that doesn't come in packaging. Beyond that, I try not to eat red meat, and I try not to eat pork. "But generally speaking, I'm pretty low-key about all that stuff. The balancing [of my approach to keeping in shape] is important to me. My go-to for a lot of my life was to feel badly about myself, and I just don't want to do that anymore."
KNOW YOUR VALUE - AT ANY AGE
"Rushing out the door this morning, I grabbed a coat I have had for probably 12 years. It's one of my favorites, and it made me feel chic and put together when I was undercaffeinated and bleary. It's just a coat. It's not a big deal, but I felt really proud that I spotted it in that shop and had earned the money myself to spring for it. I have cared for it all these years, and that younger me made such a good call that older me is still enjoying. The accumulation of 12 years of love and pride in a good decision is something you don't get right off the bat. It takes time, and it's a feeling you have to be a little older to enjoy." 
TEXT MARY ANDERSON 
PHOTOS JASON KIM STYLING BROOKE ELY DANIELSON 
HAIR ADIR ABERGEL FOR VIRTUELABS.COM 
MAKEUP BEAU NELSON/THE WALL GROUP FOR CHRISTIAN DIOR BEAUTY 
MANICURE TOM BACHIK FOR DIOR VERNIS