This new pilates is pumped up! It takes tightening abs to the next level and transforms it into a total-body lean routine.
This new pilates is pumped up! It takes tightening abs to the next level and transforms it into a total-body lean routine.

Nesh NYC bralette (www.neshnyc.com).
Sukishufu leggings (www.sukishufu.com).
Vimmia tank top (www.yogaoutlet.com).
GapFit leggings (www.gap.com).
SLEEK, STRONG, SEXY.
That's the trademark pilates body. Do this next-level version and you can add chiselled, fit, and fierce to the list. And you won't need a fancy machine or quirky tone-up tool to get there. Thanks to her tweaks to the workout style's signature small moves, instructor Karen Lord, owner of the Karen Lord Pilates Movement studio in the US, has created a bolder technique that gets deeper into your muscles and leads to even more results from the scientifically proven mat classics.
"You'll shake, burn and work your hardest, and I promise you'll actually achieve the toning you're hoping to see," says Karen, whose transformative classes draw many professional athletes, including runners prepping for big races.
Experience her modern approach (Karen's motto: "Out with the old and in with the exciting new") with this workout she created for Shape. If you've done pilates before, the moves may look familiar at first, but they each have an added challenge that makes the difference.
While traditional pilates favours the abs, this routine puts all of your major muscles through the paces. "Every movement starts in your core and then radiates to your arms and legs," Karen says. "Because you have to focus intently on your posture and connecting your breath to each movement, you'll use almost every muscle you have, which helps you build an exceedingly strong core and a gorgeous, balanced body."
Karen's style is the opposite of – and adds a nice counterpoint to – the as-many-repsas- possible (AMRAP) workout world we live in. You won't get breathless or be sweatdrenched. You'll lift, press, and extend in slomo, thereby feeling a deep burn not present in many other workouts. "Slower can be harder, because you take time to start the movement in the muscle, not the joint," she says. "It's crucial to getting results and avoiding injury."
Don't worry if your body trembles on your final reps. "That means you're doing something new and challenging, and making changes in your muscles," Karen explains. Focus on balance, then alignment. (The pointers in Form Check four pages down will help you with both.) You can't tap into your body too much, Karen says. Is your jaw tight? You're clenching your neck instead of working your abs. Are your shoulders crunched up to your ears? That's a lot of tension and wasted energy. "These are go-to areas we typically feel comfortable getting to do the dirty work for the often weaker abdominals, which can be trickier to find and fire up," she says. Karen calls these form fixes her little big deals. "They turn something that's easy to cheat through into something body-changing."
Life-changing as well, Karen would argue. "When you do this workout, you'll experience an endorphin release, of course, but connecting your mind to your movements is really profound," she explains. "Life becomes a little sharper, and you feel less anxious."
Flip the page and we guarantee you'll become a believer.

"This workout is hot! It comes from a place of efficiency and a strong belief that if you look great – and these moves will definitely help you look great – you feel even better," Karen says.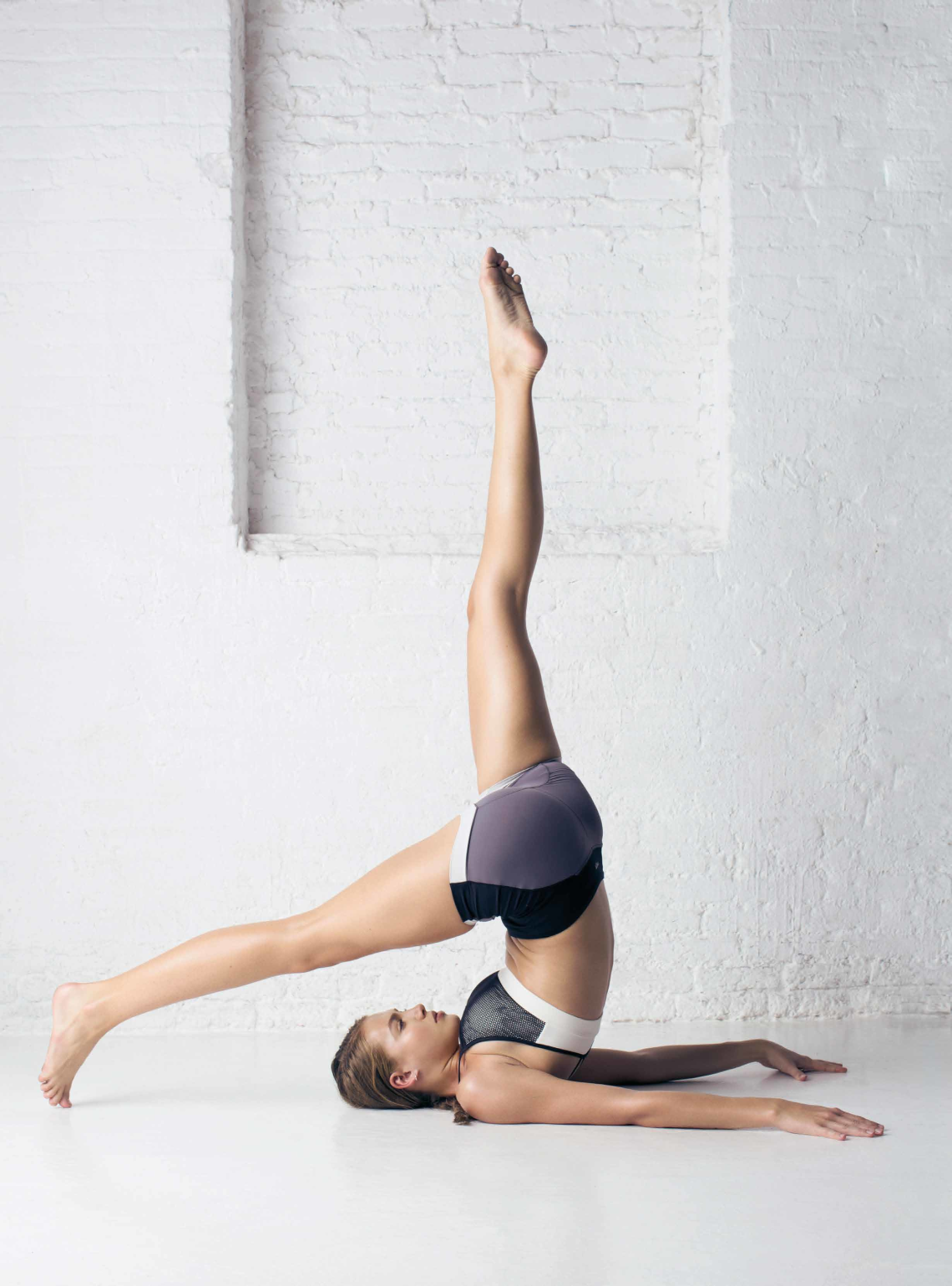 Alo Yoga bra (www.aloyoga.com).
Bebe shorts (www.bebe.com).
"Pilates actually gets harder as you get better at it," Karen says. "You'll go really, really deep into the abs, and when you hit that sweet spot, which comes from both determination and closely following the how-to descriptions, you'll feel it. Sometimes for many days!"

Alo Yoga bra (www.aloyoga.com).
Lululemon leggings (www.lululemon.com).
Espalier wrap top (www.espaliersport.com).
Rowley leggings (www.cynthiarowley.com).
"Stick to this workout and you may even 'grow' a centimetre or two. These moves unravel your spine and make the muscles that support it stronger and more balanced," Karen says.

Alo Yoga bra (www.aloyoga.com).
GapFit leggings (www.gap.com).
FORM CHECK
Think of this as your to-do list for every single move. It may seem like a lot, but it's the recipe for sculpting success.
● Breathe! That means deep, lungexpanding inhalations and slow, noisy, and deliberate exhalations.
● Keep your shoulders away from your ears, and your neck and spine long.
● Lift up and out of your joints. Pull your abs in towards your spine and energetically upwards.
● Watch for hyperextension in the elbows and knees, and correct it when it happens by softening your arms and legs.
● Keep your wrists straight, your fingers long, and your toes spread.
● Speaking of wrists, they're a common weak point. If they hurt during any of the moves, lower yourself onto your forearms.
● If your lower back starts to feel cranky, tuck your pelvis under to redirect the work back to your abs.
● Take your time.