The actress and new face of Calvin Klein calls in from work.
The actress and new face of Calvin Klein calls in from work.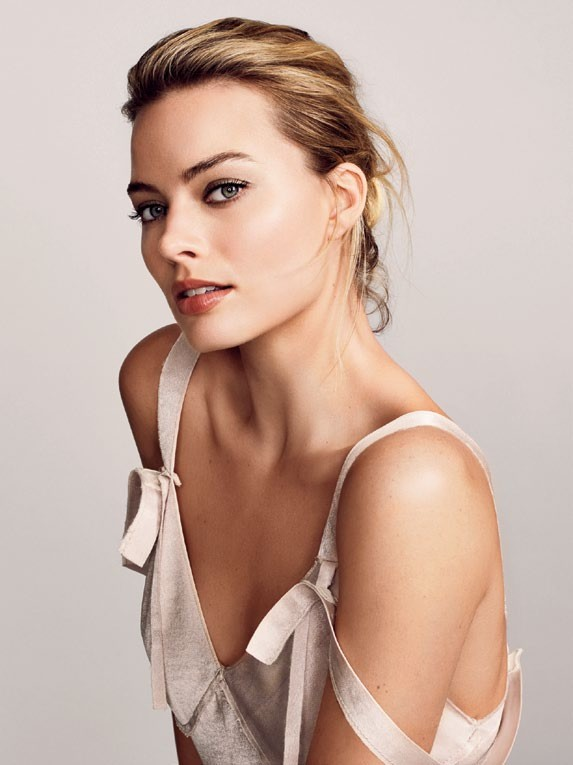 10 teas a day.
12 suitcases.
1 beer shower.
2:00PM I don't have a daily routine per se. It's dictated by whatever job I'm working on, and at the moment I'm in Budapest filming an indie movie called Terminal. I'm the lead character and also a producer, so it's very busy. We're doing night shoots, which I'm so happy about because I hate waking up early in the morning.
These days I get up mid-afternoon and have what I call green stuff. I don't know the name of it, but it's an immune-boosting powder that you mix in with a bit of juice. My mum used to make me take it if I was getting sick, but now when I'm doing jobs, I take it every day. It tastes disgusting, but it's good for you. If you get sick, you know, people can't film.
After drinking that, I take a quick shower. I use Dr. Lancer's cleanser. When I get out, I dab on some La Prairie eye cream. There's a dermatologist in Australia who has a skincare line called Bloc Cosmetics; I like the day-night moisturiser. So that's my beauty regimen. Then I make a quick cup of tea, grab all my stuff and go.
I bring Dilmah tea with me everywhere, and when I'm in England I drink PG Tips. Whenever someone makes me a cup of tea, I'm like, "Imagine you're making it for a small child—really milky and sweet." I probably drink at least 10 teas a day. In our family, a cup of tea is the answer to everything. When you walk in, you get offered a cup of tea.
If something goes wrong, someone will be like, "I'll make you a cup of tea." If something good happens, they will be like, "Great! We'll make you a cup of tea." 2:20PM At this point I'm just wearing comfy clothes. Right now it's a plain white t-shirt with Zoe Karssen track pants and Anine Bing white sneakers.
My dialect coach comes with me in the car and we do warm-ups on the way to work. Today we're working on an English accent, not fully cockney but similar. It's tailored to work for the character. I do all my research for accents on YouTube. It's amazing; you can find the most bizarre or unique accents online. Then I convert it to MP3 and put it on my iPod.
I can listen and mimic throughout the day. In Suicide Squad, for example, I was doing a scene where I'm getting electrocuted, and I was like, Okay, am I going to be doing this accurately? And I went on YouTube and looked up people touching electric fences.
3:00PM I arrive to set and go to the hair and makeup bus. While I'm getting my hair done, I put on Talika under-eye patches. They help with puffiness. We've got pretty extravagant hairstyles in this film because it's almost a futuristic world. It's sort of how Gwen Stefani does her hair—we used some of her looks as reference.
At the same time, I write all of my emails on my MacBook, and eat. Avocado on toast and bacon, that's my ideal breakfast. Today I actually ate half a steak. It's random, but I went to this really good steak restaurant two nights ago and I had steak left over, and I was like, "Goddamn, I can't wait until lunch, I want to eat it now."
The makeup artists use whatever products they want, but on this job they are using Armani foundation, which works well on my skin. When I'm not filming, I use Ellis Faas foundation mixed in with moisturiser.
"When I get home from work, I have a beer shower or a beer bath if I have time."
My favourite Lancôme mascara—one with a vibrating wand—was discontinued, so I'm currently using one from YSL. I don't like wearing lipstick because I get it all over my face, so I wear lip balm with a bit of a stain, like Burt's Bees or Fresh.
I also like NARS' blush. I always pick a new perfume to help differentiate my characters. Fortunately I was doing the Calvin Klein campaign shoot right before starting this film, and they let me keep the sample of Deep Euphoria, which is coming out in September. I was like, Oh, my God, that's perfect for the character I'm about to play.
It was good timing. Deep Euphoria is an intense scent but still very feminine. I'm playing a femme fatale sort of character, so I thought she needed a sexy scent. 5:00PM is when we start shooting. Since I'm also a producer on this movie, there's a constant flow of problems that need to be solved throughout the day, so it can get pretty intense.
'10:00PM We break for lunch, and that's when I schedule all my conference calls and interviews. Then we begin shooting again until late. 5:00AM The days are really long. I rush home because the priority is to get as much sleep as possible. I'm something of an insomniac; I've got eye masks and sleep music and melatonin and lots of soothing scents.
I do everything possible to try to sleep better. I can't go home and fall straight asleep; it takes a long time to switch my brain off. Once I get home, I go over the call sheet for the next day or organise for whatever location we're shooting at. 6:30AM I like to have a beer shower—a nice beer in the shower.
When I did Whiskey Tango Foxtrot, I was saying, "Oh, my God, I can't wait to go home," and Tina Fey's costume lady was like, "Me too. I can't wait to go home and have a beer shower." I was like, "What's a beer shower?" She said she drinks an ice cold beer in a boiling-hot bath or shower, and it made her sleep. I was like, "That sounds perfect!" So now when I get home from work, I have a beer shower or a beer bath if I have time.
Also, I'm a massive Harry Potter nerd, and although I've read the books probably 20 times each, I read Harry Potter before bed and it helps me switch my brain off. I feel like my body looks better if I get more sleep rather than an hour at the gym. If I have the time, I like dance classes; it doesn't feel like exercise to me.
Or just playing sports with friends. Sometimes I play tennis, even though I'm not that good. If I'm in LA, I go see Andie Hecker. She used to be a ballerina, and she incorporates ballet techniques with a Pilates machine with weights. Though I live in London, I end up in LA all the time for work.
Australia will always be home, but I haven't lived there for six years. I love to travel and live out of suitcases. I have 12 of them at home because, you know, sometimes you get stuck in a country and you need to buy one. I can probably pack more things into a suitcase than any other human being. Some people have a shoe collection or a handbag collection; I've got tons of suitcases.
MARGOT'S MUST - HAVES
"I'm currently using mascara from YSL."
Mascara Volume Effet Faux Cils, $55, YSL Beauty
"I dab on some La Prairie eye cream."
Cellular Swiss Ice Crystal Eye Cream, $370, La Prairie
"Deep Euphoria is an intense scent but still very feminine."
Deep Euphoria EDP, Calvin Klein
"Talika under-eye patches help with puffiness."
Eye Therapy Patch and Case, Talika
"Armani foundation works well on my skin."
Maestro Glow Foundation,