As fashion royalty and an influencer in her own right, Julia Restoin Roitfeld is an unlikely wardrobe minimalist, but her new platform champions buying less but better. She tells Divya Bala why simplicity is the last word in sophistication.
Restoin Roitfeld elevates a classic coat with high-shine texture. 
Julia Restoin Roitfeld is very good at cutting out what she doesn't need. In fact, it's in her blood. "Yeah, we're pretty good at editing," she admits from her New York home on a rare day off. She is, of course, referring to herself and her mother, French fashion editor and BAZAAR's global fashion director Carine Roitfeld. When I balk at the fact that a fashion scion would have such lean taste, she is quick to correct me. "You know, that's so not true. I'm less into trends than her, but we are very good at buying pieces we really love. We worship them and keep them for years—in my mum's case, decades. I think that's great for someone like her, with millions of followers, to show that it's OK to wear the same dress over and over. I get overwhelmed if I wake up and there's a lot in my wardrobe."
For those of us who suffer from BIHNTWS (But I Have Nothing To Wear Syndrome), as we stand in front of a closet full of clothes, this might be a little hard to comprehend. However, Restoin Roitfeld is part of a greater consumer movement towards buying better, more second-hand and more sustainably. In the 2019 Resale Report from ThredUp, the world's largest fashion resale marketplace, third-party analytics revealed that 74 percent of 18 to 29-year-olds prefer to buy from sustainably conscious brands and 64 percent of women bought or are now willing to buy second-hand, evident in the rise of resale platforms such as ThredUp, The RealReal, Vestiaire Collective and Vinted (and of rental services such as Rent the Runway). The second-hand market is projected to grow to nearly 1.5 times the size of fast fashion by 2028.
Designers selling through traditional retail models are inching towards more eco- and ethically friendly processes—from wunderkind Marine Serre, who upcycles materials in her couture creations (as did legend Jean Paul Gaultier, who bowed out on this sustainable note), to Miuccia Prada and Loewe's Jonathan Anderson, who this season went back to a homespun style, exalting the practice of mending clothes to extend their life, to CELINE and Marc Jacobs, whose thrift-store chic lends itself to people being able to recreate the looks from second-hand clothing and vintage denim.
"I see all the waste that goes with these things we're being told to buy and try on Instagram, and it really needs to stop," Restoin Roitfeld says. The model and creative consultant recently launched the sustainably focused online platform Less Is More. "I want to show that you don't need to follow trends or overconsume," she says. "And I'm trying to use my platform to spread the message that it's not simply about promoting sustainable products, but also how to be sustainable by buying better and for the long run." The clothing offered on Less Is More is either from sustainable brands or through consignment and second-hand e-tailers. Shoppers can thus tap into Restoin Roitfeld's taste by recreating a look through resale sites or from the brands she has hand-picked for their sustainable merits. 
A skirt-and-sweater combo is given a cool-girl spin with a high slit and lace-up boots.
Restoin Roitfeld in matching black looks with her mother, Carine Roitfeld. 
She makes an exception for brands that may not be wholly sustainable but that produce pieces that stand the test of time—personal favourites that have seen her through five to 10 years of wear with a repair here and there. Classic black stilettos from Gianvito Rossi; a black crew-neck tee from London-based organic cotton company Ninety Percent; a pair of her favourite Goldsign black jeans. "I wear them so much I have to get them mended sometimes," she says of the last. "If I don't wear them, I'll wear a mini skirt with a black sweater and black tights in winter."
And if you're noticing a palette pattern here, you're not alone. Another of Restoin Roitfeld's most interesting contradictions is that despite being a "fashion influencer", she rarely deviates from her uniform. Her approach transcends the need of so many of her contemporaries to have to promote a new outfit or product every day, adding ever more checkboxes to the consumer anxiety that has reached critical mass recently. That's not to say, though, that she's immune to it. "I get caught in it. On Instagram, I see a new brand and I want to buy it. So I stop and ask myself why. Why do I need it? I let it simmer a bit and if, a week or two later, it's still on top of my brain, I'll ask myself if I really will wear it," she says. "Trust me on this. Leave it in your shopping cart. You'll be able to find it a week or two later—do you still want it? I get satisfaction from putting things in my cart and then I don't press the Buy button. I just edit." 
Restoin Roitfeld aceing masculine/feminine dressing with a tuxedo and exposed lingerie. 
I get satisfaction from putting things in my cart and then I don't press the Buy button.
The e-tail range on Less Is More is complemented by features on Restoin Roitfeld's fashionable—and in some cases famous—eco-conscious friends. There's New York jeweller Pamela Love, model Juana Burga, actor/activist Rebecca Dayan and Australian influencer Nicole Warne Shadbolt. "There's so much information on sustainability on the internet, which can be quite dense at times, so to have it all curated into one trusted place makes it easy to absorb," Warne Shadbolt says. "I completely relate to Julia's philosophy of less is more and I instantly felt connected to what she's doing. I love supporting brands that practise a sustainable and eco-friendly ethos. Then there are everyday small shifts such as shopping with reusable bags, using a KeepCup, using a Mooncup, growing our own vegetables, using plant-based, organic laundry detergents, having a compost bin and investing in anything biodegradable, like garbage bags. It's these small actions that may seem like tiny ripples, but when done together, create waves and a whole new movement."
When it comes to the future of fashion sustainability, Restoin Roitfeld is cautiously optimistic. "I just saw that one high-street brand has 24 collections a year. That's two a month! Imagine how that pushes young girls to buy. It's like an endless cycle of dissatisfaction; you always end up feeling like you're off-trend," she muses. "In future, I just hope big brands will make a change. Plastic invitations or plastic bottles of water at the shows—they don't need to do that. Individuals can make small changes and that's great, but big companies need to make changes as well."
As our interview draws to a close, I ask her what she has planned for the day. "Today's a day off, so I'm home with my daughter," Restoin Roitfeld replies. "We're going to just stay home and enjoy doing nothing." For a burgeoning queen of conservative living, that sounds about right.
BLACK TO BASICS
Julia Restoin Roitfeld picks her go-to staples that go the distance in her favourite colour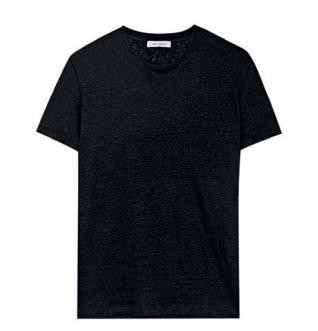 Top, Ninety Percent at Net-a-Porter 
Jeans, Goldsign at Net-a-Porter 
Stiletto, Gianvito Rossi 
Bag, Chanel
PHOTOGRAPHY: TPG/CLICK PHOTOS; GETTY IMAGES