Usher in a sense of warmth with a palette of earthy tones and creamy hues
Usher in a sense of warmth with a palette of earthy tones and creamy hues
TOP TIP: Make an impact by hanging unconventional items, such as a woven table runner, on the wall instead of a typical framed piece.
To refresh your dining space, take a leaf out of autumnal shades like russet and sunset red that evoke cosiness. This soft, classic colour combination won't easily go out of style, so your home can look gorgeous and on-trend for years to come. Here are four things to consider:
COLOURS The look combines the warm tones of terracotta reds, brown, beige and soft pinks, with different shades of white that are subtle, but add depth to a neutral palette.
MODERN STYLING Keep this look cool and contemporary by using textural, warm-toned pieces with white furniture, floor and paint colours. Furniture and homewares in natural materials such as timber and leather will also go great.
ACCESSORIES Look for pretty pieces that mix brown shades with white, from coasters to mugs and trays.
UPDATE IT The copper or brass accessories you bought last year will look beautiful with these colours.
Ferm Living socket pendant in red brown, from Lifestorey.
Left: Bloomingville Evelyse mug, $29.80, from 3LittlePicks. Right: Mondi Beatles dining chair, $109, from Star Living.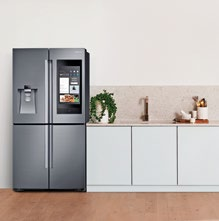 MORE THAN A FRIDGE
Simplify and streamline your daily life with the revolutionary new Samsung Family Hub refrigerator. Equipped with a 21.5-inch HD screen, this gamechanger lets you see inside your fridge remotely via an app, making grocery shopping easier. You can also personalise recipes, manage your family's schedules and even control other smart home gadgets. Nifty! At $7,499, from leading electronic stores.
3 OF THE BEST SOAP DISPENSERS
ADD A DASH OF PIZZAZZ TO YOUR BATHROOM WITH THESE PRETTY PIECES
Marble soap dispenser, $18.95, from Truffula Forest.
Jordan & Judy handsfree soap dispenser, $17.50, from HipVan.
Bloomingville golden lines soap dispenser, $39.80, from 3LittlePicks.
GET ON BO ARD
Running out of space? Use pegboards to keep your home tidy. They're inexpensive and give you an unlimited number of options for decorating and organising, just add shelves, baskets, hooks and more, depending on your needs.
PHOTOS: ROB SHAW/BAUERSYNDICATION.COM.AU, 123RF.COM